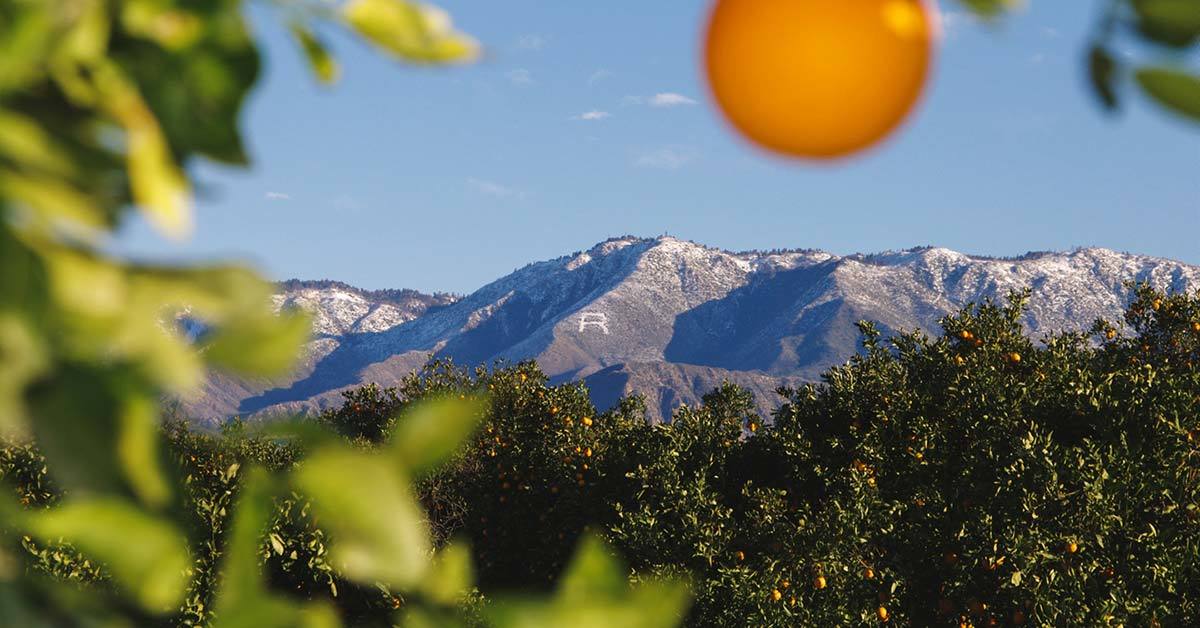 50 Things to Do in Redlands
East of Los Angeles, you'll find a quiet slice of small town charm. Nestled just below the San Bernardino National Forest, Redlands offers easy access to hiking trails, a plethora of quaint shops, and a variety of local restaurants.
Removed from the hustle and bustle of city life, the arts thrive and community gatherings abound.
Here's our curated list of the best 50+ things to do in Redlands
Though known for its orange orchards, Redlands California offers a lot more than sweet fruit. The small town is dotted with parks perfect for picnics and breweries ideal for hop-filled tastings.
Here you'll find a variety of local trails, theaters, and shops.
From simple walks to steep elevation gains, Redlands offers the perfect starting point for your hiking, biking, and walking adventures. We've compiled a variety of hikes that take you through town and up into the foothills here.

Don't waste a minute! Make sure your Redlands adventure is loaded with fun. These Redlands' Visitor Itineraries include tips about historical landmarks to visit, tours to take, and parks to see.

The Lincoln Memorial Shrine is the only museum and archives dedicated to the study of Abraham Lincoln and the American Civil War west of the Mississippi River.

It is open 1pm-5pm Tuesday - Sunday.

The Smiley is not just a library. It's a repository of local history. The newest wing houses historic items of various fascinations; the library holds classical statuary and fine art worthy of a museum. Its collection includes books for toddlers, picture books, easy readers, books-on-tape, magazines, and fiction and nonfiction collections.

This 6-¼ acre estate in Redlands, CA features a Victorian Chateau and Italian Renaissance styled gardens. It was originally the home of Mrs. Cornelia Hill, who built the stunning house in 1897. The gardens were added in 1905 when the house was purchased by John Alfred and Helen Cheney Kimberly.

Today, The Kimberly Crest House and Gardens is now owned and operated by Kimberly-Shirk Association, a 501-C3 Non-Profit organization on behalf of the people of Redlands.

Public tours on Thursday, Friday, and Sundays. Gates are open on Highland Ave to their parking lot until 5pm.

Spanning 27 acres, Ford Park features two fishing ponds, lighted tennis courts, and picnic and playground facilities.

Let your pup play leash-free at the Redlands Dog Park. It's conveniently located in the northwest corner of Ford Park, adjacent to the Fire Prevention Demonstration Garden.

The Redlands Bowl is the oldest continuous music festival in the United States at which no admission is charged. This amazing summer concert runs from June to August.

A live interactive escape room where you and up to six people have 60-minutes to decipher clues, discover hidden items, investigate a mystery and ultimately try and find the secret ESCAPE! Plus, Axe Slayers Throw House is a unique, safe, fun, and family-friendly axe throwing experience.

Where to go and what to do when you want to enjoy Redlands for a little day outing? This collection of Redlands Outings has you covered.

Discover Everything About Live Theater and Theater Programs.

The Redlands Art Association houses art shows and classes. Located in downtown, the Gallery is open from Monday through Saturday, 11am - 4:30pm and Thursday Market Nights until 8 pm.

The University of Redlands campus features a palm-lined main street, lush green lawns, and canopy of 100-year-old trees.

The Administration Building was built in 1909. From its steps, you'll be treated to a breathtaking view. Tours are offered from 10am - 1pm Monday - Friday.

Founded in 1950, the Redlands Symphony is recognized as one of the top symphony productions on the West Coast.

An independent, interdenominational theater, LifeHouse Theater shows original musicals and plays. More than 500 volunteer actors make up the staff.

Spend an extraordinary day at the San Bernardino County Museum where the fascinating history, culture and natural history of the region comes alive! The county is the largest by geography nationwide, and encompasses lively urban areas, gorgeous panoramic mountain ranges, and world class deserts with countless stories of the indigenous and migrant populations that have lived and traveled to this place over 1000s of years. Visitors are encouraged to imagine, share, create, discover, and explore fascinating permanent and changing exhibits to connect with the natural and cultural history of our region.

The magnificent Edwards Mansion was built on Cajon St in Redlands, California in 1890. Ready-made plans were purchased by Mr. James S. Edwards, pioneer citizen and citrus grower, to build the fourteen-room house. It took over one year to build the original salmon pink structure.

To schedule a time for your visit, please contact asistencia@redlandsconservancy.org or call 909-372-0855. Established as an adjunct to Mission San Gabriel Arcángel, San Bernardino Asistencia is often said to be part of a second, inland chain of missions. Located near Heritage Parke, today it is the site of a museum, small chapel, and gatehouse. The San Bernardino County Museum gave the keys for the Asistencia to the Redlands Conservancy in a move that should save money and bring a new level of expertise to stewardship of the historic property.

Founded in 1945, the Redlands Footlighters has been bringing creative productions of live theater to the Redlands area for more than 70 years.

Spanning 23.3 acres, Sylvan Park has traditional park features such as open grassy fields, picnic areas, a playground, stage and volleyball court. Additionally, it is home to horseshoe pits and lawn bowling. Free lawn bowling lessons are available. This fun activity provides a great way to get some fresh air and socialize with friends.

Our small town is home to a large collection of exceptional restaurants. From home-style comfort food to elegant fine dining, you'll find everything you want. Peruse our comprehensive Restaurant, Food & Fine Dining Directory.

The historic Barton House of Redlands wedding and event venue is located in Redlands, California. With its lush manicured lawn, breathtaking views of the nearby San Gorgonio Mountains and surrounding seasonal roses and trees, this historical gem is as unique as it's restored look.

Be inspired by the best views of Redlands.

I-10 E, Take exit 81 for Ford St, Turn left onto Ford St, Take the 1st right onto Reservoir Rd, Take the 1st right onto S Wabash Ave, Turn left onto E Sunset Dr. N, Turn left onto Panorama Dr/Panorama Point Dr. Point in Redlands. Closed from sunset to sunrise.

Make dinner an elegant occasion at one of Redlands' Fine Dining destinations.

Whether you're meeting a friend to grab a cup of jo or you're spending a quiet moment by yourself, Redlands offers a plethora of Local Coffee Houses.

Sip and savor the best local hop and wine varieties around. Redlands is home to a collection of Breweries & Brewers. And, we have a wide variety of Tasting Rooms. Visit one or visit them all. It's sure to be fun.

Fill your soul with sweet, sweet tunes. There are a variety of spots showcasing live music and DJ performances.

Whether you believe it's the most important meal of the day or the most delicious, Redlands has a wide variety of Breakfast Joints perfect to satisfy your cravings.

Looking for the best 'brewery near me' in Redlands? From quaint microbreweries and renowned brewhouses to family-friendly environments and date night musts, these local breweries are offering some of the best pours around.

Throughout Redlands' downtown corridor the historical buildings are marked by plaques. They are normally affixed to the exterior walls near the store doors and include tidbits about the building. Go for a stroll and see how many you can find!

Get a big bite of the South in Southern California at The Eating Room. The breakfast menu includes their famous Elvis Special: Bananas and Peanut Butter French Toast and their very own Muselix.

Quaint shops. Awesome second-hand stores. Fun boutiques. Fabulous art galleries. Redlands has it all. Get the Redlands Shopping Guide.

Make tonight a pizza night. Or pasta night. Or a pizza pasta night. Redlands has you covered.

There's something about tea that's just good for the soul, especially when it's shared with a friend. Reservations are required for this Rustic Tea event, but you won't be disappointed. Or hungry! Tea includes a large collection of bites.

Dining al fresco can be really fun – if you're warm enough. That's why in Redlands many of our restaurants with outdoor seating have patio heaters.

See the complete list: Dining in Redlands with Outdoor Heating.

Downtown Redlands is home to a plethora of art galleries, clothing shops, novelty boutiques and more. Check out our guide to Shopping Downtown Redlands.

Think you have to travel to the city to experience a unique selection of supreme burgers worth raving about? Think again. The selection of burgers in Redlands runs the gamut. From plant-powered vegan burgers to steak house-worthy patty-bun monstrosities, our quaint town is home to some of the best two-handed sandwiches around.

Redlands' Historical Glass Museum is not a museum made of glass. However, it is the only museum west of the Mississippi River that only displays glassware made by American glassmakers and artists. The exhibits include over 7,000 examples of glass pieces found in the home from the 1800s to present times.

A year-round farmer's market, the Saturday Morning Certified Farmer's Market is open from 8 am to 11 am Saturday mornings. It features a collection of produce booths, artist stands, locally grown meat and more.

Coops Coins has one of the most comprehensive selections of bullion, currency, and stamps. And it should. It's the oldest coin and stamp retailer in the country under the same ownership.

What's better than breakfast and more indulgent that lunch? Brunch! And here in Redlands, we do brunch right with an incredible selection of breakfast-lunch fusion.

The Redlands Visitor Center Concierge services is providing a tremendous service to visitors and residents daily. Our concierge team delivers personalized service and provides detailed information to visitors including maps, guides, attraction and activities information, dining, and shopping information. Redlands largest collection of Redlands merchandise. New resident tours, family room and history tours.

Built in 1901, the Barton School House is oldest Redlands school still standing. It was named after pioneer Ben Barton, who sold a tract of his Redlands ranch land to be developed into Redlands Colony in 1881.
More Helpful Resources