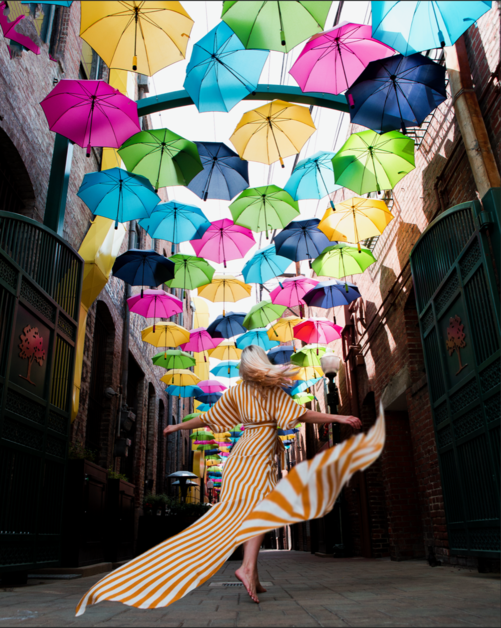 Redlands Downtown State Street District
Nestled halfway between Los Angeles and Palm Springs, Downtown Redlands offers the perfect mix of small-town charm and modern convenience. Our quaint community skips the touristy trappings of a retirement community and the traffic jams of a big city. Rather, we have a thriving restaurant scene, the longest running summer concert series that is free for all, Umbrella Alley, murals, clocks and more.
75+ Reasons Why We Love Downtown Redlands
The Downtown Redlands corridor is speckled with local parks, historic sites, old orange groves, and an Umbrella Alley. Held every Saturday morning, our Downtown's Morning Market hosts a wide variety of artisan vendors, pre-packaged food vendors, hot food vendors, certified farmers, and live entertainment. The Market takes place on East State Street between Orange and 7th streets and run from 8 a.m. to 11:30am every Saturday from March to December. The following list of Downtown Eateries, bars, breweries and activities feature some of our favorite local destinations.
Find the latest styles of home decor, up-to-the-minute clothing, skate and snowboarding merchandise, antiques, and personal services.
If you fancy the fare of an English pub, Greek cuisine, hot n' spicy Mexican food, or crave a hearty burger, our downtown restaurants and wine bars offer all that and more! Afterwards, take a stroll down our tree-lined streets and top off your meal with an ice cream or delicious specialty dessert.
MORE RESTAURANTS IN REDLANDS found here. SHOPPING AROUND REDLANDS found here.
Pick up a Redlands City/Downtown Map & the Downtown Clock Walk brochure outside the Redlands Visitor Center 24/7 across from the Umbrella Alley on Fifth Street.
PC| Orange Street Alley - Jackson Hall Photography
Shop, Dine & Experience Our Hometown
To help you better navigate Downtown Redlands, we've organized our list of restaurants, bars, and shops by street. We've found exploring one street at a time is one of our favorite ways to savor the town.
Orange Street
Red Rooster Vintage
The Pink Flamingo Bar
Romano's Italian Restaurants & Chicago Pizzerias
Aroi Mak Mak
Redlands Guitar Shop
Jersey's Pizza
Redlands Shoe Repair
Shop Suey Boutique - Women's accessory and apparel boutique.
Kluddes Kitchen + Bar
Royal Falconer - REDLANDS OLDEST PUB. Established in 1999, the Royal Falconer is Redlands's oldest pub. With savory cuisine, daily drink specials and live entertainment, the Falconer remains a long-standing local favorite.
Kissui Baby & Children - Offering the latest must have items for babies, children and parents to be. Stop in to find everything you see online, but want to see in person first: shoes, clothing, nursing covers, cloth diapers, baby carriers and so much more. Gift registry and breast pump rentals also available! Kids and children's clothes. 5 East Citrus Avenue, Suite 102. Store front on Orange Street. 909-307-9500
Kith - Kith for women offers affordable clothing, accessories & gifts in a fun boutique atmosphere. We can help you style an outfit for your daily wardrobe or a special occasion. Short on time? Call us ahead of time and we will curate and pull options to be ready for you when you arrive! 5 E Citrus Ave, Suite 104. Store front on Orange Street. 909-307-3777
Cheesewalla - located Orange Street Umbrella Alley
A Shop Called Quest
East State Street
Darby's American Cantina Darby's is a classic rock and sports themed restaurant. Serving American/Mexican fusion cuisine with a flare, made fresh from the finest ingredients. 40 different beers on tap including several made right here in Redlands. We also offer over 100 whiskeys from the old standards to the sought after high end favorites. 30 HDTV's. - 1 State Street Redlands. 909-792-2119
Ozels Jewelers
Harlo & State Salon
Principle Body Care
Speakeasy on State - Providing an exceptional historic event venue with quality in mind. Located in the Columbia building in downtown Redlands. Venue under 500. 10 E. State St. Suite 200-202
Don Orange Tacos. Contempo Mexican fusion dishes inspired by the traditional Mexican street food! Life is about celebrating with loved ones, eating and talking together. If you agree, please join us at Don Orange for contempo tacos, tapas and tequila. 14 E. State St.
Redlands Oyster Cult (ROC) - located in the Umbrella Alley.
LeRoys - beachwear surf shop
Nectar Boutique
Redlands Galleria
For Good

The State Restaurant
Wok in Cafe
Sterling & Co
ROK N FONDUE - A new bar and restaurant in the heart of historic downtown Redlands, California. Volcanic rock cooking. Indulgent cheese and chocolate fondue. Imported and craft beer, quality wine, and the finest distilled beverages. 25 East State Street. 909-793-1919
Emerson Fine Jewelry - extensive collection of new, estate and antique jewelry, or consult our team of GIA-trained designers, gemologists, jewelers and appraisers to design an heirloom quality custom piece that will be cherished for generations. 27 East State Street. 909-798-5888
Caprice Cafe- Mediterranean food at its best. Fine dining - heated patio. Bar inside. 104 East State Street. 909-793-8787
Fleur De Lis Gift & Home
HM Salon - A beautiful, relaxing , small, good vibe salon. We offer, color , blonding, professional hair extensions, haircuts, Brazilian blowouts, custom coloring. , and more.. 104 E. State Unit T.
Lot22 Olive Oil Co. - We grow, produce and sell extra virgin olive oil in Southern California. We're passionate about knowing the source and quality of our food. Our team of olive oil sensory analysts and spice connoisseurs loves tasting high-quality condiments. 909-674-0004, 110 E. State Street
House of Saints Salon
Marc Piron Photography. 111 E State St, Suite 201. 909-263-7550
Board Game Paradise. 500 different board games and puzzles for all ages and skill levels. 109 E State Street. 909-279-1722
Jacks Toys
The Blues - estate and vintage. 114 E. State St
The Gourmet Pizza Shoppe - The Gourmet Pizza Shoppe opened in 1998 with the goal of providing a unique and high quality product in a relaxed and enjoyable setting. 120 East State Street. 909-792-3313
Cabinet Factories Outlet
JD Myers - Upscale home store with great and unique gifts. Upscale clothing store featuring timeless clothing for women. 909-798-9166
Mountain Vista Optical
Pacific Premier Bank
State Street Dental
Nichos Ice Cream
Lappert's Ice Cream Shop opening November 2023
Redlands Art Association. 215 E State St.
Active Ride Shop 221 E State St
Wells Fargo
Next Apparel - Women' s Apparel - Women's clothing, dresses, pants, shirts, Cannisse, Cheyenne, Bryn Walker, Flax, Banana Blue, Fenini, Stella Carakasi, Match Point, Pure HandKnit, CP shades. 233 East State Street. 909-792-3036
State Street Pilates. 233 East State St.Suite 1.
McDuff's
Patio Barbershop
Uncorrked on State - A modern wine bar and eatery offering a wide selections of wines with a curated menu to match. Reservations encouraged, walk-ins accepted. 404 E State St.
Cotton Gin Fabric
Salon 413 Hair Studio - Full Service Hair Salon. 308 E. State Street.
Exordium Medical Group A DIRECT PRIMARY CARE (DPC) PRACTICE INTERNAL MEDICINE & AESTHETICS. 412 E State St Redlands
Tom & Hound - Everything for dogs from 8 oz. up to 200 lbs. Incredible selection of anything and everything for dogs and cats. You've never seen a store like this! Dogs welcome!. 419 East State Street. 909-748-0777
No Cap Barbershop - family-owned business where we aim to serve our clients of all ages by providing quality hair services in a warm, friendly, professional atmosphere. 427 E State St Redlands. 909-894-4971
Elsewhere Salon
Eden Hair Salon
Wild Hair Salon
Shear Perfection
Eclipse Salon
Redlands Sewing Center
Taco Shack
West State Street
Sunset Funeral Care
Bello Cristo Salon
Dhat Island Caribbean Creole
Mu Restaurant
State Street Salon
Refresh Redlands - Beauty, Skin Care, MediSpa, Morpheus 8 Microneedling Radiofrequency, Laser Hair Removal, Botox, Injectables, Fillers, Acne Treatment, Face Peel, Facial, Skin tightening, Vaginal Rejuvination. 308 W. State St. Suite 3A
Beloved Couture Bridal - Beloved Couture Bridal is a unique bridal boutique where you can find beautiful designer gowns 40 -75% off every day. The best part about Beloved, besides the prices, is that they are non-profit, all proceeds from the sale of their gowns are donated to help families care for loved ones dying of cancer. 329 W. State Street. 877-323-9762
Razor's Edge Salon
Arrow Staffing Services
Couture Salon
New York Pizza of Redlands
Arthur Commercial Press & Redlands Reprographics
Citrus Village Barber Shop
Breakfast Shack
Saverino's Deli
O'Flanary's Emporium - Hand painted signs & gifts, Tole painting classes & supplies, flags, and so much more. 909-793-9712
Feel Good Market - Mama's Handmade Sudsy Soaps. Refillery filled with household and personal care products. featuring 12 local artists.
East Redlands Blvd.
Tartan Restaurant & cocktails
Coops Coin Collector Galleries - If you don't know your coins... Know your coin dealer! Redlands books and gifts. 21 East Redlands Boulevard. 909-792-2511
Parliament Chocolate
Redlands Vinyl Records and Collectibles
KB Korner Liquor
MacGuyz
Landmark Coffee Roasters
The Black Orchid Designs
West Redlands Blvd.
Sugar Bloom Cakery & Coffee
Queens Jewelers - Wedding/Engagement Rings, designer watches, jewelry repairs, hand picked loose diamonds from Israel, Belgium, pendants, bracelets, earrings, and make custom orders, appraisals, we buy gold. 405 W Redlands Blvd Redlands.
5th & 6th Streets
Redlands Jewelers. Stop in for a complimentary jewelry inspection and cleaning and see for yourself how this small business started back in 1971, has expanded into what it is today. 1 North 5th Street on the corner of Citrus and 5th Street. 909-792-4016
Salon Motif - 104 East State. Complete Hair and Makeup Services 909-226-3185.
Redlands Visitor Center - 14 Fifth Street
Little Swiss Chalet
The Alley Collective
Hate Burger
Van Craeynest Working Factory - Van Craeynest designs and tools reach back to the late 19th century, both in origin and inspiration. Many of the machines and special tooling they use are over 100 years old, however, they are not the reasons for their exquisite work. Brilliance in all artistic endeavors springs from the knowledge of line, form and composition as well as a solid command of the tools and techniques used in working the medium.
The Frugal Frigate, A Children's Book Store - Children's Bookstore, Story Time, Gifts, Puzzles, Books geared towards ages 0 - 18. 9 N. Sixth Street
The Lovely Lotus
Isabellas Ristorante Italiano - Elegant full service Italian restaurant. Full bar, extensive wine list, beautiful banquet facilities, outstanding vegetarian selections. 330 N.6th Street Suite 112 Mission Plaza. 909-792-2767
Visiting Angels - Non-Medical Homecare
Joey Fernandez Salon
Evans & Co Salon. Evans & Co. Salon is a team oriented, upscale, customer service driven salon that specializes in modern hair color, fashion cutting, special occasion hair and makeup, skin care and lash extensions. 101 S. 6th Street
Citrus Ave.
Level 10 Salon & Spa - We provide exclusive hair, skin and massage services using a full line of organic products. Our team is educated, dedicated and motivated! We are located in the heart of Redlands, and are rated with excellence in the community. 507 East Citrus Ave.
Citrone Restaurant & Bar - Manhattan meets Napa Valley. Prime meats and fresh seafood served. Received more Wine Spectator Awards than any Redlands restaurant over the past 14 years. Fine dining. 909-793-6635. 255 E. Olive St & Citrus Ave. in Redlands new location opening to be announced.
Swoon Home - Furniture and Home Decor Boutique and Interior Design Studio. 316 E. Citrus Ave. 909-335-6011
West of Texas
Mozarts Fine Gifts
Oscar's Mexican Restaurant - Oscar's Mexican Restaurant holds the distinction of being the oldest restaurant in downtown Redlands. Oscar's has a '70s feel to it with its' low ceilings, big wooden booths and grey paisley walls. 256 East Citrus Ave. 909-792-8211
The Energy Lab - The Energy Lab is not your ordinary gym. We are a health and fitness studio, offering personal training, small group training, and innovative and integrative core fitness classes, including TRX suspension trainer, Pilates, CycleOps Cycling classes, FitCore, HoopCore - hula hooping, and Foam Roller Restoration and Rejuvenation classes. We specialize in functional core fitness training and wellness from the inside out! We offer Bootcamp Events, Cooking Classes, Kids Classes, parties, meditation and relaxation. We train for longevity and healthy living! T'ai Chi
The Eating Room- The Eating Room is centrally located in Redlands on Citrus Avenue with a menu ranging in price from $4-12. Hours: Monday - Friday 7am-3pm; Saturday 8am-3pm; Sunday 8am-3pm and Rustic Teas Thursday-Saturday 4pm-6pm by reservation. Seating is available on a first-come, first-serve basis. The entire restaurant is available for parties of 20 or more with 48 hour minimum notification required. 107 E. Citrus Avenue. 909-792-5400
à la minute
Batter Rebellion - Batter Rebellion is a California fusion restaurant and bar located in downtown Redlands that rebels the norm and embraces the unique. From battered twists, beer taps and creative cocktails, the goal is to experience something different and delicious. 909-748-6000
Open Door Escape Games. A live interactive escape room where you and up to six people have 60 minutes to decipher clues, discover hidden items, investigate a mystery and ultimately try and find the secret ESCAPE! 19 E Citrus, Suite 208. 909-747-4784
Crepes of Wrath
Performance Fitness Studio
Copehouse Bar & Bistro - 19 E. Citrus Ave Alley
Vine Street
Hair by The Rose of Sharon AVEDA Salon - The Rose of Sharon AVEDA Concept Salon has been a part of downtown Redlands for over 35 years, going from a small town beauty shop to one of the Inland Empires' most recognized names in the industry. 16 E. Vine.
Redlands Massage Therapy
The Vault Martini Bar
The Artlands
Bricks and Birch wood-fired pizza
Cajon Street
Fox Banquet and Events

RUST Vintage Denim
Theron's Marketplace & Frozen Custard - Theron's Frozen Custard has moved to Theron's Marketplace located at 122 Cajon St. in Redlands, CA. A local favorite for over a decade! Come visit our new location and try the sandwiches and more. 909.792.8404
International Day Spa - Massage, facial, waxing, hydrotherapy, body masque. 325 Cajon St. 909-793-9080
Paulson Orthodontics
Stuart & Eureka - New Packinghouse District
Escape Craft Brewery - Local craft beers with complex flavors and a heavy emphasis on hops. Family friendly place to host a casual get together or meet up, grab a pint and a game (football or board game). Additional tasting room featuring bocce ball and private parties. Local breweries. 440 Oriental Ave. (Downtown Oasis).
Plant Power Fast Food - All Vegan, 100% Plant Based Burgers, Fries, Shakes and Drinks. 450 W Stuart Ave, Suite # 130
Downtown Events
Never Miss What's Happening
Subscribe our the monthly "What's happening in Redlands this month" e-Newsletter and join 6,738 subscribers who love Redlands. Get insider tips on what to do and where to go.