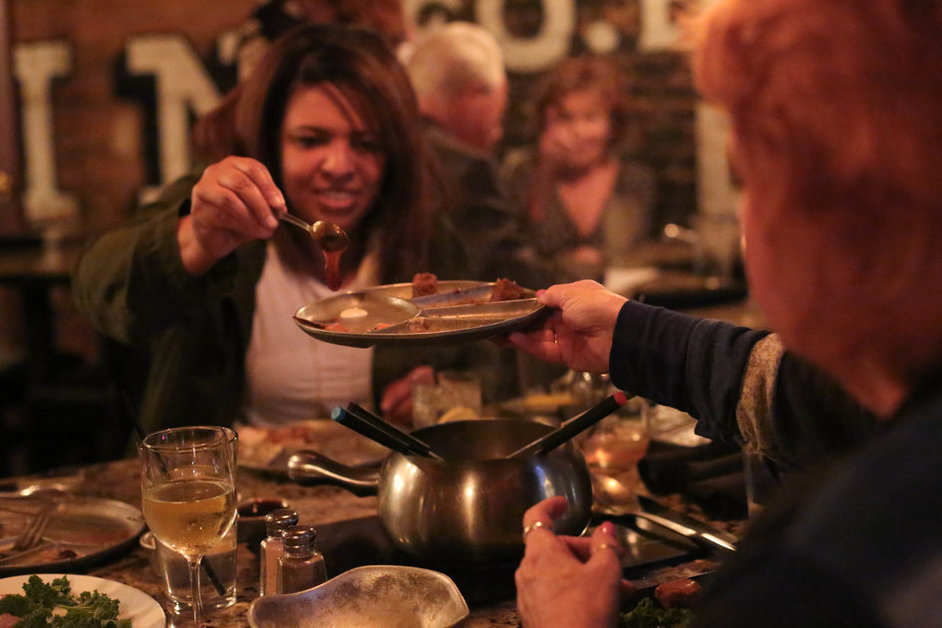 Rok n Fondue
Located in the heart of historic downtown Redlands, California. Volcanic rock cooking. Indulgent cheese and chocolate fondue. Full bar and banquet facilities. Read REVIEWS by clicking Business name. Reception & Event Venue under 150.
OUR PHILOSOPHY
We believe everything we do should be centered around a communal, interactive experience that encourages good conversation and time well spent with loved ones and dear friends.
See Sunday BRUNCH Menu click "View More Info"
Rock Cooking
Our volcanic rocks are kept in specialized ovens for hours, resulting in exceptionally hot rocks. These high levels of heat denaturize the proteins of meat, which combine with the natural sugars in a process called the Maillard reaction. This (along with marinades, fat content, and brining) is what gives meat its unique flavors, and makes it safe to eat. All jargon aside, your entrée is cooked tableside to your content. And you get an exceptionally fresh, good-tasting entrée sans the lukewarm temperatures or heat lamps. No butter. No oil.
Fondue
Fondue (the past-participle for the French verb, "to melt") originated in Switzerland as early as 1699, and has remained a popular communal style of eating throughout Europe. We offer indulgent cheeses made fresh at the table and served with traditional dippers; distinct blends of herbs, spices, wines, or oils which form a brilliant broth that's excellent for cooking seafood, poultry, and vegetables; and sweet combinations of melted, rich, Swiss chocolates.
"Behind every small business, there's a story worth knowing"
Marlisa Hodgin, owner of ROK N FONDUE, was raised in Highland and came from a large family of six. Marlisa has always had a knack for numbers and she decided to pursue this interest by attending the University of Redlands and University of Phoenix graduating with a Bachelor's of Science in Business Management and Accounting. At the age of twenty, she started her career as a bookkeeper and worked her way towards being a Controller of a major dental manufacturing company. However, her spirit to always help people and have an impact on the community drove her interest to switch careers and work for a local non-profit as the Chief Financial Officer. Yet, being the autodidact and curious person that she is, she then decided to simultaneously open a franchise restaurant (The Melting Pot in Rancho Cucamonga) and obtain her real estate broker's license and open a real estate and loan company.
After 12 years as Chief Financial Officer and other side hobbies, Marlisa realized that she wanted more of a creative outlet and desired to be more invested in the community on a personal level. Naturally, Rok-N-Fondue was the next fun, frontier that was outside the realm of corporate influence and allowed her to have total autonomy. Owning a restaurant provided her the opportunity to have a direct traceable line between action and her vision of a unique dining experience. By opening Rok-N-Fondue, she has experienced the gratification of starting something from scratch. It all started from touring the dusty, old building with her skeptical children telling her not to open another restaurant…to now being pressed to innovate her menu and find open tables on Friday and Saturday nights. Marlisa has always been inspired by the beautiful and rich historic places that are landmarks for Redlands. When she first found the building on State Street, she knew it was a rare offer and blessing to start something new with an amazing landlord and property manager.
Throughout her journey, Marlisa has always been inspired by her Mother and Aunt who taught her about hard work, the importance of education and always told her she could conquer anything. Without them, Marlisa may have been deterred to take such a risky endeavor and couldn't have faced the challenge alone. When Marlisa is not running up and down the stairs at the restaurant, you can find her bike riding, practicing yoga, or being pleasantly tortured by her three children who love playing tricks on her and going on lavish trips to Costco to eat pizza. But sometimes you can also find her family sitting by the fireplace drinking eggnog and discussing the digitization of society and how Rok-N-Fondue is venturing to replace cellphone texting and disengaged meals with captivating conversation and delicious, locally sourced food. "Why? Well, because traditionally, dinner is about community (after all)."