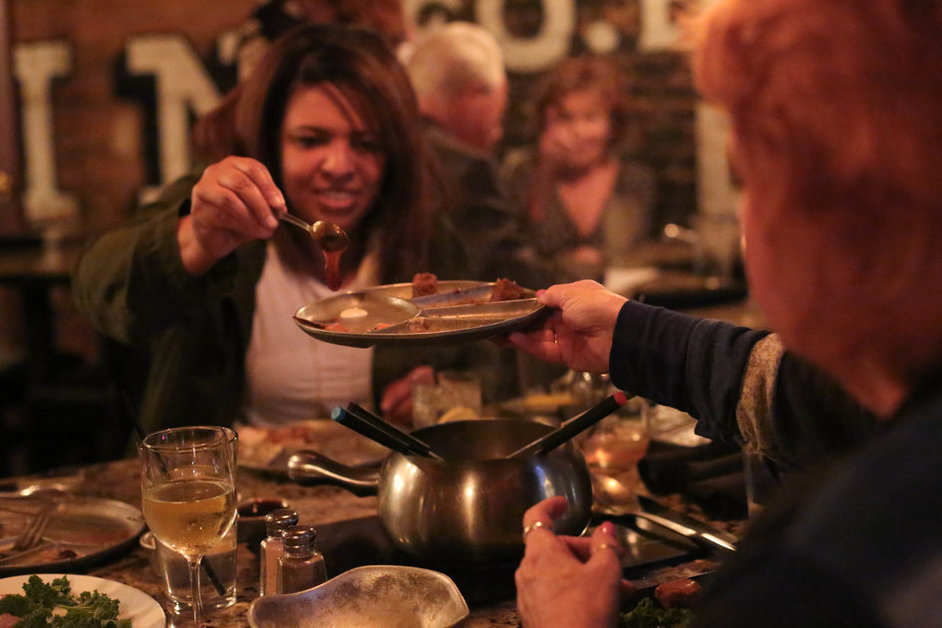 Rok n Fondue
Located in the heart of historic downtown Redlands, California. Volcanic rock cooking. Indulgent cheese and chocolate fondue. Full bar and banquet facilities. Read REVIEWS by clicking Business name. Venue under.
OUR PHILOSOPHY
We believe everything we do should be centered around a communal, interactive experience that encourages good conversation and time well spent with loved ones and dear friends.
See Sunday BRUNCH Menu click "View More Info"
Rock Cooking
Our volcanic rocks are kept in specialized ovens for hours, resulting in exceptionally hot rocks. These high levels of heat denaturize the proteins of meat, which combine with the natural sugars in a process called the Maillard reaction. This (along with marinades, fat content, and brining) is what gives meat its unique flavors, and makes it safe to eat. All jargon aside, your entrée is cooked tableside to your content. And you get an exceptionally fresh, good-tasting entrée sans the lukewarm temperatures or heat lamps. No butter. No oil.
Fondue
Fondue (the past-participle for the French verb, "to melt") originated in Switzerland as early as 1699, and has remained a popular communal style of eating throughout Europe. We offer indulgent cheeses made fresh at the table and served with traditional dippers; distinct blends of herbs, spices, wines, or oils which form a brilliant broth that's excellent for cooking seafood, poultry, and vegetables; and sweet combinations of melted, rich, Swiss chocolates.
"Behind every small business, there's a story worth knowing"
Marlisa Hodgin, owner of ROK N FONDUE, was raised in Highland and came from a large family of six. Marlisa has always had a knack for numbers and she decided to pursue this interest by attending the University of Redlands and University of Phoenix graduating with a Bachelor's of Science in Business Management and Accounting. At the age of twenty, she started her career as a bookkeeper and worked her way towards being a Controller of a major dental manufacturing company. However, her spirit to always help people and have an impact on the community drove her interest to switch careers and work for a local non-profit as the Chief Financial Officer. Yet, being the autodidact and curious person that she is, she then decided to simultaneously open a franchise restaurant (The Melting Pot in Rancho Cucamonga) and obtain her real estate broker's license and open a real estate and loan company.
After 12 years as Chief Financial Officer and other side hobbies, Marlisa realized that she wanted more of a creative outlet and desired to be more invested in the community on a personal level. Naturally, Rok-N-Fondue was the next fun, frontier that was outside the realm of corporate influence and allowed her to have total autonomy. Owning a restaurant provided her the opportunity to have a direct traceable line between action and her vision of a unique dining experience. By opening Rok-N-Fondue, she has experienced the gratification of starting something from scratch. It all started from touring the dusty, old building with her skeptical children telling her not to open another restaurant…to now being pressed to innovate her menu and find open tables on Friday and Saturday nights. Marlisa has always been inspired by the beautiful and rich historic places that are landmarks for Redlands. When she first found the building on State Street, she knew it was a rare offer and blessing to start something new with an amazing landlord and property manager.
Throughout her journey, Marlisa has always been inspired by her Mother and Aunt who taught her about hard work, the importance of education and always told her she could conquer anything. Without them, Marlisa may have been deterred to take such a risky endeavor and couldn't have faced the challenge alone. When Marlisa is not running up and down the stairs at the restaurant, you can find her bike riding, practicing yoga, or being pleasantly tortured by her three children who love playing tricks on her and going on lavish trips to Costco to eat pizza. But sometimes you can also find her family sitting by the fireplace drinking eggnog and discussing the digitization of society and how Rok-N-Fondue is venturing to replace cellphone texting and disengaged meals with captivating conversation and delicious, locally sourced food. "Why? Well, because traditionally, dinner is about community (after all)."
Hours
Monday - Saturday: Dinner: 5PM - 10PM. Bar: 4PM - Close
Sunday: Brunch 10am -2pm. Dinner: 5PM - 9PM. Bar: 4PM - Close
Friday, Saturday, Sunday Lunch: 12PM - 4PM
Address
Get Directions
Rok n Fondue
25 E. State Street

Redlands,

CA

92373
Categories
39 Reviews
Bruce Herwig said on Dec 29, 2018
As part of my About Redlands photo contest prize, Amy and I won dinner at the ROK N FONDUE. We started with a spinach artichoke fondue made with a rich fontina and havarti cheese blend. I had the 1/2 lb prime cut sirloin and Amy had the chicken breast marinated in a garlic herb seasoning (cooked to perfection on a 900-degree volcanic stone). We finished our evening with a double portion of flaming caramel nut chocolate fondue. Owner Marlisa Hodgin and crew took great care of us and made it a night to remember!
Deborah said on Jul 11, 2017
HIGHLY recommend sitting upstairs overlooking State Street. They have a new menu with lots of vege items which works well for Vegans. We always go here when family is in town. My Dad is a BIG fan of the filet on the rok,
Heidi Ilie said on Jun 29, 2017
Love this place. I've never been to the bar, but their waiters are so nice and the food is bomb. That filet mignon!
Dino Luna said on Jun 28, 2017
Love love LOVE Rok N Fondue. Great food.
Carol Angier said on Aug 29, 2016
Love this place.
Tom Hovey said on Aug 29, 2016
Go on Friday or Saturday nights when the music is live!
Dino Luna said on Aug 29, 2016
Was never a fan of fondue until I ate there. I love the lava rock too! My wife and I love going there!
Regina said on Mar 9, 2016
Rok n Fondue is my absolute favorite! Here's a fun fact...my husband proposed to me at the Melting Pot in Rancho. We went to Rok N Fondue one year for our anniversary and found out that the owner is the same owner from MP! The staff gave us a signed card and champagne! They are so nice there and the food is absolutely AMAZING! ❤
Mark Carda said on Mar 4, 2016
We love the Rok! The staff is awesome and the vibe is incredible.
Jennifer Bowen said on Mar 3, 2016
Our favorite place in Redlands!!!!
Erin Jones said on Mar 3, 2016
My favorite restaurant in Redlands, Rok-n-Fondue. Never before have I had the chance to experience the fun of fondue! I have taken my mom, husband and daughters there a number of times. (My personal favorite is the salted Carmel chocolate fondue...soooooo good. So. Good.)
It is also my first choice when my amazing husband asks where I would like to eat on our rare date night. The hand crafted cocktails are unique and delicious also! There is something really special about this place, I highly recommend it.
Jim Caley said on Aug 7, 2015
Best filet Mignon in town.
RJ said on Jan 14, 2015
My husband and I absolutely LOVE that place! The owner is the previous owner of the Melting Pot in Rancho, where my husband proposed to me. Our first time at ROK N FONDUE was for our anniversary and we told the waiter our story. He told us about the owner being the same person. He went back, told the owner, and the owner came and brought us champagne, strawberries, and a card signed by the entire staff! So sweet! ❤
Susan said on Oct 10, 2014
SO yummy and I'm vegetarian, they have a lot to offer! LOVED the fondue and can't wait to try the dessert chocolate one!
Vince Mosley said on Oct 8, 2014
Stopped by last Saturday for the first time. Nice!
Lynda Schauf said on Sep 29, 2014
Had dinner there Friday night and it was great!
Sara Gonigan said on Feb 6, 2014
Great atmosphere & great food.
Cathy said on Jan 30, 2014
We had such an awesome experience in our last visit. Thank you for bringing a unique restaurant to town!
Teckah Lawrence said on Jan 1, 2014
AHHHH Love the happy hour there!
Sean said on Dec 2, 2013
They're awesome. Usually have some nice entertainment and a bar. Food is amazing.
Katie Ng said on Sep 5, 2013
The point is to cook your own food on the volcanic stone. I think the prices are very reasonable for a fondue place. Not to mention, it's delicious. I didn't have room for desert, so that's on my list for next time.
Michele Stinsman said on Aug 28, 2013
Walker Great place to eat and have a good martini.
Sandee said on Jul 24, 2013
Had the Cajun Shrimp Bruschetta Monday night!! Delicious!!
Beth Mich said on Jul 24, 2013
We ate there a few weeks ago, & really liked it! A must try!
Adrian- local business owner said on Jul 11, 2013
Awesome atmosphere and food!
Regina said on Jul 11, 2013
Love this place, perfect for a special occasion!
Emily said on Jul 11, 2013
Something we love about Rok.n.Fondue is that the veggies are unlimited at no charge. We can split a fondue platter, $17-$28, (8oz protein, so 4oz each) and if we're not full, we can ask for more veggies free of charge. Perhaps that's something other places can copy.
Drew Babbitt said on Jul 10, 2013
My Fiancé and I went to Rok N Fondue the other day for an early dinner before leaving Redlands. They have great food. Lazy & Impatient people beware: you must cook your own food. To me, it means that it is cooked perfectly. Trust me it is a process you will soon learn to love. Oh and great bar. Great moonshine. Delicious appetizers. What more could you want...
Janelle said on Jun 28, 2013
You guys ROK!! Best new restaurant in Redlands!
Junior said on May 3, 2013
Fantastic Happy Hour! My friends and I enjoy our time here.
Regina said on May 1, 2013
Just went for the first time last Saturday! The food and drinks were great and so was the service. Prices were cheaper then the melting pot was. The dessert was the best part of the meal for me!!!
Jason said on May 1, 2013
Great time!! The bacon cheese dip is so good!!
Tom said on Apr 12, 2013
This is a great place! Support it, unique and delectable- great atmosphere.
Dave said on Apr 6, 2013
Very nice place and nice pours. Really enjoyed our night.
Marti said on Apr 2, 2013
Fun and very good food!
Andrea said on Apr 2, 2013
I went there for a girls night out and it was pricey but a lot of fun. Great atmosphere, great servers and amazing food! Worth trying at least once
Janelle said on Apr 2, 2013
I've eaten here twice and it is awesome!!
Ruth said on Apr 2, 2013
Simply WONDERFUL!!!
Mindy Sames said on Apr 1, 2013
Girls night out tonight. Mushroom Bacon Swiss Fondue - Would have burnt our tongues to lick pot clean. Carmel Nut Chocolate Fondue - HEAVEN! Louey - GREAT SERVER! Can't wait for a date night to try again. Cannot get enough.
Write a Review
---
Submit a Review
Thank You
Your review will be posted soon.