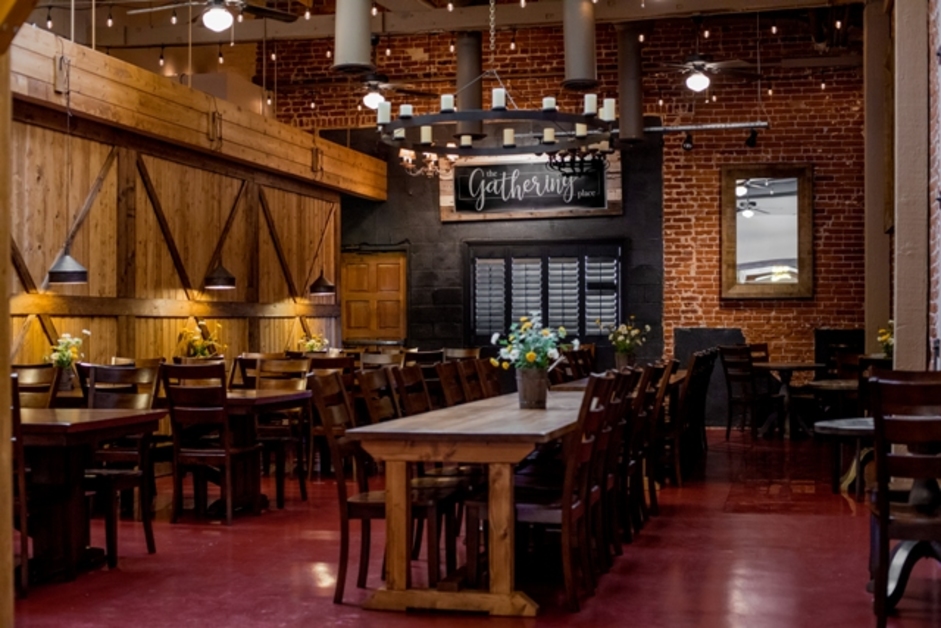 Martha Green's The Eating Room
Great Family Food! Southern fare--Breakfast and lunch. Full Bakery and Rustic Teas. Catering, baby showers, graduation party, birthday parties, and more.... Also serving tofu and vegan options. Read REVIEWS by clicking the review tab. Reception & Event Venue under 100.
The Eating Room
VOTED Inland Empires "BEST place for breakfast" The Sun's Readers Choice.

Provides a comfortable and colorful setting to enjoy fresh foods prepared to order daily for breakfast, lunch or afternoon tea.

The Eating Room is centrally located in Redlands on Citrus Avenue with a menu ranging in price from $4-12 dollars.

Seating is available on a first-come, first-serve basis. The entire restaurant is available for parties of 20 or more with 48 hour minimum notification required.

Gifts and all kinds of goodies!
Click on images to enlarge
Catering
CATERING - ALL OCCASIONS - Buffet Dinners, Cocktail Parties, Luncheons, Soup-n-Sandwich and more... Email for details: martha@allmarthagreen.com or call Kayte: 909.792-5400

Have your Party with Us! No room rent. Private parties booked any evening: warm atmosphere, excellent service, high quality affordable cuisine. Call Kayte: 909.792.5400
Rustic Tea
Join us for our (casual dress) Rustic Tea Thursday-Saturday afternoon 4:00-6:00 p.m. Reservations required for Rustic Tea or to book the restaurant for parties of 20 or more Sunday through Wednesday. Please allow 48 hours notice for all reservations. $25 per person. (Rustic Tea not recommended for small children)
Hours
Weekdays open 7:00 a.m. last seating 2:30
Weekends open 8:00 a.m. last seating 2:30 Rustic Teas Thursday-Saturday 4pm-6pm by reservation
Address
Get Directions
Martha Green's The Eating Room
107 East Citrus

Redlands,

CA

92373
Categories
136 Reviews
Mark Randle said on Feb 16, 2023
Had not been here for several years and some things never change. The baked goods in the establishment are nothing short of amazing.
Peggy Bradley said on Feb 9, 2023
Great homemade food & bakery.... difficult to make a choice, so many yummy & healthy choices!!
Ruth Sobers said on Feb 5, 2023
We had to get there early at 8 am on Saturday morning to get a table quickly. Food was really good...
Brook Hudson said on May 25, 2019
Starting off Memorial weekend at Martha Green's, The Eating Room. Always delish! I love seeing Mark, such a great community here in Redlands. ❤️
Benjamin Melendez said on Nov 1, 2018
First time here. It was a great experience. Friendly staff and the eggs Benedict was delicious. I would recommend this place to anyone.
Elaine Cohoe said on Sep 11, 2018
My favorite lunch time spot! Salads are great and the staff is so welcoming!
Elizabeth Tillitt said on Sep 6, 2018
This is our go to breakfast place. Large portions, reasonable prices, and a very friendly staff. I love the eggs Benedict and my husband usually gets the biscuits and gravy that are also very good. There is not a whole lot of parking in front, but there is a parking garage across the street that has free parking on both levels. The restaurant is also attached to a bakery that is amazing. They have all sorts of baked good including cakes, pies, and fresh bread. Best place for breakfast in Redlands in my opinion.
Constance Mensen said on Sep 5, 2018
Went to eating room for paint and sip, had tons of fun! Food we purchased was very tasty. Nicely decorated restaurant, will try again with family.
Larry Baeumel said on Aug 28, 2018
The Eating Room is by far my favorite breakfast or lunch place to go to in Redlands I like the atmosphere I like the service I like the food and they treat me like I'm special what more could I ask for.
Shaney Stapleton said on Aug 22, 2018
Every trip is a wonderful experience and after breakfast is the best because I have a opportunity to stop at the bakery on the way out...... always a yummy stop.
Mitch Hopewell said on Aug 15, 2018
Great place for breakfast. Food is well priced, very tasty, and the service is great. Try the coffee cake… You won't be disappointed!
John Lidtke said on Aug 14, 2018
Very good food and bakery.
Larranie Gonsalves said on Aug 11, 2018
Great service. Enjoyed my meal! ..and that sangria!!
Sharon S. said on Aug 8, 2018
Cute cafe and bakery. Food and service was great.
Ray said on Jul 29, 2018
Great place for casual dining (lunch in my case). Solid service, well executed food, sensible pricing.
Neva Coyle said on Jul 14, 2018
Always love the eating room. Great Bomb beni!
Meagan Montgomery said on Jul 3, 2018
Very fresh and delicious, very friendly staff. And owned and run by a family. Always love eating here.
Penny Knig said on Jun 19, 2018
This is a dining room with a cafe feel. Great breakfast menu. I was there for lunch and also a good variety. I had a hard time deciding what to have. I ended up ordering the My Big Fat Greek Wrap.
Valeria Gzesh said on Jun 8, 2018
Good breakfast. Pastries are good. First place I found they have fresh, baked sourdough bread.
Mark Shalhoub said on May 17, 2018
My wife and I love to have breakfast here when I have a day off from work. Martha Green's Eating Room has a rustic atmosphere that provides a pleasant experience to go with the fabulous food. Service is very friendly and efficient. Prices are reasonable. You have to stop by the bakery!
Todd Means said on May 15, 2018
Good food, good coffee, friendly servers and fresh pastries and bread on your way out.
Esmeralda Serrano-Montes said on May 15, 2018
Tropical unsweetened tea is amazing!
Nancy Lee said on May 8, 2018
Love the atmosphere, location, excellent service, never had a bad meal here. The bakery in the restaurant is delicious and fresh. Not your ordinary generic tasting food here. Can't wait to go back.
David Little said on May 3, 2018
The French Toast was awesome!!!!
Stephanie Lawrence said on Apr 30, 2018
Walked in at 1pm, and sat down immediately. Ordered our food and waited about 20min. Our server was really good, about the delay, and handled the situation. The pulled pork sandwich and onion rings were good. The veggie skillet was a lil over-cooked and the hash browns were a lil burnt. I must say that the homemade preserves have me intrigued to return. I have heard that the food is good, and that the bakery is outstanding. I will come back for another try.
Javier Ortiz said on Apr 25, 2018
The place is nice so it's the service, unfortunately the food is not as tasty as used to be before. Pastry still as its best.
Robyn Rivero said on Apr 21, 2018
Very good food and service. We appreciate Leah, Mark, and the rest of the staff who make our visits so comfortable.
Judith Jensen said on Apr 16, 2018
The best breakfast anywhere! Lunch also awesome!
Lisa Kirksey said on Apr 12, 2018
My son wanted breakfast before heading to the dentist appointment at 10:30am. It is 9:45. No time for breakfast, but he insisted and I didn't want him to have a meltdown (dentist anxiety issue), so I needed to come up with an idea. Let me call Martha Green's The Eating Room and ask if they can make our breakfast and have it waiting on the table before we got there. Laurie said, "YES!" And, sure enough it was waiting on the table and ordered correctly. I was so impressed. She doesn't know me but this is what true customer service is about. I will forever be a faithful customer. Yay Laurie.
Sandra Gamma said on Apr 9, 2018
Very yummy food and great service.
Timmy Kelley said on Mar 26, 2018
Good food but long wait for table on a Sunday.
John Reynolds said on Mar 16, 2018
Best place in Redlands to have breakfast or early lunch.
Buzz Bakker said on Mar 11, 2018
What an unbelievable experience! My cousins and I went in for lunch, and from start to finish nothing but top of the Shelf! I am an executive chef, and therefore very critical of service and food. I found absolutely nothing to complain about! Unbelievable. I would highly recommend this restaurant to anyone!
Lisa Joy Stiefken said on Mar 10, 2018
This has always been a favorite place, but the one big drawback is the lack of gluten free options which surprises me given Martha Green's experience.
Merry Ramirez said on Mar 10, 2018
Delicious, well priced, good customer service.
Mister James said on Mar 9, 2018
Good food and good service. The sinful French toast is heavenly.
Steven Brightwell said on Mar 7, 2018
Went there today for the first time ever... such a cute little decor and amazing food and it didn't hurt that I completely fell in love with my waiter LOL. The manager was amazing as well. Great place. Scotty rocks.
Jesús Pérez said on Mar 3, 2018
Excelente restaurant, la repostería de lo mejor. Muy recomendable.
Daniel Contreras said on Feb 26, 2018
Just went to the bakery, which is very good. Restaurant side was maxed out.
Susan VanVoorhis said on Feb 25, 2018
Super good place for food that you can't find anywhere else. Very Gourmet.
Tammy Pulsipher said on Feb 22, 2018
Big portions. Couldn't eat it all.
Linda Etzel said on Feb 21, 2018
Great service. Love their breakfast choices. Fun theme.
Keesha Cuthbert said on Feb 20, 2018
Delicious homemade food.
Kelley Arnold said on Feb 17, 2018
Amazing service and food.
Custom Raised Gardens said on Feb 11, 2018
Great atmosphere and homemade food.
Linda DeVoe said on Feb 11, 2018
Nice place good food and a great bakery.
Osman Trad said on Feb 5, 2018
Great food and beverage.
James Frame said on Jan 28, 2018
The service was great as usual. The menus are exciting in that they offer a wide range of dishes and they're all absolutely delicious. They are known for their coffee cake and you really need to try it. However I suggest you are a group of four or more and Order forks for everyone it's huge. Great great breakfast place. Thanks for the good service, Jim
Dan Staples said on Jan 27, 2018
Nice cafe, great coffee cake!
Charles Haynes said on Jan 27, 2018
Good food! Big portions.
Arlett Gutierrez-Keating said on Jan 27, 2018
Great food but get ready for a long wait. If you want a sweet treat without the wait go straight to the bakery.
Kelli Wikert said on Jan 26, 2018
Favorite place to eat!! Try the Sinful!!!!
Joshua Carcamo said on Jan 25, 2018
Always good.
Linda Brumett said on Jan 25, 2018
Good service, good food. Pleasant atmosphere.
Alicia Knox said on Jan 10, 2018
Always a great visit. Can't get enough.
Ken Hartling said on Jan 7, 2018
Good menu, quality food.
Pablo Csaky said on Jan 5, 2018
Great food and bakery!
Gloria Lopez said on Jan 3, 2018
Friendly staff, good food, and warm welcoming environment.
Robert Ford said on Jan 2, 2018
Classy ambience and great food of all types in restaurant and in adjacent bakery with goodies to entice all!
Teresa Garcia said on Dec 28, 2017
Great place. Good food and very comfortable.
Keri Werner said on Dec 27, 2017
Waited 20 minutes for a table.
Waited an hour for our food (from the time of being seated). This has been my experience on 3 separate occasions....So I though I should let the manager know.
Waited to talk to the manager. When someone finally arrived at the table, she said she was the owner....but it wasn't Martha.....so confused. I explained about the hour wait for our food and that this is not the first time we have had this experience at this restaurant, and her response was that we must come on the busiest days.....Oh! and she took $5 off our bill. That was almost a lame as her "you must come on the busiest days" response.
REPLY FROM MARTHA GREEN
--------------------------------
Hello, I received a note about your experience in my restaurant, The Eating Room. First of all please accept my apologies for your experience. As an owner you must know that we always want every customer to have a great experience and when that is not the case, I take it very seriously. The restaurant is now owned by my son and daughter-in-law, Kayte. I am certain that is who you must have spoken to. So perhaps that clears up a bit of the confusion on the "owner' issue.
There is only one explanation for a long wait. The kitchen just becomes over whelmed with every one arriving at once. Every single dish in our restaurant is made to order. We make everything, even the salad dressings. So when perhaps 20 orders hit the kitchen it slows things way down. We have suggested that our servers tell our customers that we are experiencing a high volume right now and warn the customers of a longer wait. There is actually no good response other than we are sorry and that we are doing our best to listen to valued customers like yourself and strive to do better. We do have hours that are not so rushed and would love to encourage you to try us again. We have delicious, high quality food. Would you consider giving me a call? 909-7253634 so that I can arrange a free meal for you and a guest. We never want one of our customers to have a bad experience and this is the only way I can attempt to make you aware of the good food and good service we do have to offer. Would you give me that chance please.
Thanks,
Martha Green
Charles Cerise said on Dec 17, 2017
Friendly atmosphere & delicious menu.
Cheryll MCINNISH said on Dec 12, 2017
Great place to have breakfast w/ friends and family .. atmospheres was country, friendly, and loving.
Timothy said on Oct 26, 2017
Quality food. A bit pricey. Nice atmosphere.
Shaun Markow said on Oct 6, 2017
Yummy breakfast and great service.
Kristen Lynn said on Sep 22, 2017
Coconut cream pie omg enough said.
Belldon Colme said on Sep 21, 2017
I eat breakfast here often. Definitely a cut above.
Virginia R. Macias said on Sep 11, 2017
You feel at home. Great servers, atmosphere, great home cooking and very nice patrons. Luv it.
June Dyer said on Sep 1, 2017
Love their Asian Wrap.
Penny Copeland said on Aug 29, 2017
Food and service was great.
Chad said on Aug 29, 2017
Food is always great! Coffee is really good, and they're customer service is great as well.
Devon Perryman said on Aug 20, 2017
Redlands area is nearly devoid of decent breakfast spots,in my opinion, this is the only place to go. Wish they served half order of Eggs Benedict .
Kristin Gillard said on Aug 17, 2017
Kristin Luther Gillard Great bakery and restaurant! The customer service is wonderful and the food is delicious.
Kimberly Hillyer said on Aug 11, 2017
Great little Cozy Restaurant. My group participated in the tea. Nice little bit size sandwiches, tasty scones, the black tea was brewed to long and was really strong.
Michael Perez said on Aug 9, 2017
Worth the wait. Diabetics need to avoid the fabulous bakery. Excellent food and portions.
Wen Fuller said on Aug 7, 2017
Yum!!! Try the pastries...super cute place to eat a casual lunch.
DK Global, Inc. said on Aug 2, 2017
A fantastic local restaurant. We find ourselves there for lunch quite often. Great people, service, and fantastic food.
Nichole Jaurigue said on Aug 2, 2017
My family and I love eating here and bringing our Advocates for Retirement clients here as well.
Keith Schubert said on Aug 1, 2017
Martha Green has the best food. Save room for cookies, the Swedish oatmeal are out of this world.
Stephanie said on Jul 31, 2017
Love it and always take visiting friends and family. The Asian Wrap is still my favorite for 21 years.
Carolyn Bonanno said on Jul 31, 2017
Good food....good service.
Janelle Vendeville said on Jul 23, 2017
We had a pretty awesome experience at Martha Green's for breakfast. My 4 year old daughter asked the waitress for something that wasn't on the menu before I could stop her (pancakes with whipped cream and sprinkles) and she was like, "yeah, I think we can make that happen" ... and they did. They brought her a cup full of adorable star sprinkles from the bakery up front and my daughter was in sparkle sprinkle heaven. LOL It was pretty awesome. They were also pretty tolerant of us too - we had a large group and there were 4 kids under 6 going kind of crazy in our party. LOL
Patrick Jones said on Jul 19, 2017
Wonderful cozy atmosphere. Very friendly. Great food and bakery!
Stephanie Kennedy said on Jul 13, 2017
Mmmm...........Asian wrap is my favorite!!
Deborah said on Jul 11, 2017
They have several vegan options. Both the hot and cold sandwiches are to die for. They are also using tofu so you can ask for substitutes!! They have the BEST sourdough around and made in house. Don't get me started on the bakery!!!! HIGHLY RECOMMEND!!!
Amanda James said on Jul 3, 2017
Great service, good food and reasonable prices.
Michelle Gerdes said on Jul 1, 2017
In the area for work and asked a local for a breakfast recommendation. Huge portions & the veggie skillet was good. Cinnamon roll excellent!
Patricia Riley said on Jun 30, 2017
Most amazing place ever!!!
Norma Perales said on Jun 26, 2017
Very pleasant and our food was delicious!
Barbara Fisher said on Jun 24, 2017
I've eaten there many times and also had my daughter's bridal shower there, and from the staff to the food, it was wonderful.
Dr. Gary M. Ross said on Jun 24, 2017
Consistently good food and good service. I have eaten there many times and will continue doing so. It's my little refuge from the stresses of life.
Kenneth Blake Jr. said on Jun 18, 2017
Great food, nice service, and large selection of desserts.
Jackie Ryn said on Jun 15, 2017
Waitress was great, food was great, great time with sisters.
Anthony said on May 26, 2017
First of all the breakfast burritos are amazingly good!!! I also ordered a cake from the display, a white chocolate with vanilla and raspberries!!! So, we try it that night for my b-day!!! Disappointed due to the raspberries had gone bad!!! Soo I called the next day and told them the cake was bad. The lady manager took care of me!!! She gave me a fresh one right out of the case!!! Thank you again!!! I will be coming back for more cakes and good breakfast!!!😊
Dorothy said on May 12, 2017
Love the ambiance, good food, fabulous pastries and genuinely nice staff. It feeds the soul as well...
Martha Macias said on Apr 25, 2017
I had the pleasure of meeting Ms. Martha and her husband at my first visit to her restaurant. She was very welcoming. The place is very homey and comfortable and the food was delicious.
Angel Perez said on Apr 23, 2017
Great place to have breakfast.
Lorraine Green said on Mar 30, 2017
Service is excellent, best coffee.
Albert Arteaga said on Mar 28, 2017
The food and the service are just outstanding.
Rachel Mcelroy said on Feb 27, 2017
This place was amazing! Staff was fast and friendly. Don't expect to eat and leave, you're going to want to relax and read a newspaper. Check out the scenery! The red room with all the kitchen stuff reminds me of the farm!
Lorri diana Mcpherson said on Feb 18, 2017
Great service..great food...cozy..
Cathy Gabbert said on Feb 17, 2017
So happy to hear about the chili size. Martha's has the best chili in town. Hold the burger I'll just have a bowl.
Rick Dever Nichols said on Feb 17, 2017
Love the food and the hospitality. Like visiting your southern relatives and enjoying a meal together.
Jaylen Allan said on Jan 23, 2017
The food and service was amazing…
J. Victor Ryckman said on Jan 18, 2017
Great for breakfast!
Sana A. Massad said on Jan 9, 2017
To go place for breakfast.
Karina Madonna said on Jan 2, 2017
Great food in home style way!!!"
Brian said on Dec 10, 2016
Went as a new customer, just wanted to try it out. Had a decent experience nothing stuck out as good or bad. Might go back.
Lisa Rymer said on Dec 1, 2016
Breakfast is good, very friendly atmosphere.
Josh Calles said on Nov 19, 2016
I love this place! My wife and I go frequently. The food is great and the staff is very friendly. It's surprisingly affordable too. The bakery is delish too!
Margie Thomas said on Nov 17, 2016
We love it, & take friends & family there for the great food & service, & atmosphere, every chance we get. Owner, Martha Green, will make you a fan of the Eating Room, too. Margie & Miles Thomas, Calimesa, Ca.
Melissa said on May 2, 2016
Love Martha Greens!!! They are amazing there.
Amlpz Rangel said on Apr 12, 2016
I had Jr's Chicken Sandwich & Sweet Potato fries, very good. My husband ordered the biscuit's and gravy, best I've ever had from any restaurant. The best. Can't wait to go again. And was that homemade jam???
Dennis Wenzel said on Nov 16, 2015
We came to town from San Diego for a recital at Memorial Chapel Nov 15th. We are happy we tried your restaurant. The Eggs Benedict was probably the finest I have ever had. The amount of lemon juice was perfect. Thank you for stopping by our table to greet us. We enjoyed exchanging words with the lady who dines by the fireplace. Also, the young "busboy" was very attentive. Many thanks!
Charlene Wrighton said on Jun 20, 2015
I love Martha's Greens!
Tenaya said on Mar 30, 2015
Love that place!! The food is so good, and don't even get me started on the bakery!!
Lupe Hanson said on Feb 7, 2015
The sinful french toast is sooooooooo good !!!
Jennifer said on Jun 30, 2014
Grateful for the secret Martha Green's patron who bought ‪cookies‬ for our kids. WOWZA! Praised us for being "organized & said our kids were extremely well behaved." Best compliment EVER! ‪
Rebekah said on Oct 31, 2012
My husband and I go on dates here because it is too expensive to bring all our kids though I know they would like it. We come for breakfast and their french toast is the best I have ever had. I love the little dish it comes in and it is so gooey and delicious. You would think this is what I ordered but it wasn't. My hub did, every darn time. I was so disappointed that I got an egg omelet and potatoes which were still so good but after eating a quarter of his french toast, I knew I should have gotten that instead. I do this every time we go. I wonder when I will learn. Service is always sweet, kind and fast. These ladies really treat you well.
Love the fact that you can grab your dessert from the bakery on your way out.
Shawna Elizabeth Festa said on Sep 7, 2012
Martha greens!!! The Sinful French Toast is the BEST french toast ever!
Kelly said on Dec 28, 2011
This is my favorite restaurant in Redlands. Every time I go, I always get something that I love.
We usually order breakfast, sandwiches or salads. I was happy with my omelet that I got there the last time I visited the Eating Room. My favorite item is their buffalo chicken wrap. I dip it in blu cheese which is to die for.
They used to give you a basket of breads and breadsticks, which they don't do anymore. That is OK, because their food makes up for it. They also have a bakery that you MUST visit afterwards. I got the snicker doodle and lemon bar. Both were fresh, homemade, and delicious.
The only thing they need to get a handle on is the customer traffic coming into the restaurant. The line to put your name is combined with people paying their bill. I would recommend putting a hostess near the front so things can be a little easier, especially when you are with a large group.
Marti Christiansen said on Sep 23, 2011
Martha, I wanted to let you know how incredible our lunch was today at The The-Eating Room! We took Jon's two cousin's out and they were very impressed! We girls had your Asian Chicken Wraps and a Buffalo Wrap, Wyatt had a burger, and Jon loved your Son-of-a-Chicken sandwich. We also had sides of your broccoli salad. It is never disappointing to treat a guest to a meal at your place! I didn't want to end the day without letting you know :)
Bryan said on Sep 13, 2011
This is my favorite breakfast place due to the Elvis french toast. Thick pieces of french toast slathered with peanut butter and topped with a heaping amount of bananas. I always leave feeling like "the king!"
Jordan said on Nov 30, 2010
Had an amazing brunch at the eating room today!!! Mexican skillet was so good! With sour dough bread and strawberry jam. Oh and amazing fresh orange juice. Loved it!
Karin said on Nov 19, 2010
Yum! Martha greens cooking class!! Omg! Myra and I got great recipes..!! Thxs martha!! Xxxoooo!
Rachel said on Nov 2, 2010
My boyfriend and I went here for breakfast, forgetting--until we saw the voluminous swell of customers upon entering the front doors--that it was Mother's Day! Having arrived with less-than-ravenous appetites, we decided to brave the crowds. We were pleased to be called to our table within minutes, and our orders taken not long after that. I ordered the Sinful French Toast and he the Mexi-Grill Omelet.
It made an impression, that twist on french toast, so allow me to describe: it arrived in a long porcelain dish, baked like a bread pudding, the top a golden-brown crust. On the side: a cup of butter and a cup of classic maple syrup. And, have I ever tasted something so delicious for breakfast? Perhaps, but those memories were far away when I placed a piping hot spoonful of that custard-crust, smothered in butter and maple syrup, into my mouth. You may suspect me verging on hyperbole, but...I suspect you that you just haven't tried this dish yet. Superb!
Phil said on Aug 4, 2010
Holy heaven! This place makes it worth the drive to the 909. A Must Stop/Must Eat Place on your way to Big Bear/Snow Summit, as it's only open until 3 pm The breakfast is traditional American but it's awfully fresh and delish. I had the vegetable skillet with mushrooms, onion, tomato, topped with asparagus and Hollandaise Sauce and it was super tasty. After breakfast, I skeedaddled to the bakery a few steps away and had a raspberry/vanilla cupcake. Yeah, that's right. I still had room. Thank goodness I was there for a meeting and had to go quickly because it would have been easy to buy half the display.
Alan said on Apr 3, 2010
OUR FAVORITE PLACE! Our favorite place for eggs Benedict, chocolate eclairs (my wife's fave), and chocolate cake (also my wife's fave)!
Dana said on Dec 31, 2009
My husband and I made our first trip to the eating room yesterday after hearing rave reviews for months from neighbors. We could not have been happier with the service, the ambiance, or the food. Martha Green came to our table and was talking to us, which really made the trip for me.
The breakfast was great! My husband got eggs and home fries with wheat toast and I had a frosted chocolate chip scone. We agreed the homemade bread was the best we've had. I'm going back today to pick up some pastries and a loaf of bread.
I never order coffee unless a place has flavored creamers, which they did, so I was overjoyed. I've already told my best friend and sister-in-law that I'm taking them soon.
Laura said on Oct 28, 2009
Yea! Opening November 6 for Friday night dinners. Finally another option for downtown Redlands. They are offering the full menu, breakfast and a family special. We are really excited that a affordable place is available.
Loyal Customer said on May 7, 2009
Gee, Meredith & Marisa, I don't know what was going on the last time you were at the Eating Room, but your YELP review read as if you might have "issues" or illusions about the restaurant business in general... or maybe an out-of -towner that acts as though she needs her passport stamped when she's ventured out past the O.C.! Some of your remarks are offensive to those of us loyal customers who have enjoyed Dough'lectibles since the early nineties! I have been pleased with the Eating Room since it opened in 2001. Sure, the wait is a risk between 11am and 1pm. EVERY restaurant has had a problem in the kitchen... the average wait for a meal is 20 minutes. Not bad for made to order breakfast and lunch. Not happy with your sandwich? Did you even point that out to your server? One thing the Eating Room staff are great about is trying to make it right. You think it's pricey? Just like every other business that has had to pass on the cost of fuel, this restaurant (just like most restaurants) has been forced to raise prices. Go to Denny's or IHOP if you want (not so) cheap generic breakfast. All of the Eating Room breads come straight from Dough'lectibles bakery. Soups made daily, NOT from a can. You like a certain one of their soups? Request that it be made Sunday, Monday, or Tuesday, and their cook might just do it! Martha has actually served me a wonderful soup she was testing for a cooking class at Trinity Church. They have a set soup for Thursday (Lemon Basil with chicken and wild rice, my fave) and Friday (of course it's Clam Chowder!). Their Rustic Tea by reservation is no High Tea, but the food is better and more scrumptious than any tea I've been to in all of Southern California, and even Victoria or London! Tea in a ceramic mug tastes the same as a china cup. Hey Meredith, ever seen a Rose Bowl float? A guy who builds those, created that "orange" tree. Ever thought of asking for a seat where you can stuff your face without looking at the tree? Singing for tips??? give me a break! We all crowd into the Eating Room, yes some of us daily, for the pure pleasure of being treated like family and watching the characters (staff and customers alike)! For any restaurant visit, know peak hours to avoid; let staff know (politely) when you are unhappy with food OR service; be realistic: I was in the Eating Room on a day that the power went out on the entire block.
An obnoxious man was loudly complaining about how long it was taking for the food to come out, as we all sat in the dark. Many of us were giggling, when we heard the cooks were using flashlights to read the orders and prepare the food! Did we get up and leave? NO. Did they close the place? NO, they just made do... and many of us keep coming back, again and again.
louise said on Mar 7, 2009
UNBELIVABLE!!!
The girl at the front counter, I belive she is the manager (laura) is great.She runs this place like it is her own.She remembers your name even after only have been there one time, she is just a great asset to have greeting you. Food is just great,service is great these servers treat you like a guest in there home. The bakery is to die for they have a couple of girls in there that are mother daughter team who are the nicest caring thoughtful counter help I have encountered in a long time.The whole establishment is just over the top.
Liz said on Feb 2, 2009
I recommend the hot chocolate. It tastes like melted chocolate bars topped with real whipped cream & chocolate shavings. It's out of this world.
Margarita said on Feb 1, 2009
The decor is warm and cozy. Their breakfast menu is outstanding, the Muselic,(their own version) is so tasty and filling, I was not hungry for the rest of the day. A great place to start your day.
Niko said on Feb 1, 2009
The BEST breakfast I've ever had...Elvis French Toast with bananas, peanut butter and syrup.... Yummmy!!!!!!!!!!!!!!!!!!!
rm said on Dec 1, 2008
the food is good. but their bakery outshines the restaurant.
Write a Review
---
Submit a Review
Thank You
Your review will be posted soon.