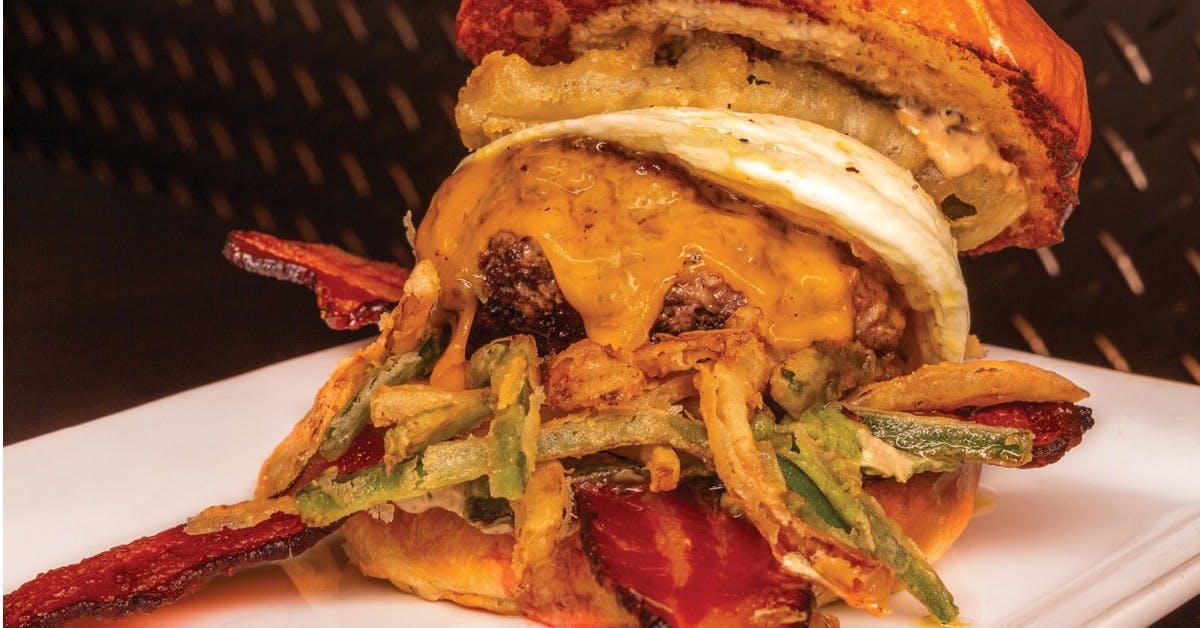 Redlands BEST Burgers 2022
From the classic cheese and grilled patty to a unique beet burger, discover the best burgers in Redlands.
Think you have to travel to the city to experience a unique selection of supreme burgers worth raving about? Think again. The selection of burgers in Redlands runs the gamut. From plant-powered vegan burgers to steak house-worthy patty-bun monstrosities, our quaint town is home to some of the best two-handed sandwiches around. 
I'm always looking for interesting photo projects, and when I was asked to write a burger blog I was thrilled! This would combine two of my favorite things, burgers and photography. 
This quest has introduced me to some of the finest restaurants, general managers, and business owners in the area. I found across the board they cared deeply about their food, and loved to talk me through the finer points of burger-building philosophy (ie lettuce…should it go on top, under or skip it altogether?) 
This project also took me to where I thought I would never go…no meat burgers. I was pleasantly surprised to try some great-tasting, healthier alternatives.
11 Can't-Miss Burgers in Redlands 
The following list of the best Redlands burgers is compiled in alphabetical order. Why? Because picking a favorite was too difficult! Redlands has so many burgers it's impossible to choose which one reigns supreme. This means there's only one solution — try them all, so you can choose which burger is your personal favorite.
Blacksheep Burger

Bacon Jam Burger - 6 oz Angus Beef Patty, Monterey Cheese, Bacon Jam, Rebel Sauce, Homemade Onion Ring, Charcoal Infused Bun, Served with Fries.

A hip and trendy downtown restaurant and bar, Batter Rebellion offers the kind of celebratory comfort food worthy of its chic yet laid-back vibe. While the impressive menu includes multiple burger options, the crowd favorite is undoubtedly their Blacksheep Burger. 

A 6-ounce Angus beef patty, it comes slathered in bacon jam and housemade sauce on a charcoal-infused bun. To make matters even more mouthwatering, the showstopper it's stuffed with a housemade onion ring.

Comté Cheese, Butter Lettuce, Bacon, Teriyaki Onions & Mushrooms

Fine dining might not be the place you'd expect a burger on the menu, but Caprice Café gives their Wagyu Burger an elevated twist. A healthy melting of Comté cheese and thick slices of bacon are paired with teriyaki onions and mushrooms. This rich combination will have your mouth watering.

Beef patty, bacon, lettuce, tomato, American cheese and 1000 Island rdessing — served on a grilled Parmesan cheese bread.

Carolyn's Café offers classic dinner food in a warm and welcoming atmosphere. The hearty menu includes a large collection of burgers. The menu favorite tends to be the Frisco Burger, a classic beef-bacon-American cheese sandwich, it comes smothered in 1,000 island dressing and served on grilled parmesan bread. Loved the crunch on thisone!

Premium beef patty, applewood smoked bacon, fried pickles, fried egg, guacamole, cheddar cheese, onion straws, jalapeño straws and chipotle ranch.

Modern industrial decor and a fun outdoor patio setting make Darby's American Cantina a fabulous place to gather with friends and family. (It's 21-and-over on weekend evenings, so bring the kiddos during the week.) 

Voted favorite local burger diner, The Darbonator is the go-to choice. With a classic foundation of beef, bacon, and cheese, it comes towering with fried picks, a fried egg, onion straws, and jalapeno straws. It may be one of the best-looking burgers you've ever seen.

Burgertown USA

1,000 Island Dressing, lettuce, tomatoes, pickles, onions, bacon, cheese, and avocado.

A no-muss, no-fuss burger joint, Redlands' Burgertown USA offers a casual, friendly atmosphere for a family-friendly meal. The staff is thoughtful, the portions are large, and the burgers don't disappoint. 

Menu favorites include the California Burger. It comes topped with onion, bacon, avocado and cheese, plus a slathering of 1,000 Island Dressing. The well-seasoned fries and the fried zucchini are also always crowd-pleasers. So too is their breakfast selection which ranges from pancakes and burritos to omelets and sandwiches.

American Swiss, grilled red onion, butter lettuce, house pickles, tomato and special sauce.

Terry's Super Cheeseburger-Large beef patty served on an Onion Bun, topped with Lettuce, Tomato, Onion, Pickles,Thousand Island Dressing, Bacon and Avocado.Bring your appetite…it's onemassive,Classic Americancheeseburger!

Beet patty with lettuce, tomato, onions, BBQ sauce, and mao on a WW bun.

Redland's premier vegan restaurant, Living Root Cellar offers a tasty selection of plant-based breakfast and lunch options. Their 'Beet Burger' is a light and healthy option for burger lovers. The patty is a hearty combination of beets, carrots, and pinto beans. It comes topped with tomatoes and onions, with a dose of BBQ and mayo.

Served with Bacon Portobello Mushroom, Avocado, and Bleu Cheese on a house baked Kaiser Roll

This beloved staple in Redlands, Martha Green's The Eating Room is well-known for their 'Tea Time' and selection of bakery treats. Equally splendid are their breakfast and lunch menus. Among the burger favorites is a Cali Burger with bacon, portobello mushrooms, avocado, and blue cheese on a house-made kaiser roll.

Two patties, special sauce, American 'cheese', lettuce, onion, and pickles.

As the name would suggest, Plant Power Fast Food leverage healthy, delicious plant-based items to make fast food alternatives to the quick drive-through staples many of us crave. The burger menu mimics the beefy-style you'd expect at some of America's top chains — including the iconic Big Zac. 

Two patties and special sauce are given the classic American 'cheese', lettuce, onion, and pickles treatment. If you're blindfolded, you might not know this one was vegan!

Apple-wood smoked bacon, aged cheddar, house barbecue sauce, and tempura battered onion rings.

An industrial, rustic vibe gives this gastropub the welcoming balance between upscale chic and casual comfort. Craft cocktails and a large whiskey selection encourage celebratory toasts. While the elevated comfort food menu is a hearty selection of classics made with the best exceptional ingredients. 

Those looking for burgers (this article is about the best Redlands burgers after all) will want to keep an eye out for the featured burger, which changes regularly. Staples to love include the double smash burger, with grilled onions and bacon on a brioche bun. And our ultimate favorite, the Bourbon Barbecue with apple-wood smoked bacon, aged cheddar, house barbecue sauce, and tempura battered onion rings.

Those looking for a meat-free meal will enjoy their thoughtful selection of vegan menu items, including their Vegan Resolution burger, made with an Impossible patty.

American cheese, lettuce, onion, tomato, and pickle with fries.

Family-owned for more than 57 years, The Tartan is "the place where everybody knows your name." Red booths, wood paneling, and a full bar set the stage for an old-school joint with friendly service and a jovial atmosphere. 

Burgers tend to be the favorite entree here, serviced with a large helping of fries. The Tartan Burger, in particular, offers a classic choice featuring beef, lettuce, onions, tomatoes, and pickles that do not disappoint. In fact, it's downright legendary — just like the outside patio where live bands frequently perform.
So Many Redlands Burgers to Love
We are fortunate to live in such a "burger-rich" town. I know there are other great burgers in Redlands. Did I miss your favorite? Leave a comment, and we'll see if I can go take its picture!
Bruce Herwig is a marketing professional and an award-winning photo enthusiast. Look for his Color Me Redlands coloring book and annual Redlands Photo Calendar at local retailers or online at bruceherwig.wordpress.com.
Support Your Local Redlands Burger Joints
Love that there are great Redlands burgers? Want to support these local joints? In addition to frequenting these local establishments, one of the best ways to show these businesses some love is to tag them on social media. 
Post a picture of your burger with an @mention and a positive review. This makes a HUGE difference for small businesses, as it spreads awareness. As an added bonus, make your mention go even further by talking About Redlands to get your post re-shared. 
About the Author: Bruce Herwig
Bruce Herwig is a marketing professional and an award-winning photo enthusiast. Look for his Color Me Redlands coloring book and annual Redlands Photo Calendar at local retailers or online at bruceherwig.wordpress.com.
About this list of Burgers
The "best" claim in this article is objectively based on restaurants listed on AboutRedlands.com, which is Redlands' only local business directory listing member and nonmember businesses. Listings are free for all businesses. Additional businesses were added because they responded to our requests to be included. Additional curation was assisted by our guest author. We welcome all local businesses to be included in our travel guides and posts. Our blog celebrates our community and shopping locally.