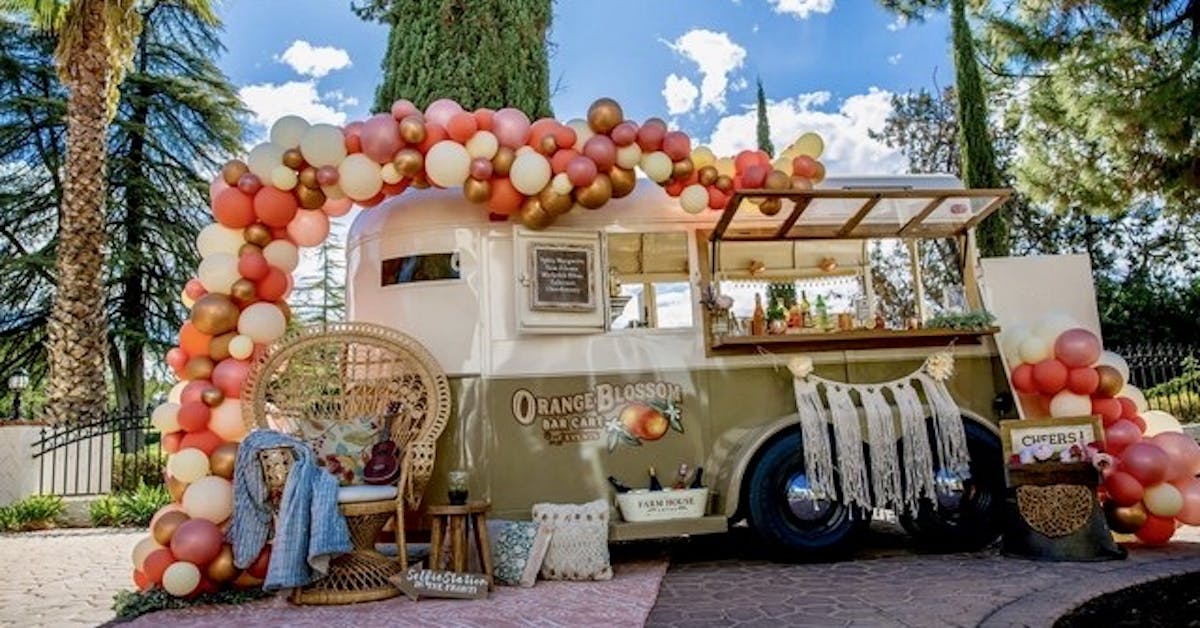 Orange Blossom Bar Cart Events – Let the Good Times Roll
Orange Blossom Bar Cart Events is a party on wheels. Owners Shelley Brassfield and Kathleen Liess are neighbors who, six years ago, discovered a shared love of hosting parties and fashioning party decor...
Although both have regular jobs – Shelley is the Major Business Account Manager at Office Depot and Kathleen, along with her husband, owns Redlands Pool Service – they decided to help others throw fun, often unusual, parties and backyard events as a sideline.
They resolved to create a retro mobile party/event bus, spending fruitless hours searching the internet for a used camper from the 1950s or '60s. Then, in July 2019, they spotted a used 1973 horse trailer that reminded them of an old trolley. They bought it and, with their husbands, totally gutted the inside, thoroughly cleaned and decontaminated it, then rebuilt it to allow for changing décor depending on the party theme. They cut a hole in the side of the trailer, then built and installed a walnut-framed window for use as a drink or cupcake station. They named the cart Orange Blossom as a shout-out to Redlands's and the Inland Empire' citrus heritage.
The mobile unit has a sink with beer taps for kegs, an old whiskey barrel revamped for use as a wine or cookie bar, and a wine refrigerator. If cocktails are on the menu, their colleague at Mia's Martini will be on hand to shake (or stir) up a memorable drink. The front half of the cart is a built-in photo booth decorated to match the theme of an event.
What types of affairs do they cater? They created a Speakeasy for a 1920s dinner, birthday parties for both kids and adults, a farm inspired barbeque, a circus arts dinner for 150 people for the Community Circus Arts Corporation, retirement parties, bridal showers, sweet 16, graduations, baby showers, luaus, and supper clubs. For each type of function, they customize cart decor and chalk signs to the host's needs. For backyard amusements, they have created giant-size versions of popular party games – croquet, corn hole, Jenga, connect-4, and a version of Yahtze, they call Yardtze, with giant dice they fabricated. Their infectious enthusiasm gets the creative juices flowing. During our interview, the three of us brainstormed the idea of a large Twister mat to triple or quadruple the number of players that could participate. Can't wait to see that game in action.
Shelley and Kathleen also give back to the community. They've been involved with Farm to Fork at the Grove School, as well as Variety for Kids which donates custom bikes to special needs children. Twelve years ago, Kathleen and her daughter originated Cupcakes for Cancer, held at the Mitten Building each Spring, to raise money for UCLA Jonsson Comprehensive Cancer Research. In 2020, they plan to get more involved with the local Senior community.
Because Orange Blossom Bar Cart Events is mobile, there is no storefront one can visit. People will be able to view Orange Blossom rolling along in the Annual Christmas Parade on December 7. Orange Blossom, decked in Santa's Elves' finery, will also be at Market Night on both December 5 and December 12 where it can be viewed up close and personal.
Shelley and Kathleen's mission: "use our innate creativity to make people happy". "We want to have fun and create fun moments for clients".
People can view the transformation of horse trailer to bar cart, as well as the custom chalkboards and cart décor Shelley and Kathleen designed on their website, Instagram, and Facebook pages. The business phone number is (909)725-5053.
*Why buy local? By choosing local and independent businesses, you not only enjoy a more personal experience, you help enhance local economy. Local ownership of business means residents with roots in the community are involved in key development decisions that shape our lives and local environment.