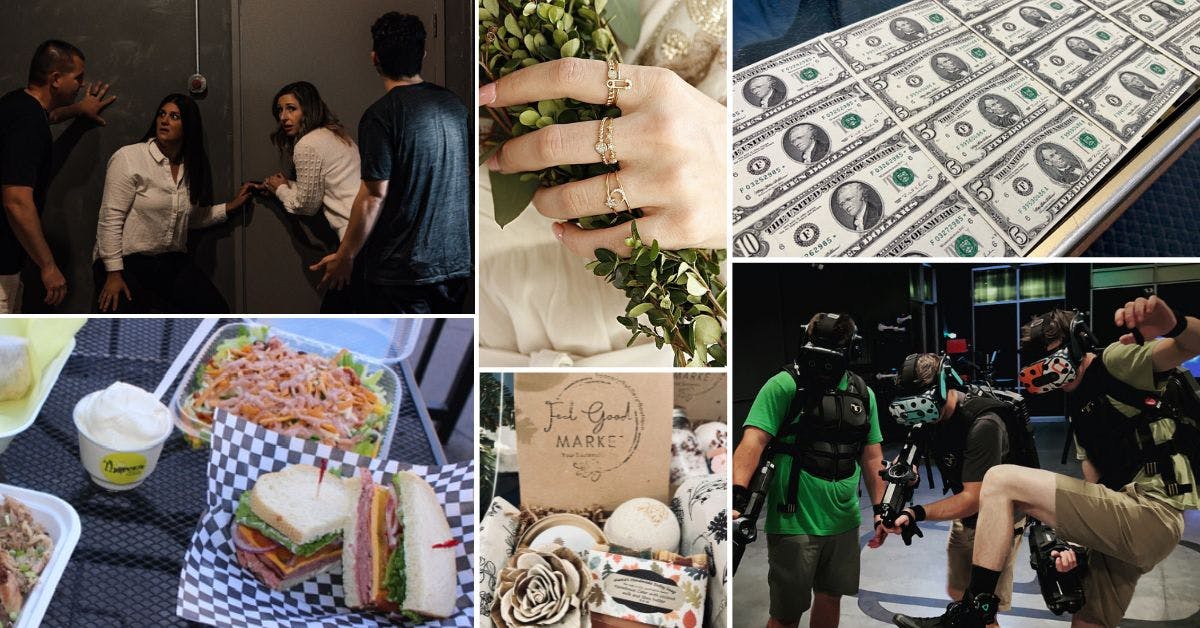 Redlands Christmas Holiday Gift Guide 2022
Make this Redlands Christmas unique and special by giving gifts and experiences sourced from our hometown with our updated 2022 guide.
From interactive games to wrapping paper made of real money (we're not joking!) to better-than-home-cooed meals and hand-made soaps — discover gifts you and your loved ones will remember for years to come. Discover some of our favorite local places to shop and celebrate Christmas in Redlands. 
6 Local Experiences, Gifts, Food & More Perfect for Holiday Gifts Near You
Mix it up this Redlands Christmas with local gifts and experiences offered right here in our hometown! Redlands and Yucaipa have some of the best places to play, eat and shop — especially during the holidays. Let's make this season the best one yet!
1. Open Door Escape Games
Open Door Escape Games is the premium escape game experience for miles and offers some of the best interactive entertainment around! Your group of 2-12 will be immersed in a game where you work together to solve puzzles, decipher clues, and ultimately escape in 60 minutes or less.
From corporate Christmas parties and families from ages 6-99 to unique and fun date nights, come excited and leave laughing, feeling like an expert detective. Offering five immersive experiences that range from scary to whimsical and easy to difficult — visit Open Door Escape Games to make lasting memories. 
Plus, an exciting new Christmas game is coming on December 1! Bookings are best made online and in advance.
We have done a LOT of different escape rooms and Open Door remains some of my favorites! They ensure you get the experience you are looking for with an escape room. The rooms are so well-themed and built. It immerses you in the world. The puzzles are clever. They do a great job and I highly recommend their escape rooms. You won't be disappointed.
I can't say enough good things about Open Door. We've been to two of their locations and they really get the escape rooms right. The theming is always spot on and the rooms are generally not linear, so different people can work on different puzzles and switch off, if necessary. Our host was excellent as well, monitoring us and giving aid when needed to make the experience worthwhile.
2. Feel Good Market
Discover cool, sustainable gifts at Feel Good Market! This unique novelty store is a locally owned and operated business where you'll find a range of handcrafted goods. From personal care — including house-made soap and bath bombs — to home goods, Feel Good Market has something for everyone. 
Plus, their products are clean and environmentally friendly, ensuring they are good for you and good for the earth!
Want to keep your carbon footprint to a minimum? They even have a refill station right here in Redlands! You can bring your own container (or feel free to use one of theirs!) and fill up on shampoo, conditioner, hand soap, dish soap, cleaning supplies, laundry detergent and much more. As with all items sold, these refillable household products are made with clean, earth-friendly ingredients that you purchase by the ounce. Are you especially sensitive to scented products? They even carry most of their products in an unscented option.
Need help finding the right gifts? Their friendly staff is available to help you pick the perfect earth-friendly gifts.
4. Theron's Marketplace
Tired of cooking? Have company coming into town? Head on down to Theron's Marketplace and let them do the cooking (and meal prep clean up) for you!
They have something for every dietary lifestyle: vegan, vegetarian, gluten-free, dairy-free, keto, etc. You name it and they will accommodate it. 
Want sandwiches and steamy soups? Looking for some yummy tacos or a tasty Freddy's Hawaiian lunch plate? Ready to dive in on a tried and true frozen custard? Theron's Marketplace has you covered.
Happy Holidays! We just might see you at Theron's Marketplace - Redlands' first food hall - when we're craving an easy 'home-cooked meal' without the cooking.
5. noobs VR
Looking for a unique experiential gift? Through the magic of virtual reality, noobs VR in Redlands serves up a wide range of exciting group entertainment – from puzzling escape room adventures to full-body tracked zombie survival experiences and high-energy, multi-dimensional laser-tag!  
As you walk wirelessly around the arena with your friends, each player's real-life movement and position is replicated in the virtual world – so whatever adventure you choose, just strap on your VR gear and let the noobs immerse your private group into another world!
For this holiday season, noobs VR is offering a free $15 bonus card* for every $50 in digital gift cards purchased! PLUS: as an added bonus through the month of November, use promo code "ABOUTREDLANDS" and take an extra 10% off of the purchase price of any gift card! 
(*Bonus card(s) valid 1/8/23-3/31 and will be delivered separately. Gift cards never expire! For full offer details, click here)
Whether you're shopping for someone who's 7 or 77 — noobs VR is perfect for family game nights, group outings, date nights, team-building events, birthdays, and more!
6. Melt'm Jewelry Design
A unique designer jewelry atelier, Melt'm Jewelry Design is located at the heart of Redlands. They handcraft fine jewelry using diamonds and precious gemstones in 14k gold and sterling silver. 
You may find a wide range of one-of-a-kind jewels in their shop or order a custom design for all your special occasions. Their style is minimalist and elegant while covering multiple options, from everyday pieces to gorgeous engagement rings.  
Recently, they began offering a permanent jewelry service. With permanent jewelry, they use their expertise to join a bracelet without a clasp — making it a beautiful addition to your style that is ever-present. You can make an appointment for yourself or with your best friend. A gift card will also make a great Christmas gift for forever jewelry.
Show Your Local Shops Some Love
How else can you support local businesses? Tag them on social media when you visit. An @mention with a positive review really helps small businesses spread awareness. As you check out a game room, pick up a fabulous meal, or find great gifts, make sure to share your experience.
Make your mention go even further by tagging About Redlands to get your post re-shared.
---
Related Articles
10/24/19

Niko Wittman

10/08/21

Deborah Rada

12/20/19

Narein Jobanputra