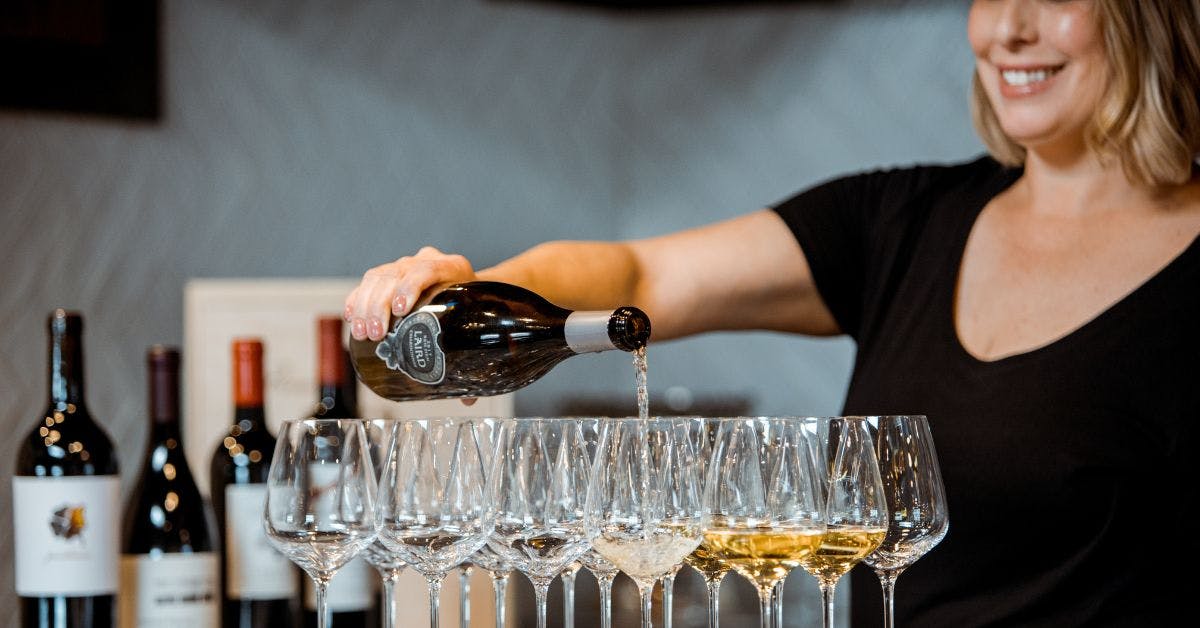 What to Know About Local Wineries, Wine Bars, & Tastings
Get expert tips to make the most of wine tasting. Plus, discover three can't-miss wineries and wine shops in and around Redlands.
California is well known for producing incredible wine. Napa Valley, Sonoma, Paso Robles, and Santa Barbara are all home to countless vineyards and wineries popular with people from all over the world. And of course, Temecula makes sure that the Inland Empire is well-represented in the wine world.
But did you know you don't have to drive all day in order to find great wine? We are fortunate to have several vineyards and wineries within a 15-minute drive of Redlands!
In fact, Suveg Cellars is leading the movement to create a Yucaipa Valley AVA (American Viticultural Area) — an appellation that would officially define the area as a wine-growing region. This has the potential to turn the Yucaipa Valley into a burgeoning wine country like Paso Robles or Sonoma!
We reached out to some of our local businesses and asked them for tips on how to enjoy a fun wine tasting right here in our own community. Here's what they had to say:
5 Tips to Get the Most Out of Wine Tasting Near Redlands
1. Be Comfortable
A little research can be wise when you're deciding what to wear. Uncorked on State is a downtown Redlands restaurant, and you may choose to dress up a bit to make an occasion of the experience.
"Drink wine however you feel comfortable," says Devin Cohen from Suveg Cellars.
Planning to head to North Cork Vineyard & Winery? Keep in mind it is an outdoor venue in the San Bernardino foothills. "We are a working vineyard and winery with uneven terrain," says North Cork's co-owner, Melanie Todd. "We recommend appropriate footwear and encourage you to layer up to be prepared for warm afternoons and cooler evenings."
2. Be Polite
"Humbleness is key," says Todd at North Cork. "Nobody likes a wine snob. It's good to share knowledge, but be humble in your approach."
One thing that many guests don't realize is the reason for that tiny sip the server offers after opening the bottle. In that moment, "you are sampling the wine to determine if it is in good condition (if it has a fault), not whether or not you like it," explains Suzanne Doll of Uncorked on State. "For example, a wine can turn due to a tainted cork, oxidation, or volatile acidity." Once you've determined that the wine hasn't turned, the real tasting begins!
As for the age-old question: spit or swallow?
"[Spitting] is usually done when you are tasting many different wines just to keep from getting intoxicated," says Doll. "A professional wine taster has to taste many wines in one sitting, and if they get drunk, their judgment will be impacted. But for the average person – swallow that wine!"
And if you ever have any questions, don't be embarrassed to ask. "Be kind, exercise basic manners, and a good winery should be able to meet you where you are and make the experience hospitable," says Suveg's Devin Cohen.
3. Be Yourself
"It's your experience and nobody can argue what you are experiencing," says Melanie Todd. "Do not let others control what you taste or smell."
"Have an open mind," adds Cohen. "The key is to never be embarrassed by the first flavors that come to mind. Just say what you taste, or how the wine feels on your palette. There is no wrong answer."
It can be fun to try a broad variety of different wines to help you determine what types/varietals are most appealing to you.
4. Start Simple
If you've never been wine tasting before, "start with the most common varietals," Suzanne Doll suggests. "Chardonnay, pinot noir, cabernet sauvignon, merlot… Getting familiar with these grapes is a great place to start." An advantage of visiting a restaurant like Uncorked is enjoying a great meal with a recommended pairing.
If you order a tasting, your server will be able to provide you with information about the wines presented.
With the $20 tasting from Suveg Cellars, "you get to try every wine on our menu, hear about how the wines were made, and develop an opinion about the wines on your own," Cohen explains.
You can taste wine however you want, but most wine experts suggest starting with a few quick sniffs. Think about what the smells remind you of. Then take a sip and see if the same flavors appear as when you smelled it. Consider how it feels:
Is it light?
Heavy?
Does it feel sweet?
Do the tannins make your mouth feel dry?
Once you've developed some experience, try some more unique varietals. Melanie Todd of North Cork suggests exploring Sangiovese, Barbera, or even bourbon-barrel cabernets.
"Wine is being produced all around the world," says Uncorked's Doll. "Look for wines from Mexico, Uruguay, Portugal, and Georgia."
5. Have Fun! (And Drink Responsibly.)
This tip doesn't need an explanation. Take an afternoon or evening for a tasting and shake up your weekend. Develop your palette, try a new wine, and enjoy the locally-owned businesses in our community.
Where to Find Great Wine Locally
We've worked with three local businesses to showcase where to start your tasting adventures. Let us know what you love.
Newly opened in spring of 2023, Uncorked grew from Suzanne and Jake Doll's dream of a warm, inviting space that fosters community through food, wine, and hospitality. "Our vision was to bring the experience of a Napa Valley restaurant and tasting room kind of vibe to Redlands," says Suzanne Doll.
Uncorked serves a full menu of California cuisine inspired by their wine selection. The restaurant exterior even features a large mural of a Redlands landscape by local artist Larry Dierdorff.
Suveg Cellars is Yucaipa's first bonded winery and was established in 2010 in the foothills of the San Bernardino Mountains. Suveg is dedicated to producing Rhone Valley, Bordeaux, Piedmont, and Tuscan Italian varietals in a style consistent with these French and Italian varietals' regional traditions.
Suveg offers $20 wine tastings at their public tasting room, as well as a full schedule of classes and events. Join their wine club and be among the first to try new wine releases.
In addition to their public tasting room on California Street, Suveg Cellars also hosts private events in their barrel room or private tasting room. For more information, visit their website.
North Cork offers tastings at their vineyard in Yucaipa. While walk-ins are welcomed, they strongly encourage you to make reservations.
In addition to tastings, North Cork occasionally hosts special events and live performances, such as their "Midsummer Night's Dream: The Fairyland Experience" in July 2023, in which guests were able to stroll through a magical fairyland and follow their favorite characters in an immersive reimagining of Shakespeare's classic comedy.
Sip, Toast & Support Redlands' Wineries
Beyond visiting your local wine shops and wineries, a great way to support the establishments you love is by tagging them on social media! By posting a positive message with an @mention, you help spread awareness and encourage others to visit them. Maximize your social share by tagging About Redlands, and we'll re-share your post!
More Redlands Places to Eat & Sip
Our Featured Redlands Wineries
All wineries and wine shops in the greater Redlands area were invited to participate in this article for a nominal fee. About Redlands is a community resource founded to support local businesses and the community. The fees associated with commissioned pieces allow us to provide this helpful content and keep the website operational.
---
Related Articles
03/31/17

Guest Writer

04/27/23

About Redlands

02/24/22

Chloe Paul