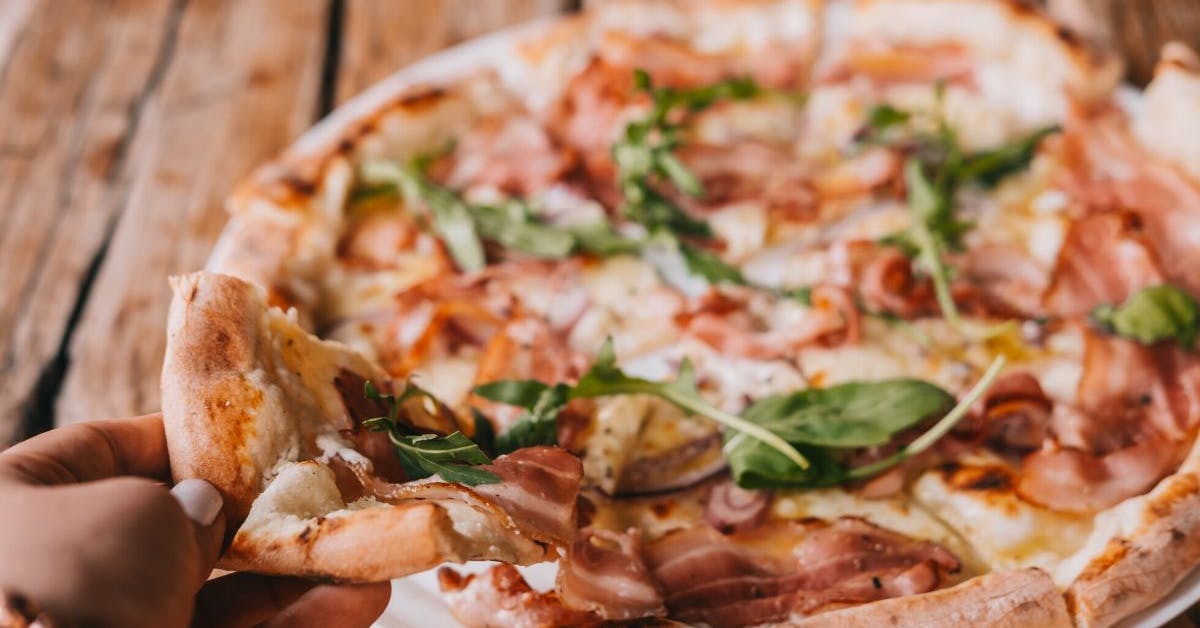 Whether you prefer toppings like popular pepperoni or yellow curry chicken, get the scoop on pizza in Redlands.
When people think of the "best pizza", a few places come to mind — New York. Chicago. Italy (unofficially known as the capital of Neapolitan pizza). 
But when you're in Redlands, you don't have to hop on a plane to find amazing pizza. You don't even have to leave town! Redlands pizza shops offer quality pizza with delicious toppings that rivals anything you can find anywhere else.
12 Can't-Miss Places to Grab Pizza in Redlands
Deciding on the best pizza in Redlands is a difficult task, but it's one that our writers were willing to face. We took on the challenge, visiting as many local restaurants as we could find that feature pizza on the menu. In the process, we devoured HUDNDREDS of slices of pizza. (This is the kind of sacrifice we're willing to make for you!)
Everyone likes something different in their pizza, though. So rather than declare one winner, we've narrowed the candidates down to twelve of our favorites. Each of these features delicious food that deserves your consideration, so we're presenting them to you in alphabetical order.
* All pizza shops were invited to participate. The cost of producing and hosting this content was sponsored by About Redlands and no business was charged to be included. This piece was produced as part of our effort to support the local community by driving increased patrons to local businesses.
1. Bricks and Birch
Bricks and Birch has every right to brag about their brick-oven wood-fired 12" artisan pizzas. Their menu may not be long, but it features variety for everyone, and the quality speaks for itself. You'll find a classic pepperoni pizza, featuring shredded mozzarella and parmesan. But we enjoyed exploring some of the more unique options on the menu, such as the Triple "B" pizza, with its olive oil, minced garlic, shaved Brussels sprouts, and balsamic reduction.
There's also a great selection of amazing vegetarian pizzas, such as the Magpie ( roasted mushrooms, artichokes, and baked gruyere cheese) or the Butternut Ricotta (roasted butternut squash, mozzarella, ricotta, oregano, with tomato sauce).
Want something with a little kick to it? Try the Jalapeño Popper Pizza (cream cheese blend, garlic, jalapeños, muenster cheese) or the Thai Pie (grilled chicken, mozzarella, sweet chili sauce, Thai peanut sauce).
In addition to pizza, you can also find delicious salads, fresh in-house-made pastries, Stumptown Coffee, and mimosas made from fresh-squeezed Redlands orange juice!
2. Escape Brewery
Not all of Redlands' pizza options are found at pizzerias. Escape Brewery has been creating amazing craft beers since 2007. But they also have a full-service kitchen that serves Detroit and New York-style pizza!
Escape's New York pizza is a 10" hand-tossed round pizza. Their Detroit pizza, of course, is a 10"x10" rectangular pan pizza with a light airy crust. You can order any of their pizzas either style, and the choices are diverse. Sure, you can order cheese or pepperoni — and it'll be great.
But you could also do braised short rib… asparagus and mushrooms… pesto and bacon… or even the Drunken Forager Pizza, with white sauce, white wine, sautéed mushrooms, pickled red onion, and shishito peppers. YUM.
In fact, the biggest challenge at Escape might be resisting the other items on the menu. Crisp salads, delicious deli sandwiches, and juicy double-patty smash burgers round out this tempting menu.
3. The Gourmet Pizza Shoppe
There are a few places on this list that count as full-fledged Redlands institutions, and Gourmet Pizza is one of them. For 25 years, these folks have been bringing a huge menu filled with delicious topping combinations to our community. This place is popular with everyone from University of Redlands students to families out for a bite after the kid's soccer game. And, they have pizzas to match anyone's taste.
As with all the pizzerias on this list, they have great versions of the classics, like pepperoni or cheese. But aren't you curious to try some of our favorites? How about That's a Gouda (BBQ sauce, cashews, cilantro, red onions, mozzarella, gouda) or the Santa Barbara (chicken, raisins, artichokes, mushrooms, ranch dressing).
Want something more unique? How about the Madame Curry (chicken, yellow curry, rice, coconut, cashews, pineapple) or Suzy Wong (orange chicken, hoisin sauce, mushrooms, broccoli, sesame seeds).
Need a little more kick in your slice? The Buffalo Billy's has chicken soaked in red hot cayenne sauce and Frank's Hot Sauce.
Gourmet Pizza is also famous for its house-baked garlic bread loaf and some really great buffalo wings.
4. Jerseys Pizza
Jerseys Pizza is an area favorite — in fact, they were voted "Best Pizza in Redlands" in a 2015 taste test by the Redlands Daily Facts.
Jerseys Pizza's menu features the usual selection of garlic bread, salads, pizza, pastas, and sandwiches.
But of course, we're here for the pizzas. Jerseys makes each of their pizzas to order using fresh dough and house-made sauces. (Try their lemon alfredo!) You can also make your own from a large selection of fresh ingredients, or choose one of the Specialty Pizzas, like the Teriyaki Chicken or the Chicken Pesto!
5. Mountain Mike's
With over 250 locations nationwide, Mountain Mike's isn't exactly a "local" Redlands restaurant. However, it would be difficult to discuss pizza in Redlands without including this area favorite on our list. Mountain Mike's rolls their dough daily. Plus, it uses real, whole milk mozzerella and freshly-sliced ingredients.
Mountain Mike's also offers a selection of wings, sandwiches, and salads.
The real draw here at Mountain Mike's? The classic pepperoni. Mountain Mike's leaves the natural casing on the sliced pepperoni, so that the pile of meat curls and crisps when cooked. You'll have to try it to believe it!
6. New York Pizza of Redlands
New York Pizza of Redlands offers a delicious selection of pizzas, calzones, sandwiches, and salads. They source their fresh ingredients from local farmers' markets, and we're sure you'll be able to taste the difference this makes!
New York Pizza embraces a fairly traditional menu, with multiple sizes of delicious New York-style pizza topped with classic ingredients, including pepperoni, sausage, ham, olives, mushrooms, onions, tomatoes, artichokes, and more.
You can also make any pizza into a calzone!
7. Pizza Shack
Pizza Shack is a new restaurant bringing classic pizzeria flavors to Redlands. With a menu featuring salads, pastas, and pizza, there's a little something for any taste here.
Pizza Shack has adopted a menu theme that reflects their fondness for Americana, with pizzas like The White House (plain cheese), the Merica (basil and balsamic), the Politician (alfredo sauce, parmesan, ricotta, garlic), the Patriot (chicken, bbq sauce, bacon), or the Freedom Pizza (chicken, mozzerella, pickles).
You can also build your own pizza, selecting from their list of fresh ingredients. Salads, pasta, and calzones round out PIzza Shack's menu!
8. Romano's Chicago Pizzeria
Romano's stands out as one of the few pizzerias in Redlands to claim a true Chicago-style pizza. When you come here, you're getting that thick Chicago crust stuffed full of oodles of molten cheese and lathered with delicious tomato sauce!
Not quite in the mood for such decadence? Romano's has you covered! Make your own thin crust pie starting with their thin crust pizza crust. They even offer a gluten-free crust for those of us with allergies and sensitivities.
Romano's menu also includes quite a few non-pizza items, such as pastas, calzones, deli sandwiches, and even hamburgers and Chicago-style hot dogs!
9. Strongman Pizza
Strongman Pizza bakes up fresh, high-quality pizza that satisfies. They make their dough from scratch and baste each garlic butter crust with their special "Strong Sauce".
Their menu includes wings, salads, and cheese bread. And then there are the pizzas!
Do you want the Islander (cashews, sausage, bacon, pineapple, cheese)? Maybe BBQ Chicken or Buffalo Chicken?
Or maybe you're in the mood for Strongman's Fiesta Pizza, with its chorizo, bell pepper, onion, and cheese.
Whatever you choose, you'll be eating happy knowing that Strongman's entire menu is created from locally-sourced produce and ingredients.
10. Surfer Joe's
Surfer Joe's has been serving great food to Redlanders since 1991, and they continue to welcome families into their beach-themed culinary escape.
These are classic pizzas that are guaranteed to hit the spot when you're craving a pie. Whether you choose the Meat Lover's, Pastrami, or Veggie, your stomach is going to thank you.
Is someone in the family not in the mood for pizza? Surfer Joe's also offers salads and a wide selection of hot oven sandwiches!
11. La Volata
With a full bar menu of wine, beer, and cocktails, La Volata is a great place to enjoy an evening out with friends. Their menu features mouth-watering pastas, fresh salads, and tempting seafood options.
But topping the list are their gourmet wood-fired pizzas.
You're going to have trouble deciding, with so many decadent options available. Do you want a classic pepperoni? Maybe… but what about the Honey Pot Pizza, with its three cheeses, pickled onions, Fresno chilis, prosciutto, and honey?
Or maybe you're in the mood for the sweet and savory combination of the A La Lori (macerated strawberries, blackberry balsamic basil, Mt Tam cheese, spiced pecans).
The obvious answer, of course, is to bring enough friends that you can order one of each and share!
12. Uncle Howie's
We're wrapping up our list with yet another timeless Redlands institution. We're pretty sure that every kid in Redlands has spent at least one afternoon pestering their parents for quarters to spend in Uncle Howie's arcade room!
Uncle Howie's is the very model of a classic family pizzeria. Make your own pizza from their list of fresh toppings, or choose one of the Special Creations, which ranges from BBQ Chicken to Mexican Pizza (refried beans, cheese, and seasoned beef).
Wings, fish & chips, salads, subs, pasta, and some downright decadent garlic bread round out the popular menu. There's something here for everyone!
Eat, Love & Support Redlands' Pizzerias!
Now it's your turn to try them all and report back to us! What spot do you think deserves the title of Best Pizza in Redlands? Did we include your favorite? Is there something we missed? Let us know!
And of course, make sure to show your favorite Redlands' pizzerias some love. In addition to frequenting these establishments, one of the best ways to support them is with a rave review or mention on social media. And be sure to tag the restaurant.
Want to help your @mention go even further? Tag About Redlands too to get your social post re-shared!