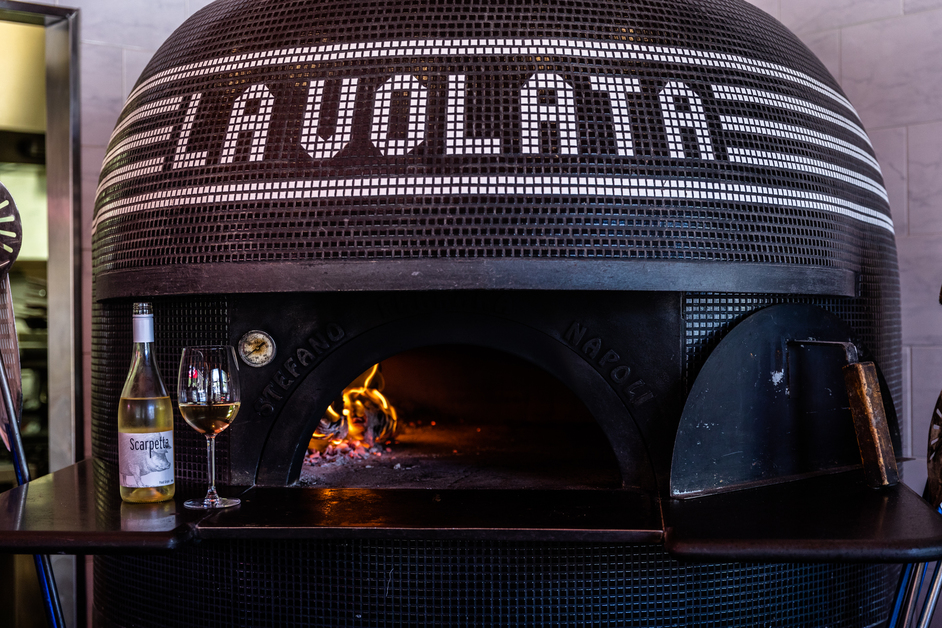 La Volata Pizzeria
La Volata Pizzeria serves handmade pizza cooked in a wood fired pizza oven. The flour used for their pizza is 00 heirloom from Italy, essentially gluten free, it isn't cut with the same bi-products and chemicals most American flour. Pasta made with fresh, locally sourced ingredients. Italian, Pizza, Sandwiches, Lunch, Dinner, Coffee, and homemade pastries. Ask for the Vegan Pizza using all LOCAL produce. Read REVIEWS by clicking Business name.
Benvenutoa!
Lori and Chris Driscoll named La Volata Pizzeria, which opened Dec. 5 in South Redlands, after the Italian term describing the sprint at the end of a bicycle race.
The oven was originally constructed in Napoli, Italy, then transported by ship to the San Francisco Bay area where custom tiles were added to feature the restaurant's name.
FAMOUS: Redlands Citrus Pizza. Served with local citrus, ricotta salata cheese, fresh arugula, blood orange reduction, and toasted almonds.
Fresh bread baked daily
Breakfast options: sweet and savory scones, cinnamon rolls and homemade granola. Coffee roasted by Wild Goose and teas from Summit in Redlands
Call 909-792-0316 for more information or to make reservations for groups of six or more for seating prior to 7 p.m.
Happy Hour - $2 off craft beer, $3 off wine by the glass, $2 pizza by the slice (limited selection of pizzas)
MENU Click "View More Info"
The flour used for their pizza is 00 heirloom from Italy, essentially gluten free, it isn't cut with the same bi-products and chemicals as most American flour.
"Behind every small business, there's a story worth knowing"
Chris & Lori Driscoll, owners of La Volata Pizzeria are getting it done! Lori was born and raised in Redlands. She is the youngest of 5 and her parents used to own The King's Table on Citrus where the city offices are now located. Chris grew up in Palos Verdes and is a practicing attorney, specializing in Federal Civil Rights cases. They decided to open a restaurant 2 years ago, despite the warnings of EVERY SINGLE PERSON they told. Lori attended AVPN pizza school in Marina del Rey before they decided to proceed. Neither had ever run a restaurant-their experience limited to what Lori learned from her parents when she was two and what she learned busing tables at Harry C's when she was in high school. Their learning curve has been rather steep.
Chris and Lori love to travel (at least they used to) and have been fortunate to sample great foods from different parts of the world, their favorite probably being Thailand. They both believe that great food comes from the best and freshest ingredients, which is why they source what they can from local farmers. Despite requests for certain menu items, they aim to work with the seasons and the farmers to guide their menu, rather than the opposite. Still, however, it's a steep learning curve but they are adjusting as they go.
Lori is the creative one and built the tables and hanging lights and did much of the finish work in the restaurant. Chris is the logical one and works incredibly hard each day (after doing legal stuff all day) to keep Lori reeled in and focused on the details of running the shop. Two months ago in separate incidents, Chris and Lori each broke a limb: Chris his humerus and Lori her tibia/fibula. Despite a difficult and painful couple of months, the staff at the restaurant stepped up beautifully and kept them going. Their goal for the restaurant is a Cheers-like atmosphere, aiming to attract locals who will become regulars. They want everyone to feel as if they are at home and encourage those who don't experience this to please let them know. Despite many 14-hour days, their experience so far has been tremendously rewarding. They have been fortunate to make new friends, to work with great people, and to interact with true professionals throughout.