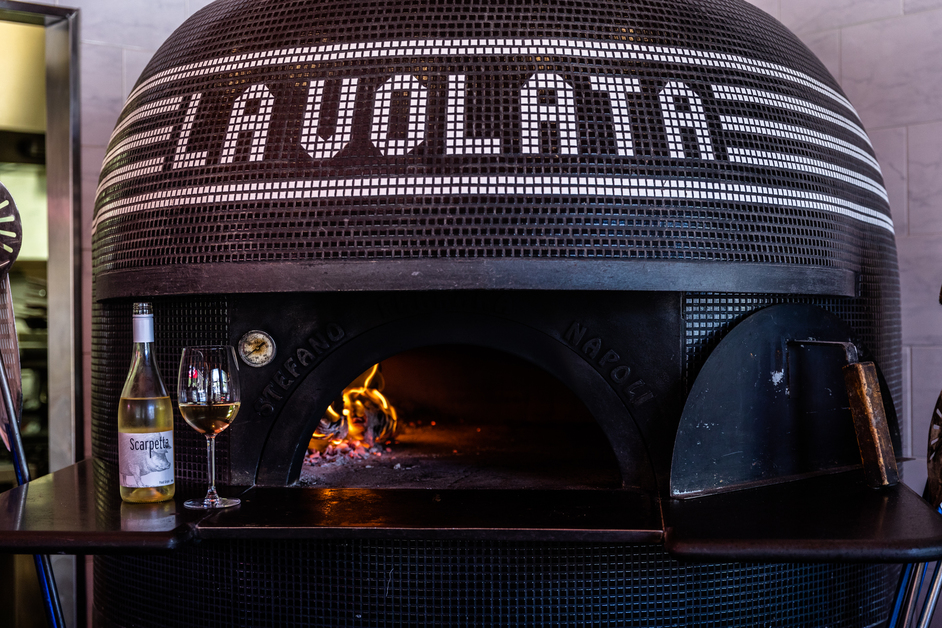 La Volata Pizzeria
La Volata Pizzeria serves handmade pizza cooked in a wood fired pizza oven. The flour used for their pizza is 00 heirloom from Italy, essentially gluten free, it isn't cut with the same bi-products and chemicals most American flour. Pasta made with fresh, locally sourced ingredients. Italian, Pizza, Sandwiches, Lunch, Dinner, Coffee, and homemade pastries. Ask for the Vegan Pizza using all LOCAL produce. Read REVIEWS by clicking Business name.
Benvenutoa!
Lori and Chris Driscoll named La Volata Pizzeria, which opened Dec. 5 in South Redlands, after the Italian term describing the sprint at the end of a bicycle race.
The oven was originally constructed in Napoli, Italy, then transported by ship to the San Francisco Bay area where custom tiles were added to feature the restaurant's name.
FAMOUS: Redlands Citrus Pizza. Served with local citrus, ricotta salata cheese, fresh arugula, blood orange reduction, and toasted almonds.
Fresh bread baked daily
Breakfast options: sweet and savory scones, cinnamon rolls and homemade granola. Coffee roasted by Wild Goose and teas from Summit in Redlands
Call 909-792-0316 for more information or to make reservations for groups of six or more for seating prior to 7 p.m.
Happy Hour - $2 off craft beer, $3 off wine by the glass, $2 pizza by the slice (limited selection of pizzas)
MENU Click "View More Info"
The flour used for their pizza is 00 heirloom from Italy, essentially gluten free, it isn't cut with the same bi-products and chemicals as most American flour.
"Behind every small business, there's a story worth knowing"
Chris & Lori Driscoll, owners of La Volata Pizzeria are getting it done! Lori was born and raised in Redlands. She is the youngest of 5 and her parents used to own The King's Table on Citrus where the city offices are now located. Chris grew up in Palos Verdes and is a practicing attorney, specializing in Federal Civil Rights cases. They decided to open a restaurant 2 years ago, despite the warnings of EVERY SINGLE PERSON they told. Lori attended AVPN pizza school in Marina del Rey before they decided to proceed. Neither had ever run a restaurant-their experience limited to what Lori learned from her parents when she was two and what she learned busing tables at Harry C's when she was in high school. Their learning curve has been rather steep.
Chris and Lori love to travel (at least they used to) and have been fortunate to sample great foods from different parts of the world, their favorite probably being Thailand. They both believe that great food comes from the best and freshest ingredients, which is why they source what they can from local farmers. Despite requests for certain menu items, they aim to work with the seasons and the farmers to guide their menu, rather than the opposite. Still, however, it's a steep learning curve but they are adjusting as they go.
Lori is the creative one and built the tables and hanging lights and did much of the finish work in the restaurant. Chris is the logical one and works incredibly hard each day (after doing legal stuff all day) to keep Lori reeled in and focused on the details of running the shop. Two months ago in separate incidents, Chris and Lori each broke a limb: Chris his humerus and Lori her tibia/fibula. Despite a difficult and painful couple of months, the staff at the restaurant stepped up beautifully and kept them going. Their goal for the restaurant is a Cheers-like atmosphere, aiming to attract locals who will become regulars. They want everyone to feel as if they are at home and encourage those who don't experience this to please let them know. Despite many 14-hour days, their experience so far has been tremendously rewarding. They have been fortunate to make new friends, to work with great people, and to interact with true professionals throughout.
Hours
Lunch: Tuesday - Sunday 11:30-3
Happy Hour: Friday-Sunday 3-5
Dinner: Tuesday, Wednesday, Thursday & Sunday 5-9, Friday & Saturday 5-10
Address
Get Directions
La Volata Pizzeria
1453 Ford St #101

Redlands,

CA

92373
Categories
23 Reviews
Linda said on Jul 6, 2018
Shut the front door! This restaurant seemed as though it was plucked off Abbott Kinney and plopped in the shadow of the Redlands temple. Luckily, the hipsters did not plop in with it. In the parlance of restaurateurs: Location, location, location--it would rate as "Loca" or a half-star location only because it is 1.) at the 10 freeway, Ford St exit (a nosh on the way back from the desert?) and 2) Near MY home in Redlands..
They had me at "(citrus) wood-fired pizza". Big-ass heavy oven from Italy, tiled stateside, yada, yada, yada. Makes a killer crust and that's all you need to know. Basta!
We visited for the first time on father's day. When we walked in, they asked if we had reservations. Oh pahleeze! Chi-chi restaurants on the west side can get away with it....and with more than 15 vacant tables, really?
This is the second restaurant I've been to that has those metal chairs with a wraparound feature between the chair back and the seat that restricts anyone with excessive buttage. I cannot fit into them. My husband retrieved a soft padded seat that differed from the one I was offered. Staff could have been more aware--read: accommodating. My drink order was totally bungled because I ordered 2 cold beverages. The Pellegrino arranciata is topped with soft whipped cream. (Oh, it is always served this way!) BTW, they do not carry Sharps or O 'Douls and the iced tea is flavored with some fruity flavor Eeeeew.
But did I mention the pizzas? Good! As promised in the legal file folder menu, the 'zas are not loaded with toppings--more is not better. We ordered the "Ellie" and the rigatoni pasta topped with our choice of Alfredo, Pomodoro or pesto sauce, add homemade meatballs ($5). We ordered pesto. It was all very delish. I said that I did not want the meal to end.
Next time we will try: bread, something from a nicely curated selection of cheeses and salad.
Locally sourced ingredients and double-aught flour from Italy for hand stretched dough. Craft beer and wine. Check it out!
Krystal Roth said on Jun 28, 2018
If you haven't checked out LV you Should! Great Food and Wine!!!
Amanda said on Apr 28, 2018
Best pizza in town!
Ann said on Aug 2, 2017
Their pizza is amazing! Artistic and delicious cuisine!
Debbie Bramucci said on Jul 14, 2017
We love all their food, but my favorite is to have a beer with a platter of cheese, meat and bread!
Courtney Vialovos said on Jul 13, 2017
Very, very good food!
Debbie Cerquettini said on Jul 13, 2017
I went here for lunch to try something new. I was not disappointed. Absolutely delicious.
Michele D. Orsini said on Jul 12, 2017
With a nice bottle of Trinitas old zin and two different pizzas. A plate of three cheese choices and the waitress was delightful. A must!
Cat said on Jul 21, 2016
such a cute spot, i ate here and enjoyed their food, so yummy ✔
Amber Claflin said on Jan 28, 2016
Thank you for sourcing local ingredients! Your granola is also delicious!
Sabrina Flanigan said on Jan 28, 2016
Love it...discovered it by accident after taking my son to school and coming down Ford Hill. A quaint place with delicious food and you leave feeling a bit better as the service is the best! Telling everyone about them and hoping for much success for this gem of a restaurant.
Sandra Maxwell said on Jan 27, 2016
Wow, never heard of this, will go! My hubby and I love pizza!
Marc Piron said on Jan 27, 2016
I had a private party there and would highly recommend, unpretentious quality and classy!
Lisa said on Jan 27, 2016
Not only is the food fantastic, but the customer service and ambiance are spot on. By far my favorite restaurant in Redlands!
Beanie Medlicott said on Jan 18, 2016
Lovely place ~ Ate dinner here last Sunday evening.
Daniel Fenesan said on Sep 11, 2015
Best pizza in town!
Lauren Briggs said on Aug 20, 2015
Was there last week and had the best gazpacho soup I've had in years!!!
Jon Darby said on Aug 6, 2015
Absolutely Amazing Pizza, Chris and Lori treat everybody like family. Great place!!
Crystal Adams said on Jun 23, 2015
Great place and the owners are awesome!
Bri Stillings said on Jun 23, 2015
Delicious food and great atmosphere!
Angie Greenfield said on Jun 23, 2015
Love this place!
Becky said on Jun 22, 2015
Loved the pizza, light and fresh! And the house Chianti was delicious. Such a refreshing new addition to Redlands. Looking forward to coming back!
Lee Burton said on Jun 22, 2015
Enjoyed sharing the Verdura Pizza, Chacutrie Plate and some delicious wine with a very special friend at the bar. Everything was prepared with great care and attention to detail. As a result the food is excellent. I'm looking forward to going back soon!!
Write a Review
---
Submit a Review
Thank You
Your review will be posted soon.