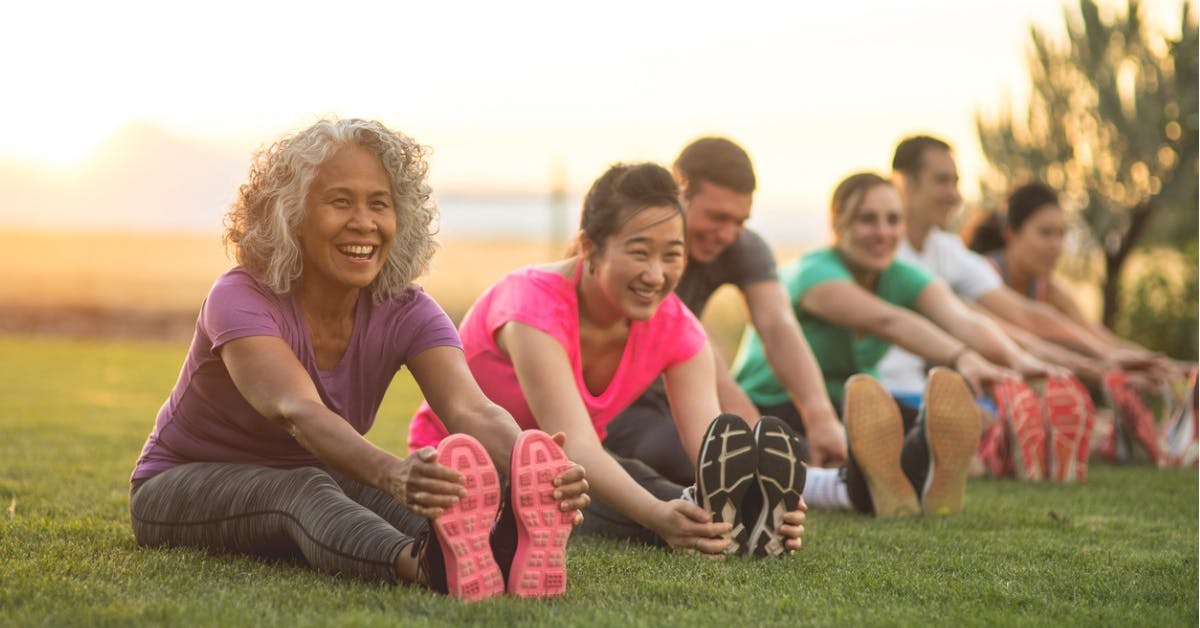 Redlands Gyms, Fitness, and Classes
Stronger. Healthier. Happier. These local workout spots and unique classes offer something for everyone!
Did you set a new health goal? Would you like to mix up your workout routine? Are you looking for a community that supports your physical and mental health as a new mom? There are a plethora of classes and gyms in Redlands offering a wide range of exercise classes fully equipped to meet your specific needs. 
8 Fitness Classes & Gyms in Redlands
All pain and no gain doesn't have to be the name of game when it comes to working out (unless of course that's what does it for you). The local gyms offer a wide range of options including core strengthening pilates, detoxifying high-intensity interval training (HIIT) sessions, community-fostering mom workouts, and more. 
Looking for some of the best yoga classes in Redlands? We have those. Want to work on developing long, lean muscles at a barre class? Redlands has those too. Love the idea of working out some aggression? Cardio kickboxing might be your thing.
* Not all businesses are listed in our local business directory. No business was charged to be included in this article.
1. The Energy Lab
This locally owned small business was founded in 2011 with the goal of creating a positive and encouraging environment for its clients to thrive. Their first year open one client said, "The Energy Lab is not a gym, it's a way of life."
The Energy Lab has a wide variety of classes to choose from! If cycling is your style, Bikegang Cycle and Breakthrough are for you. Bikegang is a 1-hour cycle class that meets you wherever you are that day.
Are you there to give 150%? Fabulous. Is 50% is all you have for this ride? That is more than enough. Breakthrough mixes things up by incorporating off-bike workouts in order to achieve optimal results.
Is cycling not your thing? Don't fret, The Energy Lab also offers Tabata, boxing, kettlebell, or TRX. Our personal favorite class is the DEKAFIT, which comes from the creators of Spartan. It is the decathlon of functional fitness designed for ALL levels.
Last but not least, The Fort. The Fort is The Energy Lab's newest addition and is intended to provide balance. You will find a wide variety of yoga classes and even some pilates. The Fort is where you can go to reset, strengthen, and restore.
Ready to check them out? Follow the links!
2. HOTWORX
This is one of the most unique fitness experiences we have found in Redlands. HOTWORX is a locally owned franchise that offers members unlimited, 24-hour access to their virtually instructed infrared sauna workouts.
The Redlands location has 10 infrared saunas. Each sauna can hold a maximum of 3 people. Members use an app to book their classes and to unlock the front door. HOTWORX marries heat, exercise, and infrared to give an efficient and effective workout. Their virtually instructed classes range from 15-minute HIIT and spin sessions up to 45-minute yoga and pilates classes.
In their words, "HOTWORX is a virtually instructed exercise program created for users to experience the many benefits of infrared heat absorption while completing a 30-minute Isometric workout or 15-minute High-Intensity Interval Training (HIIT) session. As the infrared heat penetrates your body causing you to sweat, the isometric postures further accelerate detoxification by physically removing the toxins from your organs through muscle contraction."
It's time to claim your free Class. Follow the link!
3. Ultimate Kickboxing & Fitness
You will experience the ultimate workout in both cardiovascular and strength training at Ultimate Kickboxing & Fitness studio. Established originally as a kickboxing/MMA training facility, their 3,800 square-foot facility has evolved into the most superior aerobic kickboxing studio in the Inland Empire since 1998.
Their facility offers the resistance of 150 lb. punching bags in a large group setting. Let's not skim over their upbeat instructors who will guide you through a series of punches and kicks choreographed to music or timed circuits. 
These unique 1-hour group classes will immediately get you sweating and burning calories. Ultimate Kickboxing & Fitness' non-competitive cardio kickboxing style provides an intense and gratifying training session.
Ultimate Kickboxing & Fitness offers a wide variety of classes, including cardio kickboxing, HIIT, yoga, kettlebells, and more! Follow the link to book your first class for FREE!
4. Redlands Barre
This fun and energetic workout is perfect for all ages and abilities. You can expect highly trained instructors to lead you through a full-body workout. Each workout is designed to strengthen, lengthen, and tone your entire body while offering plenty of options for cardiovascular work and stretching.
Barre is a combination of ballet, yoga, and pilates. This workout style focuses on small targeted movements, high numbers of repetitions, and light weights or resistance. Redlands Barre is offering special pricing to try it out, and a special for New Year's (2023). 
Oh, and mamas, THEY OFFER CHILDCARE! Childcare is offered Tuesday through Friday from 9:30-10:30 am for corresponding barre and pilates classes.
Ready to get started? Follow the link!
5. State Street Pilates
State Street Pilates is Redlands' first and original Pilates studio established in 2001. This intimate studio gives light and airy vibes with its beautiful wood floors and unobstructed views of the San Bernardino mountain range. It utilizes professionally crafted Balanced Body Pilates equipment including the Universal Reformer, Trapeze Table, Chair, Barrel, Spine Corrector and Arc.
Pilates is a form of body conditioning developed by the late Joseph Pilates. His method, which he called "Contrology," teaches that the core muscles need to be strong and stable before working other parts of the body. This low-impact body conditioning takes quite a bit of concentration, which often feels like a form of meditation.
6. FIT4MOM® Inland Valley
You have probably already guessed that FIT4MOM is for all the mamas out there! FIT4MOM is the nation's leading prenatal and postnatal fitness program. It provides fitness classes and a network of moms to support every stage of motherhood. From pregnancy, through postpartum and beyond, its fitness and wellness programs help make moms strong in body, mind, and spirit.
This stroller workout group thrives on community and togetherness. Not only will moms get a GREAT workout, but they are able to connect to lots of other women in the same chapter of life. Motherhood can be isolating and physical health daunting — but moms who join FIT4MOM often rave about just the opposite, relishing the community and physical benefits of working out together. 
FIT4MOM instructors are specially trained to lead moms through an hour-long full-body workout that meets them exactly where they are. If a mom needs more or less that day, their instructor will be right there to help.
Ready for the best part? FIT4MOM instructors keep your kids entertained! They are ready to pull out all the stops — bubbles, songs, books, puppets, ribbons, and MORE! This fabulous community of women will even band together and hold your baby while you finish your station.
7. Pedego Electric Bikes
If you are looking for a fun and gentle way to get into a fitness routine, Pedego Electric Bikes is for you. Pedego Redlands is a locally-owned dealership within the nationwide Pedego® network. Owned by Summer Poletti and operated by her and her kids, this shop is a place where you'll also be treated like family. Pedego stands for premium quality and local service. There is no substitute for a brick and mortar store in your community. They offer electric bikes for sale, but they also have rental options!
8. Alliance Jiu Jitsu
Over the last few years, Brazilian Jiu Jitsu has become one of the fastest-growing sports in the world. Since Alliance was founded, its methodology has been practiced by hundreds of people around the globe in their certified academies worldwide. And, guess what? Redlands is home to one of these incredible studios.
Alliance Jiu Jitsu Redlands are pioneers in this teaching methodology. They are a global team and made for everyone (kids included). Alliance offers a friendly environment where you can learn to defend yourself, improve your self-esteem, and reach your goals while having fun.
9. Flowstone Climbing
Moving your body should bring you joy, and that is exactly what Flowstone Climbing thrives on. This climbing gym focuses on bouldering, which is a discipline within rock climbing that is performed without the use of ropes or harnesses. Flowstone offers intro level all the way up to V12. 
It even has route-setting programs created by official setters certified through various climbing organizations and recognized as some of the best in the nation. In short, anyone can boulder!
Bonus Redlands Workout Recovery Services 
For those new to working out, or those seasonal athletes who need a little extra support, these local Redlands clinics offer recovery services. From maximizing the health benefits of a workout to helping your body be ready for the next round, these businesses specialize helping your body recover.
StretchX
StretchX is an Assisted Stretch Therapy and post-workout recovery room located in downtown Redlands! Their staff comes from a variety of backgrounds such as certified yoga instructors, certified CrossFit instructors, massage therapists, personal trainers, and collegiate athletes certified in stretch instructing. All of the StretchX staff is highly qualified to guide you through their signature stretch routine.
They also offer a fully loaded post-workout rehab room with all of the tools you would need to get a great recovery after working out. StretchX has a partnership with Therabody, which means they have Therabody compression boots, Theragun massage guns, Therabody Wave rollers, as well as yoga mats, foam rollers, stretch bands, and MORE!
ProRecovery
ProRecovery focuses on Cryotherapy and Normatec compression therapy located inside Self-Made Training Facility. Step into their XR Chamber and become a whole new you.
Cryotherapy is a dynamic approach that uniquely harnesses the power of a chill. Cryotherapy can help effectively and comfortably treat a wide range of health concerns including, but not limited to: 
Pain
Inflammation
Autoimmune disorders of the joints
Rheumatoid Arthritis
MS
Chronic fatigue
Psoriasis
Eczema
Depression
Anxiety
Insomnia
​"Our mission is to bring health, wellness, renewal and relief to everyone with our cryotherapy, NormaTec recovery treatments. We strive to help our clients have an energized and rejuvenated mind and body, to look and feel refreshed and invigorated."