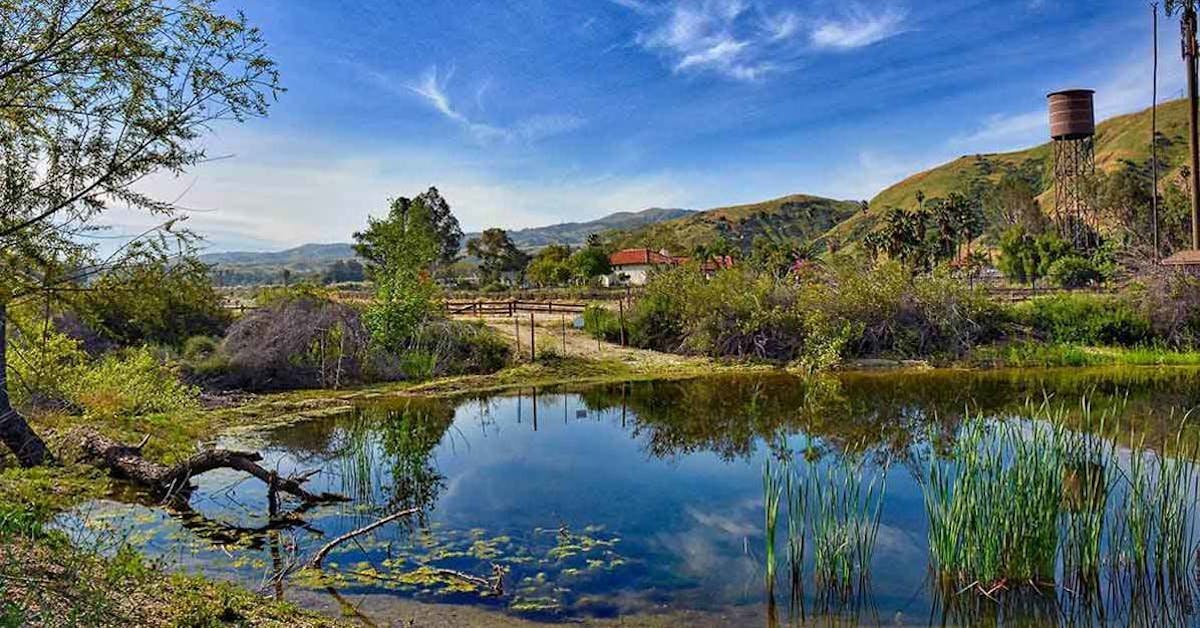 Hiking in Redlands, California, offers a truly unique and captivating experience due to the region's exceptional natural beauty and diverse landscapes. Nestled in the picturesque San Bernardino Valley, Redlands is surrounded by stunning mountain ranges, sprawling citrus groves, and lush greenery.
From the iconic trails of the San Bernardino National Forest to the hidden gems like the scenic Oakmont Park and the enchanting paths of Prospect Park, hikers can explore a remarkable variety of terrains, including rugged canyons, serene creeks, and breathtaking vistas. The region's pleasant Mediterranean climate, with its warm summers and mild winters, ensures hiking in Redlands can be enjoyed year-round. 
10 of the Best Hiking Trails in Redlands — Curated by Locals
Discover where to hike with friends and family below. If you are an avid photographer looking to hit the trail, be sure to read our guide that lists which trails are photo-friendly.
If you are interested in a guided hike, contact the Redlands Conservancy at 909-782-6208 or through their email contact: info@redlandsconservancy.org. Sherli or Erica will get in touch with you to arrange for someone from the Outdoor Ambassador program to meet you for a hike. Please give them a couple of days' notice.
1. Caroline Park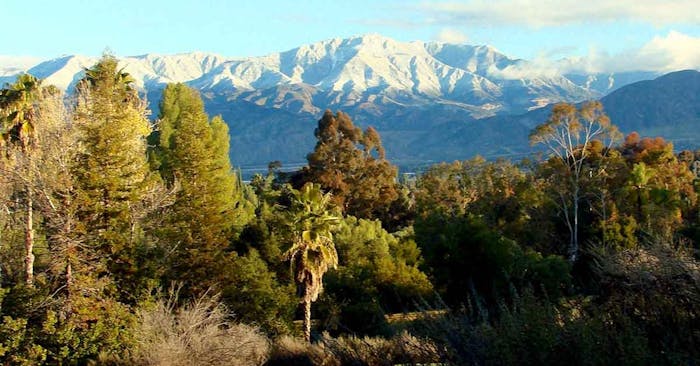 Caroline Park is a 0.7 mile lightly trafficked loop trail that features beautiful wild flowers and is rated as moderate. The trail is primarily used for hiking and walking and is accessible year-round. Dogs are also able to use this trail.
"I'm a newbie to the hiking trail scene and thought this was a perfect place to start. Just the right mixture of flat terrain to inclines for a 5ft out of shape gal with a 6ft companion to break a sweat, huff and puff, and make me feel those leg muscles! If I lived walking distance I'd be there every day." – Michele
How to Get There From Downtown
Start Downtown Redlands
Head East on Redlands Blvd.
Turn right onto Ford St.
Continue onto Garden Hill Dr.
Turn left onto Garden St.
Turn right onto Rossmont Dr.
Turn right onto Valle Vista Dr.
Turn right onto Sunset Dr.
2. Carriage Trail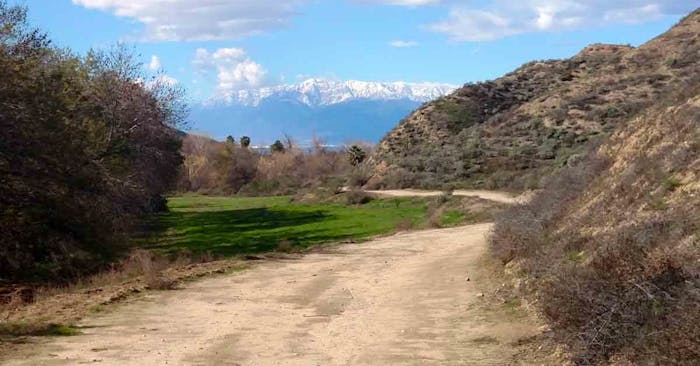 Carriage Trail is a 5.2-mile lightly trafficked loop trail that features beautiful wild flowers and is good for all skill levels. The trail offers a number of activity options and is accessible year-round. Dogs are also able to use this trail but must be kept on leash.
How to Get There From Downtown
Start Downtown Redlands
Head north on N 6th St toward E Stuart Ave.
Head south on N 6th St toward E Redlands Blvd.
Turn right onto E Olive Ave.
Turn left onto S San Mateo St.
Turn right onto W Fern Ave.
Turn left onto San Timoteo Canyon Rd.
3. Teddy's Trail
This is a short, but fun trail right off Sunset. It leads to the Hermit's Trail as well as to nearby trails at the top of the hill. It's pretty easy, but can be overgrown with brush.
Dogs: Leashed
How to Get There From Downtown
Start Downtown Redlands
Head north on N 6th St toward E Stuart Ave.
Head south on N 6th St toward E Redlands Blvd.
Turn right onto E Olive Ave.
Turn left onto S San Mateo St.
Turn right onto W Fern Ave.
Turn left onto San Timoteo Canyon Rd.
4. San Timoteo Nature Sanctuary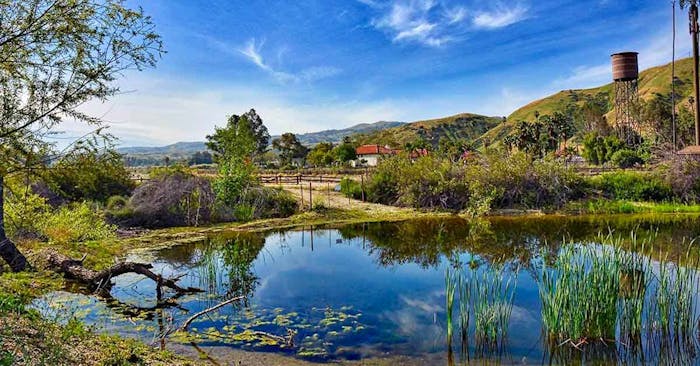 This 200-acre preserve, made possible by the work of the Redlands Conservancy, is a hit with local hikers, bikers and equestrians. The main route is the Carriage Trail, whose construction in the 19th century speaks to the area's historical significance as a transportation corridor linking Banning to the eastern end of the San Bernardino Valley. Another trail runs parallel to the Carriage Trail and several short connectors make for multiple possible routes. The 3.8-mile balloon-shaped loop here samples some of the park's best scenery.
As you hike the trail along the San Timoteo Creek, recall that for many centuries American Indians used to travel along an ancient trail referred to as the Cocomaricopa Trail in this same area. Most of the primary trail follows the century-old Carriage Trail built in the mid-1800s by the Redlands' Smiley Brothers (who are responsible for much of what Redlands looks like today) to take their guests into the canyon for excursions.
Distance: 3.8 miles • Family friendly: Yes • Dogs: leashed
How to Get There From Downtown
Start Downtown Redlands
Head south on N 6th St toward E Redlands Blvd.
Turn right onto E Olive Ave.
Turn left onto S Center St.
Turn right onto W Crescent Ave.
Turn left onto Alessandro Rd.
Destination on the right
Go down Alessandro Road from Sunset. Look for the black iron fence on the right. Staging at the parking area on Alessandro.
5. Oak Ridge Trail
This trail is a shorter version of the other twisting Oak Ridge Trail (Long). It runs down the ridge to where Oakridge Trail (Long) meets this trail. Just before the junction, there are a few sharp switchbacks, which can be difficult to hike. After that, it continues down the ridge and hits three more sharp turns, then runs into Live Oak Preserve Trail.
Features: Views • Dogs: leashed
How to Get There From Downtown
Start Downtown Redlands
Downtown Redlands
Head north on N 6th St toward E Stuart Ave.
Turn right to merge into I 10 E
Take exit 83 for Yucaipa Blvd.
Turn right onto Hilltop Dr.
Turn left onto Outer Hwy 10 S
Turn right onto Alta Vista Dr.
Turn left onto South Ln.
Turn right onto Ashforth Dr.
Turn left onto Silverleaf Ct.
NOTE: Additional trails can be found by starting at Oakmont Park, at the junction of Sutherland and South Streets (google "Oakmont Park" on your map app for directions.) Redlands Conservancy manages and maintains this great open space, the Herngt 'Aki' Preserve, and there are miles of trails that extend into the sanctuary and along the base of the hills.
6. Creekside Trail
A fun out-and-back trail leading to a gorgeous view of San Timoteo Canyon. Hikers can start at Alessandro or park further up on Creekside Drive. It's not a trail you would want to have as a destination, but some bonus dirt added onto a longer hike would be great.
Features: Views • Family Friendly: Yes • Dogs: leashed
How to Get There From Downtown
Start Downtown Redlands
Head south on N 6th toward E Redlands Blvd.
Turn right onto E Olive Ave.
Turn Left onto Cajon
Turn right onto W Cypress Ave.
Turn left onto S Center St.
Turn right onto W Crescent Ave.
Turn left onto Alessandro Rd.
Turn left onto Creekside Drive
NOTE: Features: Easy climb, especially if parking up on Creekside Drive. There is a nice bench to rest on at the top.
7. Orange Blossom Trail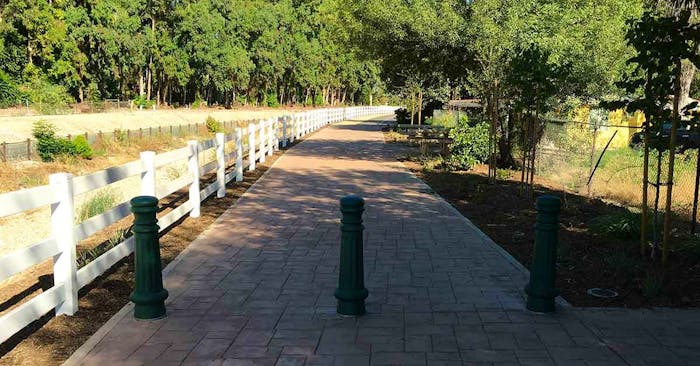 7.5-mile pathway. Look for the decals on sidewalks and streets downtown.
Composed of both asphalt concrete (for bicyclists) and decomposed granite (for pedestrians), this dual-track trail will take you to the doorstep of the University of Redlands at Grove Street. Head north to the University or continue south on the trail via way-finding decals. These decals will take you:
South to Citrus Avenue
West through Downtown Redlands on Citrus and Brookside Avenue
North on Center Street to Redlands Boulevard, near ESRI.
The asphalt concrete portion of the trail picks back up on the west side of Center Street and takes you through the Esri campus to Tennessee Street.
The asphalt concrete continues at Alabama Street and takes you along the Mission Channel to California Street. Make sure you stop to read the history boards at the pocket park near New Jersey Street!
The trail will link to the Santa Ana River Trail and Parkway, which will run 110 miles from the San Bernardino County National Forest to the Pacific Ocean in Huntington Beach.
How to Get There From Downtown
Start Downtown Redlands
Head to the southwest corner Wabash and Colton Avenue
Family Friendly: Yes • Dogs: leashed
8. Hike to Redlands Mount "R"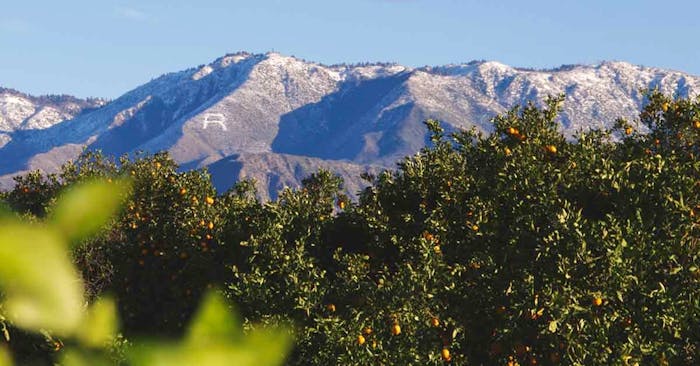 We recommend using the 1n16 Alder Creek trail head. The Alder Creek trail head 1n16 is about 5 miles west down Greenspot road off of highway 210.
Alder Creek trail starts off with wide vista views of the city of Redlands, Highland, and San Bernardino. Traveling along to the other side of the mountain, the trail comes up to the 7 Oaks flood control damn. While it gets very close to the Seven Oaks damn, the turn off is gated and marked no trespassing. The trail them heads due north along Government Canyon, passing Government Peak. From there, Alder Creek continues another 4 or 5 miles with the famous Redlands' R overlooking the terminus of Alder Creek where it intersects with City Creek trail 1No9 in front of the aptly named Mount "R." Where Alder Creek, 1N16, hits City Creek, 1N09, the road forks. East heads to highway 18 and West heads into the interior of the Transverse Range and terminates near the Seven Pines resort in Seven Oaks.
You have to take 1n16 to 1n09. When you get to the intersection of 1n16 and 1n09, make a left. You will see the "R" to your right. Follow that road for about 2 miles. There will be a turnout to park your car at the trailhead. From there you hike up to the "R."
9. Hidden Bear Trail
2976-3000 Prado Ln, Colton, CA 92324
Considered a moderately challenging loop trail, it's prized for the wildflowers on display during the spring months. Spanning 5.9 miles, it offers birding, hiking, and running. Open year-round, it has minimal foot traffic. Dogs are welcome and can be off-leash in some areas of the trail.
10. Crafton Hills Conservatory
4875 Campus Dr, Yucaipa, CA 92399
Located near the Crafton Hills Community College, the Crafton Hills Conservatory spans 3,400 acres of open space. It features an expansive trail system that's open to hikers, bikers, and equestrian riders. Trail ratings here vary from easy to strenuous, with ride-line hikes offering expansive views of the surrounding region. 
Redlands Hiking Tips
1. Plan and Research
Before heading out, research the hiking trails and choose one that suits your fitness level and preferences. Always be sure to obtain the appropriate permits, trail map, and pertinent trail information (such as length and elevation) before heading out.
2. Check the Weather (especially the temperature)
Prior to heading out on any hiking in the Redlands area, be sure to check the day's weather. Redlands can experience significant temperature variations, so dress accordingly and be prepared for changes in weather conditions.
3. Dress Appropriately
Wear comfortable, moisture-wicking clothing in layers to adapt to temperature changes. Don't forget to wear sturdy and supportive hiking boots or shoes that are broken in to prevent blisters.
4. Pack Essential Gear
Carry a backpack with essentials. These could include, but are not limited to: 
Water
Extra food
Compass
Sunscreen
Insect repellent
Hat & sunglasses
First aid kit
Flashlight
Fully charged cell phone
Additional gear you might want to bring would include a whistle for emergencies and a multi-tool for various needs. A water purifier can also be a good tool to have on hand, as it allows you to safely re-stock on water if you come across a freshwater source while hiking.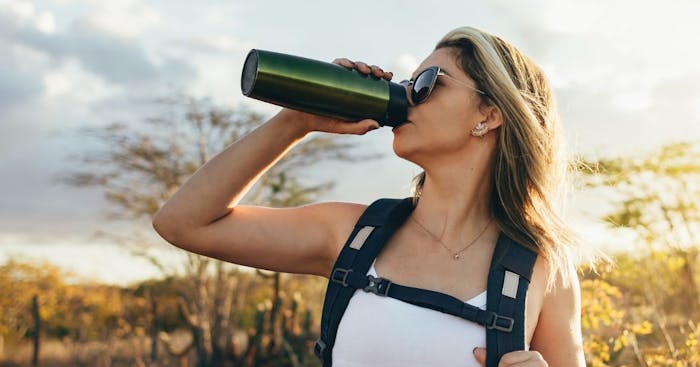 5. Stay Hydrated
Carrying an ample supply of water, especially during hot weather, is essential for safety. Many of the Redlands hiking trails don't have fresh water supplies, particularly during the summer. What water you bring with you, is often the only water you have — so more is often more.
But bringing it isn't enough. Make sure to preemptively drink water as you hike. By the time you feel thirsty, you're already dehydrated. 
6. Leave No Trace
Respect the environment by leaving the trail as you found it (or better). Pack out all trash and dispose of it properly. If you come across trash that isn't yours and you have a way to safely remove it, consider doing so, as this will help the trail remain a safe and healthy place to hike again. Minimize your impact on nature by staying on designated trails and avoiding disturbing wildlife or plants.
7. Hike with a Buddy or Let Someone Know
The safest option is always to hike with a buddy. If you do hike alone, make sure you let someone know where you're hiking and when you expect to be back. If they haven't heard from you within the estimated return window, this will allow them to alert the authorities.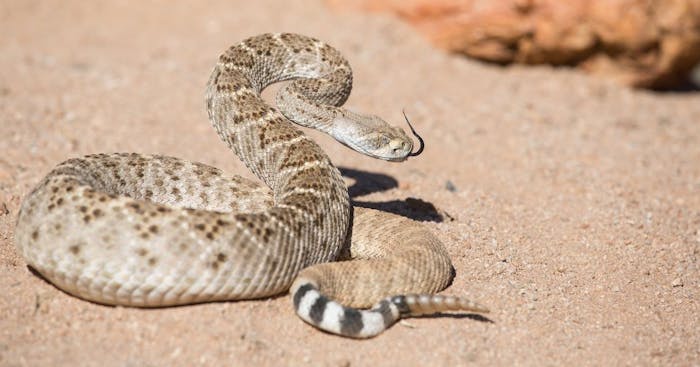 8. Be Aware of Wildlife
Redlands is home to various wildlife species. Familiarize yourself with the potential encounters and appropriate actions to take. Keep a safe distance, never feed or approach animals, and store food securely to avoid attracting them.
Among the wildlife to be most aware of:
Rattlesnakes
The vast majority of trails in Redlands wind through chaparral-covered canyons and hills — habitats that are ideal for snakes, both non-venomous and venomous, like rattlesnakes. Non-venomous snakes feature relatively thin bodies and pointed heads. Venomous snakes differ substantially, with stout (aka chunky) bodies and triangular heads. 
All snakes will retreat, if possible. But it's important to note that if they feel threatened, they will strike. In the case of rattlesnakes, the snakes will use fangs to deliver a toxin that can be deadly. 
If you encounter a snake, always take two large steps back. This can help give them a wide birth so they can move away. Additionally, you always want to look where you're going to put your feet and hands, using a flashlight when it's dark. Sturdy boots and long, loose pants can also help protect against bites. 
Mountain Lions & Bobcats
Mountain lion sightings have been on the rise in the greater Redlands area. Hiking with a partner (or several) offers a layer of protection, as Mountain Lions are more likely to attack a solo hiker. 
In the event you do encounter a mountain lion, do not approach and do not run. Running stimulates the instinct to chase. Rather, hold your ground, make eye contact, and ty to appear as big and threatening as possible (this includes raising your arms, opening your jacket, and throwing rocks).
9. Know Your Limits
Be realistic about your fitness level and choose a trail that matches your capabilities. Pace yourself during the hike and take breaks when needed. Don't hesitate to turn back if you're feeling exhausted or encounter unsafe conditions. Remember, the most successful hikes are the hikes when everyone makes it home safely. 
10. Tick Safety
As you begin venturing outdoors, it's good to always be aware of ticks. They can live in the brush and grass, making them more commonly encountered during hikes. Long, loose-fitting clothing can help keep ticks from biting. But always do your due diligence after a hike to check for tick bites. 
Those who do suffer from a tick bite should be aware of the long-term impact they could face, such as undiagnosed Lyme disease. 
11. Don't Leave Valuables
It's always important to take precautions when out in public. Trailhead parking lots are particularly susceptible to car thefts, as vehicles are typically in very unpopulated areas and left unattended for long periods of time. 
As much as possible, leave all valuables at home or take them with you on your hike. If you do need to leave something in your car, make sure it's out of sight. This can help reduce the temptation.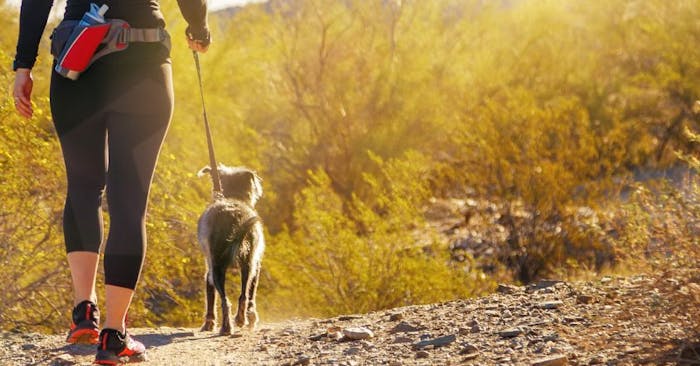 12. Practice Pet Safety 
We love our four-legged fur babies, so whenever we hit the trail we want to make sure we keep them safe. The following are a few of the key considerations when hiking with pets:
Wildlife - While some trails permit dogs to be off-leash in sections, make sure you're aware of recent wildlife activities. Off-leash pets are more susceptible to mountain lion attacks and rattlesnake bites.
Snake-Avoidance Training + Treatment - Teaching your dog to avoid rattlesnakes in the first place is another good safety precaution. In the event they are bitten, carrying a rattlesnake vaccine can help buy you some time while you get them to a vet. 
Water for Your Pet - You aren't the only one who will need to drink while out on a hike. Whether you carry water for your pet or you outfit them with their own pet pack, bringing water is essential to their health. 
Be Aware of Ground Temperatures - Dogs are particularly susceptible to scorching surfaces, as their paws absorb the heat through the ground and can be burned. While hiking, rocky trails are particularly a concern. The rocks can become extremely hot, just like pavement. However, even on dirt paths, the heat of the ground can be an issue. Make sure to consider if your pet will be safe while out hiking, and consider hiking early in the day when it's coolest.
What's Your Favorite Trail?
Enjoy our community and get out there. Let us know on Facebook or Instagram what trails you enjoyed most.
Are there other trails in the area you want us to cover? Send us a message.
As we get towards the warmer summer weather, there's plenty to do up in the nearby San Bernardino Mountains. Plus, our great community makes a fantastic base camp. If you want us to publish a tour guide for ways to beat the summer heat, let us know, too.
Note: We love these trails, as do many of our audience members. We sourced the information for the ten of the "best" trails from our own experience, and the informal recommendations from conversations on Facebook and Instagram and the Redlands Conservancy. Thank you for reading.