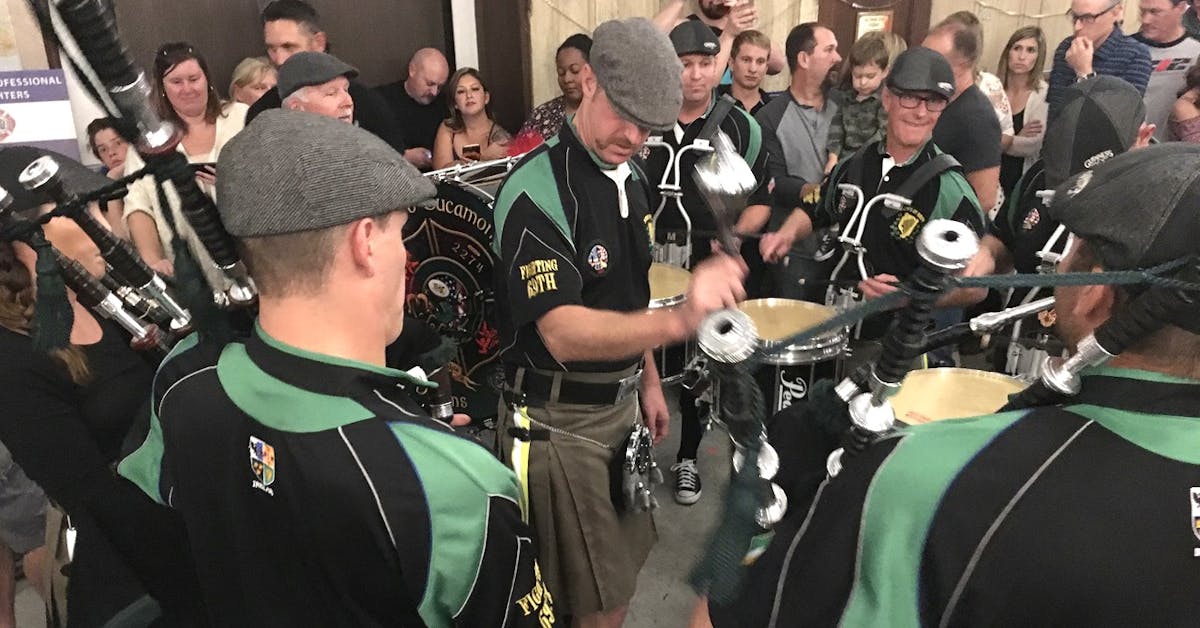 Pipers, Drummers, Firefighters: Redlands' Best-Kept Secret on St. Patrick's Day
What if I told you there is a little-known secret to this Irish tradition you've been missing out on for years now? Cue the firefighters with their pipes and drums!
What are your plans for this upcoming St. Patrick's Day? Maybe you don't have any, or perhaps if you do, it's nothing beyond the tradition of wearing green and possibly enjoying an obligatory dyed beer with friends at your local bar of choice. Maybe you're thinking, "Who does anything more than that on St. Patrick's Day, anyway?" Well...
Have you ever attended an event that was hosted by one of your local fire department's pipes and drums band? If you haven't had the chance to see one of these shows, then you're not going to want to miss your next opportunity this St. Paddy's Day. Why?
Because I guarantee you that it will be the most fun that you never realized you were missing out on.
Because this event attracts some of the most friendly and welcoming people into one venue.
Because these firefighters know how to throw a party and because it cannot truly be understood until it is experienced in person, that's why.
Don't worry, you don't have to be a firefighter, or even invited by one, to be included in these events that have traditionally been held at breweries across Redlands. Yes, it's usually held at an establishment that serves beer (and sometimes whiskey), and yes beers will be had. Many beers, in fact… however, the dry patrons are always welcome (and encouraged!) as everybody could benefit from a designated driver, who is the real hero on this occasion.
So, what's it like standing in the crowd as the Pipes and Drums exchange energy with the roaring crowd of patrons during an event like this? Let me do my best to put it into words because there is an almost indescribable feeling that occurs when you find yourself gathered in a small space, surrounded by others with a pint of beer in hand, standing around a handful of men (and an occasional boss woman named Tress) donned with pipes, drums, kilts, and flags. They begin to play, and it's a catchy tune, one you've likely never heard before and while there are no words that go to it, it still manages to grab and keep your attention. Before you know it, you're drumming along with one foot and maybe even have a hand slapping against the side of one thigh, as the other tries to keep that beer you're holding, from spilling everywhere. Your foot is barely able to keep up by the 3rd song in the set as the rhythm picks up and you can feel the music in your chest while you stare in awe of their talent and wonder "how are they not out of breath and passing out by now?" But you realize it's the energy of the crowd that keeps those lungs and arms moving, so you cheer them on for more.
It's an energy you can't adequately describe, but it certainly leaves you wanting more, and so the band continues. Then, there is a subtle transition written all over their face as their minds anchor to somewhere far from where you are standing, and I can tell you that it is with someone they keep close in their hearts and on their minds.
This brief moment is for them-- the one who's missing from the crowd.
In the crowd, you notice as one glass is raised up in the air, followed by another, and quickly followed by the rest as you hear Amazing Grace begin to play on the pipes. Suddenly, all hats are doffed and every pint being held by those in the crowd gets raised as high as your arm can extend. It is proudly held higher when the fatigue in your shoulder begins to kick in because that discomfort means absolutely nothing when this brief moment is for them-- the one who's missing from the crowd.
By this point, you realize that this isn't just an excuse to drink and party, but an opportunity to come together as a community and honor the fallen; the ones we love, the ones gone too soon, the ones we carry with us in any way that helps us continue to feel connected with them and heal our grief. Heads tilt back in an effort to redirect the tears that are welling up, and the energy pouring out of every individual in the room syncs to one another as we all collectively hold space to remember the ones who have made the ultimate sacrifice. This song is for them. Then, you hear a snare, followed by a bass drum, and soon after the entire band collectively erupts in the kind of music that can only be felt when you are there in person. It feels a lot like a celebration of life and a warm sensation begins to trickle down from the top of your head, down your body, and through your arms as every raised pint glass is clinked with a neighbor and then downed in one ceremonious gulp. And the crowd cheers on as the memory of that person you held in mind feels like they were right there with you, if only for a moment, just sharing a beer during another St. Paddy's day event.
It feels kind of like that.
Here's your next chance to be a part of this tradition:
More St. Patty's Day fun at Escape's Barrelhouse!
---
Related Articles
01/09/23

by

Guest Writer

04/18/21

by

Guest Writer

02/17/23

by

Guest Writer

07/30/18

by

Guest Writer