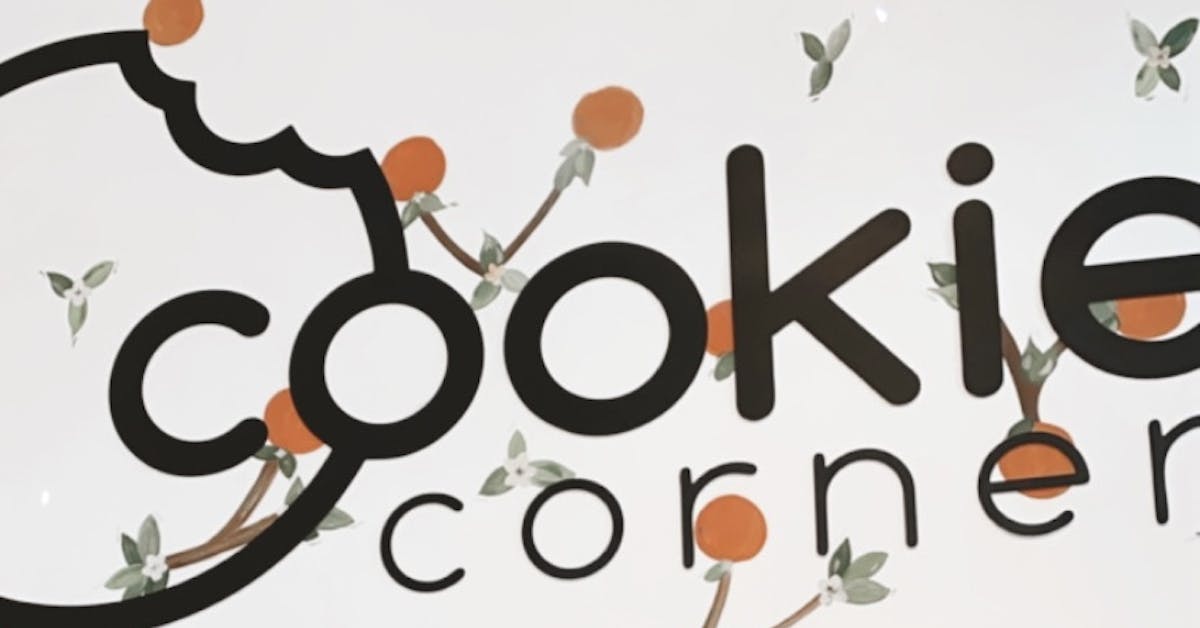 Cookie Corner: Home-made Goodness
They aren't just "another" cookie shop, they are locals specializing in giant, soft, chewy cookies. We love them (and so do our kiddos).
Get to know one of the best places in town to get a sweet treat, and then find some ideas to tour our home town with your tasty energy.
What Is Cookie Corner in Redlands?
Elise Williams, the owner of Cookie Corner, has been a Redlands resident since age 4. She attended Redlands East Valley High School, went to college, and returned to Redlands to start her career. She also loved to bake cookies and created her own recipes. Friends and family encouraged her to start a bakery, including her husband, Matt, who agreed to be the business manager. She and Matt searched for a suitable spot and found a great location on Stuart St., in the former home of Vintage Red Rooster.
They signed the lease In October 2019 and started renovating – turning an antique store into a modern cookie café. Cookie Corner opened on August 8, 2020.
Elise has an extensive cookie list, including seasonal flavors like Pumpkin Chocolate Chip and Holiday Sugar Cookies. Four flavors are offered each week. Chocolate Chip is always on the menu, but the other three flavors rotate weekly. Follow them on Instagram @cookiecornerco to see their weekly menu. The shop is an "open kitchen," so shoppers can watch the cookie-baking process. Cookies are made fresh daily.
The bakery also houses a boutique where patrons can purchase Cookie Corner logo items and crafts from local vendors, such as cutting boards, candles, and soaps. Elise states her goal is to have a family-run business providing a great customer experience where everyone feels welcome.
Fun Fact: How does Elise stay so trim if she's around cookies daily? She is also a marathon runner for 9 years and has qualified for the Boston Marathon.
Vist their store in downtown Redlands at:
Cookie Corner
100 West Stuart Street, Redlands
Hours: Monday - Friday 10am - 8pm, Saturday 10am - 6pm
Where to go next?
Rarely do we go out just for cookies. What we love about Redlands is how there are so many activities that can turn a simple errand into a family-fun afternoon.
Keep reading to discover some great ideas of where to play — and burn off that sugar high before for nap time with your kids.
6 Fun Things to do in Redlands, CA — After Stocking Up On Cookies
While Redlands isn't a huge town, it's home to 18 different public parks. Some are great for dogs, some are great for hiking, and nine of them are specifically suited for kids. Redlands' kid-friendly parks feature a selection of natural areas, like the spacious 18.4 acres at Heritage Park. Others showcase awesome playgrounds, like Isreal Beal Park. 
You'll find parks with ponds, like Ford Park where the kids can feed the ducks. And you'll find parks with paved paths excellent for biking, like Brookside Park. Jennie Davis Park offers plenty of shade. And one of our favorites is Prospect Park, an 11.4-acre natural park that features a large outdoor amphitheater, home to the Redlands Summer Theater Festival. 
2. Visit a Local Toy Shop
Encourage your kids to grow and expand their imagination with fun and exciting toys.
Sweet Memories - This Redlands candy and toy shop is filled with unique gifts and sweet treats. Discover treasures for children, unique items for adults, and quirky finds — like pickle erasers! 
Board Game Paradise - Get your kids to put down their devices with more than 500 unique and exciting board games and puzzles. Board Game Paradise carries games for all ages and skill levels. And if you're looking for something to meet a specific need, the friendly staff can help direct you to the perfect choice.
Jacks Toy Shop - With a focus on learning, Jacks Toy Shop makes developing critical skills fun and approachable for children of all ages. You'll find items for newborns all the way through school-age children, with several toys on display for your kids to try out before you buy. 
3. Kids' Gyms - The Perfect Solution for Indoor Fun
It can get extremely hot here in Redlands, making it hard to have fun outdoors. Plus, with the local fires that have plagued Redlands in recent years, many parents may be looking for ways to escape the smoke — while still getting out of the house.
An indoor gym kids' gym is the perfect solution. It's a safe space where your child can run and tumble inside. 
Redlands Gymnastic Club - This awesome gymnastics club in Redlands offers both recreational and competitive gymnastics. It's a favorite for field trips and birthday parties. Plus, the first class is free!
High 5 Indoor Playground - As the name would suggest, this fun indoor playground features a wide array of obstacles for your kids. It includes climbing obstacles, tunnels, slides, ball pits, and more. 
My Gym - Designed for kids 6 weeks to 12 years old, My Gym in Redlands offers classes and drop-in sessions where your kid can tumble and explore. 
This fabulous custom bake shop offers a wide array of custom cakes, including vegan and keto varieties. But our favorite thing isn't just picking up a treat for a special occasion. It's their amazing cake decorating classes! They offer classes for both adults and kids. This is an amazing opportunity to do a hands-on activity with your kiddo. 
Martha Green's The Eating Room has long been a favorite for locals. They offer both a bakery and a full-service restaurant. But for an event your kid won't soon forget, schedule Rustic Tea. Served Thursday through Saturday, it features a selection of British teas and 'proper treats' — many of which come right from the bakery!
6. Kiddo Treats & Adult Pick-Me-Ups 
Sometimes a treat is just what a tiny human needs to turn a 'challenging' day upside down. The same can be said for a parent. What's best, is when you can find a place to fits both bills at once. After all, that's the ultimate parent win! These are some of the best kid-friendly places in Redlands to grab snacks and drinks. 
Stell Coffee & Tea Company
Michelle's Bakery
Discover More Kids Activities in Redlands
Make this the best summer yet with activities that'll keep your kids excited and interested.
Now that you have picked up your copy of the Historic Downtown Redlands walking tour from the Redlands Visitor Center, (AND completed it) it is time to put your knowledge to the test! Take this quiz to see what you have learned.
Dining out with children can be a challenge. How do you really know a restaurant is kid-friendly? Well, check out what these locals have to say about their favorite spots to take children.
---
Related Articles
06/20/18

by

Guest Writer