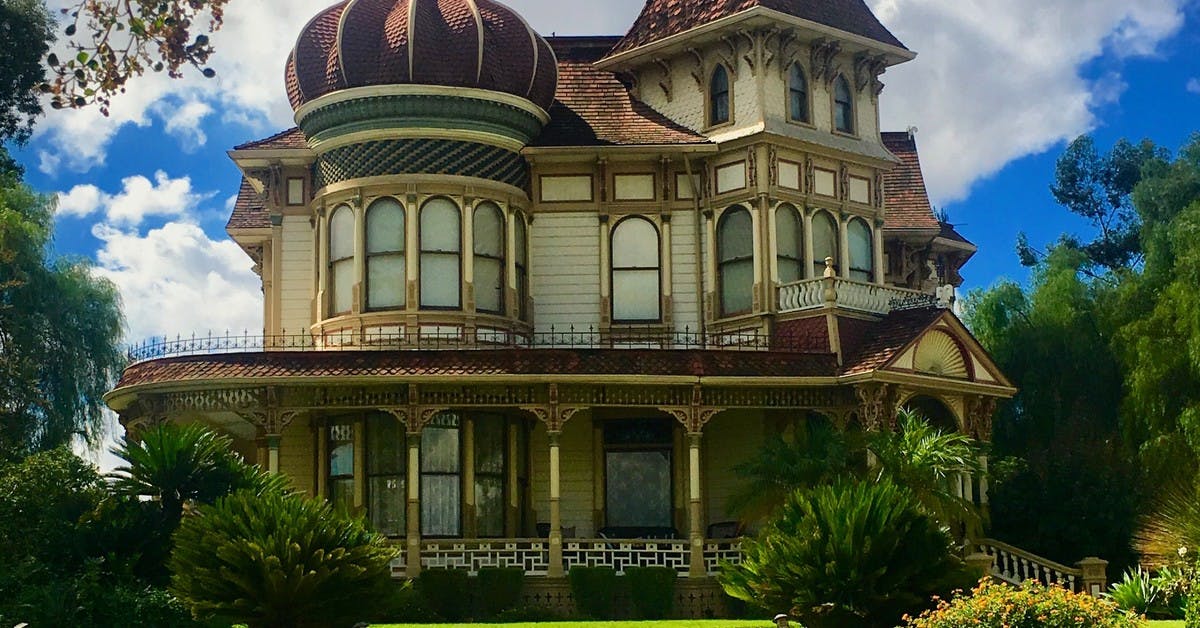 Redlands Fall Photo Contest - Home Edition
Amateur photographers armed with smartphones and seasoned professionals entered the Redlands Fall Photo Contest - Home Edition showing their passion for Redlands CA. Entries included homes that looked or are known to be haunted, Historical, Victorian, and Redlands homes from childhood memories.
FIRST PLACE - Caitlin Murphy: Private two hour tour of Redlands history with City Council member & former Editor of The Redlands Daily facts Toni Momberger and a $100 Citrone Restaurant & Bar gift certificate.
"Morey Mansion, located at 190 Terracina Blvd. "Morey Mansion has inspired me since childhood. My dad and I would go long walks through Redlands and I would always beg to see Morey Mansion, which I nicknamed the "heaven house" because I thought Morey Mansion looked how heaven will look. My dad would tell me the story of Mr. Morey being a shipbuilder and carpenter and how he built the house for his beloved wife and I would beg to hear it again because I thought it was such a beautiful story. When my dad passed away, I never stopped walking by Morey Mansion and remembering the story, the walks with my dad, and hoping that his house in heaven looked just like Morey Mansion. I've tried for years to photograph the house but it never captured my feelings, but something about this cloudy day, with sunshine intermittent, I found the perfect capture." Caitlin Murphy
SECOND PLACE - Bruce Herwig: Van Craeynest Working Factory Tour for two. Van Craeynest San Francisco brought to Redlands -- pieces are die-struck and hand-crafted using old-world techniques and 100 year-old machines. Founded in 1926, Van Craeynest designs are inspired by the Art Deco and Art Nouveau eras that carry on the Van Craeynest Legacy. Located inside Emerson & Farrar Fine Jewelry on State Street (This is a special invitation tour not open to the public & includes the history of the historic building). After the tour dinner for two and a bottle of wine at Rok-n-Fondue.
"What's Old Is New Again! I've been watching the renovations at 219 Cajon St for the last few years and they are finally complete! Built in the 1890's, the house was moved from where it originally stood and is currently home to Paulson Orthodontics. I appreciate the care and attention to detail that went into the construction. The remodel took design elements of the original house, including towers, windows, and Victorian design. It's a project that would make the artists, craftsmen, and people of Redlands proud, no matter what century you're in!" Bruce Herwig
THIRD PLACE - Thomas Wellons: Private tour for four of Mission Pediatrics Victorian home with Dr. Tim Watson. This historical home is a new pediatric office equipped with secret gadgets and lots of surprises. (This is a special invitation tour not open to the public & includes the history of the historic building) and brunch for four at D'vine.
"Hi, my name is Thomas, the house I chose is the home on the corner of Center and Palm. The house was built in 1887, and then bought by my wife's grandparents about 32 years ago in 1981. They still live there to this day. It's fun having family gatherings and know that the home was on the Redlands historical homes tour. After hearing some of the stories of my wife growing up in the house, and spending time there myself, I couldn't think of a better home to submit. One story in particular that sticks with me is one year after they bought the home the house turned 1oo years old and they threw a birthday party for the house." Thomas Wellons
FOURTH PLACE - Alex Mitroff: Private tour for four of Kimberly Crest and $50 Olive & Citrus Gift certificate.
"I moved to Redlands a little over a year ago. After countless requests for Redlands images, during my first art show in Redlands, I spent the next day researching Redlands. After a days drive throughout town scouting locations, I set my sights on Morey Mansion. Morey Mansion is a draw for me due to the many elements that frame the mansion. Though it's hard to catch an epic enough sunset to catch some color in the clouds behind it, it's definitely worth the countless trips to the mansion when you do." - Alex Mitroff
FIFTH PLACE - David Card: Brunch for two at Greensleeves Steakhouse.
"I like to drive around Redlands and photograph random homes as I come upon them. This one truly surprised me, I never knew it existed and I love the colors. Hope this is award worthy." David J. Card
---
Related Articles
11/07/19

by

Guest Writer

03/03/22

by

Guest Writer

09/30/21

by

Guest Writer

05/02/18

by

Guest Writer