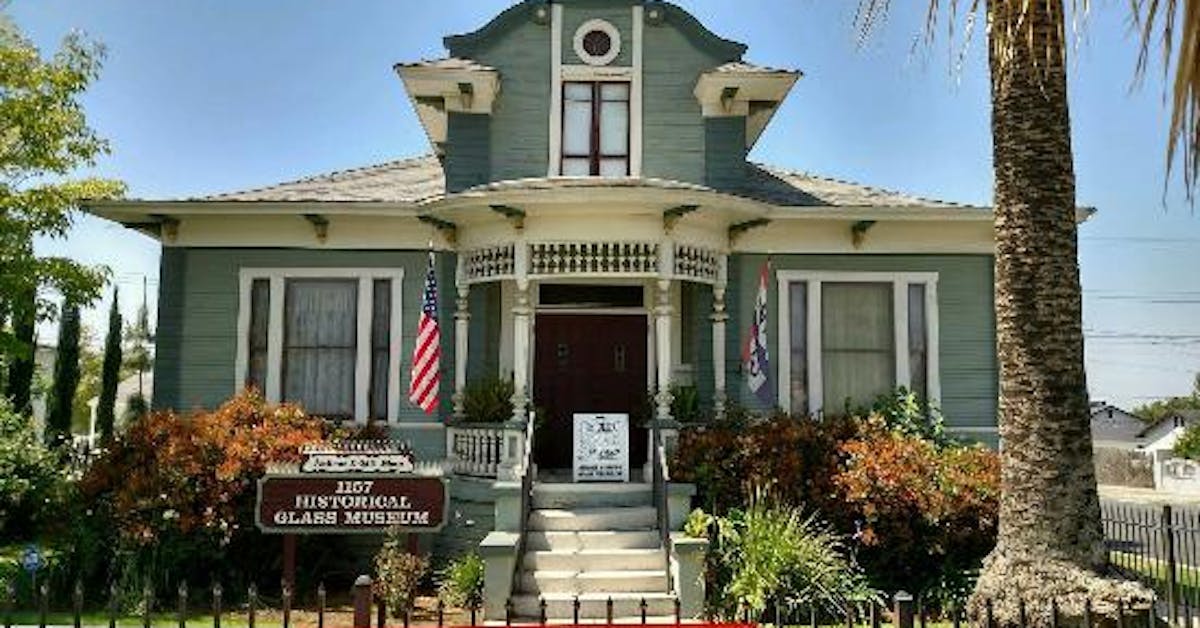 The Historical Glass Museum opened to the public in 1985. In 1977 the Historical Glass Museum Foundation purchased a 1903 Victorian-style home at 1157 North Orange Street in Redlands. It was the beginning of a dream to preserve specimens of American glass from factories that were becoming extinct, as well as factories and glass artists currently producing glass. The Museum now houses the largest collection of American-made glass west of the Rocky Mountains.
Housed in an historic home is a small gem that is acclaimed by antique glass aficionados throughout Southern California – the Historic Glass Museum. Jerome Seymour, a woodworker and architect from West Virginia, built this Victorian cottage as his family home around 1903, embellishing the house with wood turnings from the JDB Stillman Winery. (Fun Fact: this winery was established in 1885 and torn down to build the University of Redlands.) These beautiful turnings can be found at the entrance to the American Heritage Room in the Glass Museum.
The Seymour family remained in the house until 1977, when Mr. Seymour's daughter, Emma Cryer, died. The house was purchased by Dixie and Doc Huckabee in 1983 with the express purpose of creating a museum to house their glass collection. The Huckabees continued adding to the collection by encouraging other collectors to donate. These collectors formed a non-profit foundation and raised the money necessary to open The Historic Glass Museum in 1985. In the ensuing years, the glass collection has grown to fill 6 display rooms.
In 1995, the Seymour House received a Heritage Award from the Redlands Historical Society. The Redlands Conservancy bestowed their Adaptive Reuse Award to the Museum in 2017.
The Museum contains an eclectic mix of glass. Some pieces are blown glass, but most are molded or machine-made, Depression glass, for example. The oldest piece is a glass bottle from 1820.
During the early 1800s, most fine glass was clear crystal made with 24-40% lead oxide. Production of this type of glass stopped around 1860, as lead was needed to forge bullets for the Civil War, but re-emerged around 1870. During the war years, glass blowers started using other minerals, some of which added color to the glass. The Museum has a lovely collection of glass made with manganese which creates a light purple color. Milk glass, an opaque-white resulting from the addition of tin or zinc oxide, is also on display, as are other colored glass.
Most fine glass makers patented their brand names and color names. That information, as well as the makers' signatures, is usually found on the underside of the object. Some pieces were hand-decorated and signed by an artist, as can be seen in Museum's showcase of Louise Piper's "Violets in the Snow" series (purple violets painted on milk glass).
The Museum's assemblage includes many well-known glass producers – Steuben, Tiffany, Fenton, Fostoria, Milkersburg, Northwood, Dugan -- as well as glass categories such as pressed, blown-molded (liquid glass is blown into a mold), Jadite, Carnival glass (which has colored iridescence), Fostoria Coin in which coin figures are molded into or etched on the piece, whale-oil lamps, and cut glass.  A few are quite rare, for example a red and gold Fenton piece entitled "Dragon and Lotus". Also on exhibit are items from Liberace's extensive glass collection. Most of the glass is American made, although some is from Europe, notably Czechoslovakia. A most unusual Museum holding is a Victorian Human Hair Wreath that contains no glass, but hangs beside the glass jar that was used to collect strands of hair from family members and then fashioned into the hair wreath.
Docents at the Museum are mostly collectors who have a vast knowledge of antique glass. Some, such as Stephen Barnett, who is the current president of the foundation, are also glass blowers. None are appraisers.
The Museum holds educational seminars throughout the year. This last Autumn was "The Color of Heisey Glass" on October 12 and "Flint Glass" on November 9.
In 1995, Huell Howser featured the Historic Glass Museum in a 30-minute episode of his award-winning television show, California Gold. He celebrated the Museum's 25th anniversary in another episode in 2011. The 1995 show can be viewed HERE.
The Historic Glass Museum Foundation is a non-profit organization. In addition to showcasing their formidable collection, the foundation runs a gift shop on the premises. The gift shop has periodic sales - an opportune time to purchase gifts or additional glassware one might require for entertaining.
Visit The Historical Glass Museum's website HERE.
Address: 1157 Orange St, Redlands, CA 92374
Hours: Saturday and Sunday: 12- 4PM
(Currently Closed due to COVID-19)
Why Shop Local? You make your community a destination.
The more interesting and unique our community, the more we will attract new neighbors, visitors and guests. This benefits everyone!
---
Related Articles
07/13/20

Deborah Rada

07/17/20

Deborah Rada

07/13/20

Deborah Rada