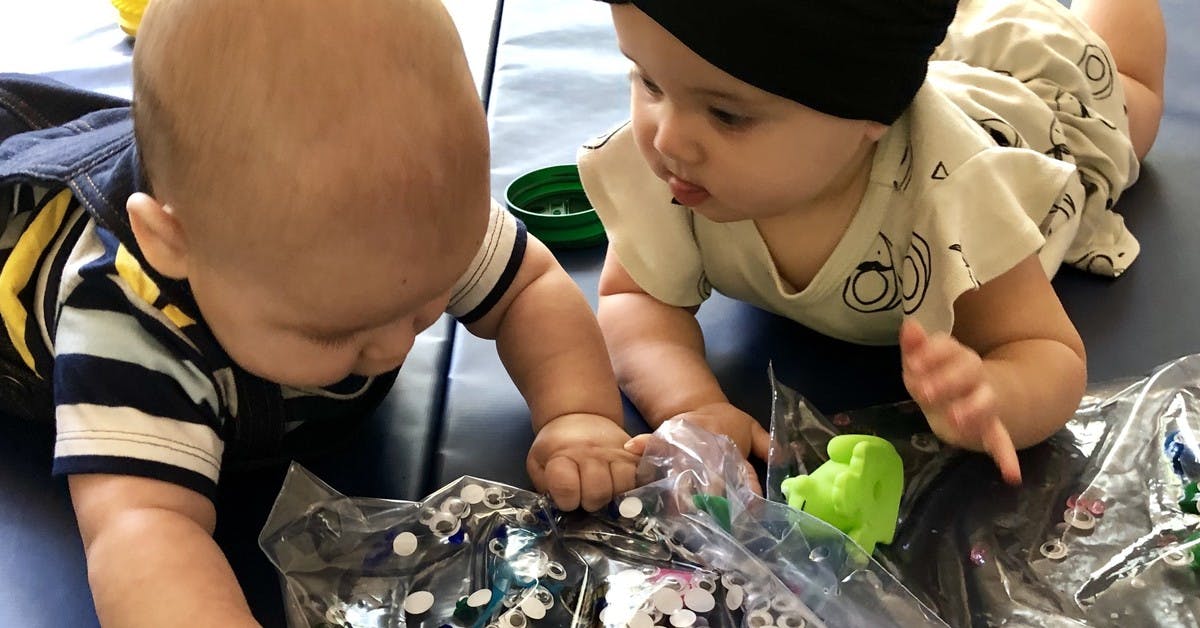 5 Mindful Activities for Children
 Children under the age of five should be engaging in a variety of sensory motor experiences before a pencil and paper is presented to them, before they are expected to sit, attend, and learn new information.  It is so easy to create sensory motor experiences within your own home!
My creative co-worker, Mimi, always take activities to the next level so I reached out to her for help compiling these activities. Mimi created Elevated State of Play, an Instagram platform meant to beakdown the importance of incorporating the skills in the activities bellow in a fun, user-friendly way. She is currently working on providing an in-depth examination of each activity to explain the "why?"
Newborn cycles and tummy time!

I know newborn babies are the squishiest of things, however, we often do not realize there are better times than others to be active with our newborns/infants. First identify your baby's Quiet Alert Stage. This is the optimal opportunity to engage them in a sensory motor task.

Tummy Time is our number one favorite sensory motor activity for newborns through six months old. Why is Tummy Time important? Tummy Time strengthens head, neck, and upper body muscles. It sets the stage for the other milestones, such as rolling, crawling, reaching - all of which require a strong musculature foundation. Here is an amazing tip slip on all things Tummy Time.

Get those toddlers moving!

Photo credit: Omar M. Bourne

Outside is a wonderland of activities. Our go-to favorite activities include, water, dirt, a pale, a shovel, sidewalk chalk, and a bubble blowing lawn mower. Don't love the idea of digging in your own yard? You can buy a water/sand table, some potting soil and make your own garden play area! The river, lake, and ocean are nature's example of a sensory motor paradise. The uneven surfaces, the challenges to gravitational security, the various sensory inputs... the list goes on. When children explore uneven surfaces it promotes and challenges their ability to understand how their bodies move in space and how to navigate their movements in a fluid manner. Kids should be exploring nature, digging in the dirt (with their hands), figuring out how to maneuver on uneven surfaces, all before a pencil even goes in their hand, or before we expect them to sit longer than their age. All these activities support foundational skills for learning.

Toddler and beyond, fun with fine motor activities.

We love fine motor mornings because these activities are quick, easy, and capture Luke's attention to sustain engagement. Why do I have everything in containers? It adds a language component for the child to request, follow directions, express choices, allows the child to focus on one activity at a time, encourages independent cleanup, and following multiple step directions. There are so many more benefits to organizing fine motor tasks into separate containers. Additionally, these tasks support pre-academic readiness.

If you are looking for fine motor toys to separate into your own containers, here are some of our go-to fine motor and sensory activities:

Kitchen/play food: Velcro fruit and plastic utensils 
Puzzles: upgrade/downgrades - interlocking, big knob, inset 
Stickers
Paints/dabbers 
Pop beads/lacings beads
Tissue paper art - rip paper into little pieces and glue or paint onto another piece of paper.
Sensory bottles

All of these activities work on additional foundational developmental skills such as eye-hand coordination, motor planning, finger isolation, in-hand manipulation, manual dexterity, and other skills most people do not even know exist. These all connect directly to academic achievement. 

Slide, balance beam, tunnel, trampoline, oh my!

Give me all the input! Did you know we have 7 senses? We have 2 hidden senses, vestibular and proprioception. The slide, balance beam, tunnel, trampoline, rocker, sit and spin, and yoga blocks are our go to activities to activate these senses as well as promote motor planning. Motor planning is the ability to think of what you want to do (ideation i.e. I want to go down the slide), motor plan the sequence (Planning i.e. figure out how to go down the slide ), and then complete the task from initiation to completion (execution i.e. the brain and the body need to talk to each other to now go down the slide). Motor planning is also a foundational skill for academic learning.

Mindfulness for all ages.

"The awareness that arises from paying attention, on purpose, in the present moment and non-judgmentally" (Kabat-Zinn, in Purser, 2015).

I started practicing mindfulness with Lukey when I was pregnant. The day he was born, I began to talk to him about his world and everything it entailed. When interacting with your baby, especially babies under a year old, talk to them. Describe everything that involves the senses - what you are seeing, hearing, touching, smelling, and feeling. As a newborn develops and grows, some of the first skills that appear are the ability to visually track items and faces, produce a social smile, coo sounds, and reach for a desired object. All the reciprocal communication you have with your baby as they are growing and learning these new skills, set the foundation of their world. They will be more in tune with their surroundings. 

Think of it as if you were to narrate your day to your baby in an engaging and meaningful reciprocal conversation. Newborns and infants are extremely intuitive and are great communicators. They will use their body to show you how they are feeling so you can adjust the tone of your voice and your proximity to allow for an optimal sensory experience for you and your baby during all communicative exchanges.  

Here are some guided phrases you can try with your babies and toddlers. The key is to be animated and present in the moment:

Describe something you are feeling and how it makes you feel - "Feel the wind blowing. It feels warm on my skin. It makes me feel happy. The wind makes a whooshing sound as it brushes through my body."
Describe what you are hearing in the moment - "Do you hear the horns honking?"
Describe something you see and how it makes you feel - "Look at the pink and blue flowers!"
Describe something you are eating and what it smells/tastes like - "We are having chicken noodle soup and chicken cutlets for dinner. It smells so delicious. I smell parsley, basil, garlic, onion, and sauce."

The overall goal is to facilitate effective and efficient communication within the parent/child dyad to promote increased self-efficacy, positive social emotional development and coping skills. This activity is both to facilitate positive conversations, as well as, providing a safe and nurturing way for children to express their negative feelings and emotions appropriately.
Note: This blog post is not providing medical advice and it does not claim to do so. Please consult with your pediatrician, doctor, and/or occupational therapist for recommendations, treatment and specific intervention plans. All activities should be completed with adult supervision.
References
Purser, R. (2015). The myth of the present moment. Mindfulness, 6(3), 680-686.
---
Related Articles