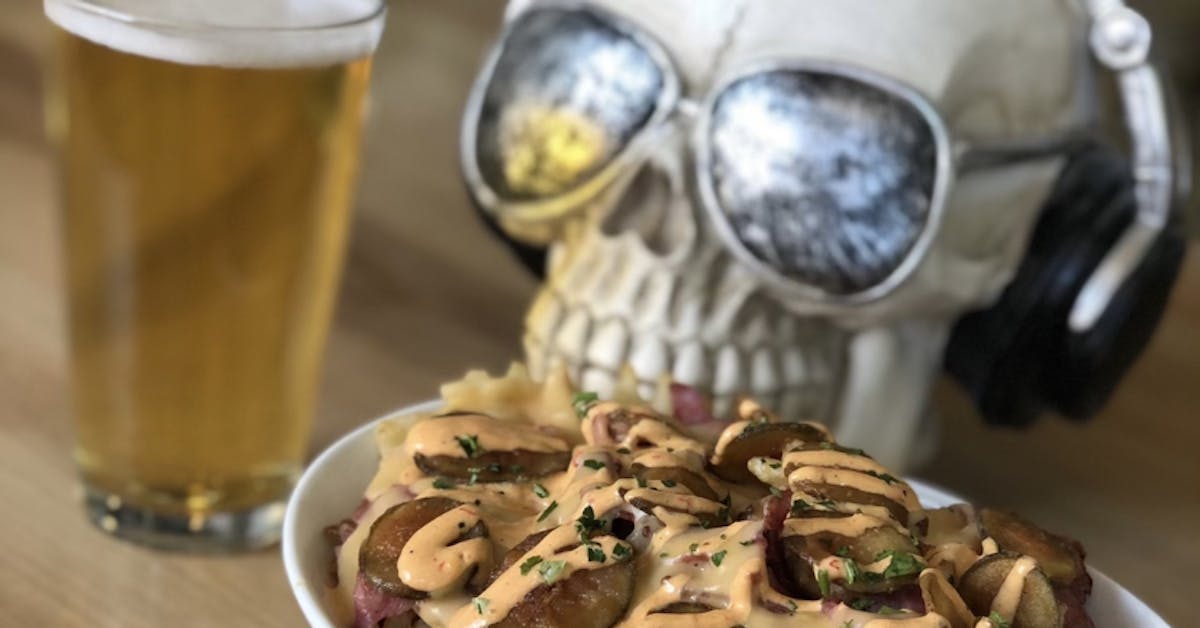 The Rebel Life Chose Us: Batter Rebellion
New local business, Batter Rebellion, tells us how their restaurant dreams became reality, what tasty bites you can expect, and what the future holds for them!
Hey Rebels, soon-to-be Rebels, and all you underground Rebels!
"I rebel; therefore I exist." - Albert Camus
It is Batter Rebellion's hope this is the phrase ringing true in everything they do at Batter Rebellion. As a team, they strive to be a restaurant unlike any other -- they will not just be good, and they will not blend in. Batter Rebellion's goal is to stand out! After all, what is living without embracing your own uniqueness? You've got to be different. 
Pushing the culinary envelope is the goal -- to give guests an experience that leaves them feeling inspired, creative, edgy, and ready to push back against the norm. Owner Jenn says, "There's a rebel in all of us, and we can't wait to help you find yours."
Meet The Kramers:
(click image to enlarge)
Steven and Jenn have three incredible children. Hayden is 9, Kozy is 5, and Cayson is 4. Jenn and Steven agree, "Family always comes first -- being with our children is our favorite place to be. You will probably see them at the restaurant from time to time, eating some pretzel bites, or diving into their chicken and waffles. If you are really lucky, you'll even get to see them rebelling against their parents. What can we say? Our little rebels (with hearts of gold), they came by it honestly."
Jenn was always a rebel, even from a very young age! Her parents will attest to this. Jenn explains, "Sorry mom and dad! There was always something in me that wanted to challenge authority, but eventually, I did calm down (a little). From there I followed a career as a massage therapist, and mother."
Steven, on the other hand, grew up following the rules. He did not defy authority and worked his way through college in the restaurant industry. Steven got a degree in graphic design and psychology. He had a few entrepreneurial endeavors but ultimately found landed in a career within the healthcare field. Jenn and Steven met, married, had kids, and started dreaming about their future entrepreneurial ambitions (while combining rebel and responsible). 
The Birth of Batter Rebellion:
Steven went on a work trip to Portland. He saw all of these walkup window restaurants -- quite a few of which were, waffles! They had waffle sandwiches, burgers, breakfast options, and even desserts. Jenn remembers, "Our first idea was to do waffles in every which way, and the name Batter Rebellion was born. We couldn't find a small space, and instead landed on our current building -- which was much bigger than we originally planned." They thought, "Hey, we need to expand this idea and menu. Batter is a part of so many dishes! Let's run with it and see what we can create!"
Jenn and Steven's literal blood, sweat, and tears have been in every step of Batter Rebellion's buildout. They knocked down walls, built the bar and all tables, painted every inch themselves, tiled until the wee hours of the morning, and decorated with their own vision -- by themselves, "our way." Steven and a local artist named LunchBarf designed an amazing floor to ceiling mural (and of course, installed it themselves). The vibrant colors, textured tiled wall behind the bar, and raw woods give a modern yet eclectic, and edgy vibe that is warm, yet exciting. 
Batter Rebellion's punny menu includes everything from burgers and their signature waffle fries, to their most popular 'Fowl Mouth' (aka chicken and waffles: a cornbread cheddar and jalapeño waffle topped by fried chicken, corn aioli, and bourbon maple syrup). Don't worry, they also have a health-conscious side. Batter Rebellion's menu offers several insanely delicious salads with ingredients like fried goat cheese bites, fresh ahi, and crispy prosciutto. Vegetarian and vegans, you haven't been forgotten! There are lots of options, plus customizable plates for vegans and vegetarians (shh, they are working on their own veggie patty as you read!). Even with their large portions, make sure to save room for dessert. The churro waffles topped with ice cream, or the 'How About Them Apples' glazed apple fritter topped with cinnamon whipped cream, house-made granola, fresh sliced apples, and drizzled with honey, is calling your name!
Food, Beer, and Rocktails:
(click to enlarge)
Oh my! We can't forget to mention Batter Rebellion's unique beer menu that will have something for everyone -- while also giving you a chance to try beers that aren't offered just anywhere. Jenn says it best, "We search for unique, special drafts and give them the opportunity to shine!" And what's a Rocktail you ask? It's our signature cocktails that have been curated for your viewing and tasting pleasure. With names like RADLANDS (our ode to Redlands), Wildflower, Go Rogue, and Bad Blood, and flavors that please, our fellow rebels can't seem to stop at just trying one."
Did we forget to mention brunch!?
Saturday and Sunday 10 am-2 pm
Batter Rebellion's brunch future is bright too! At a very later date, they plan to introduce a booze-infused event with not only amazing dishes but a party atmosphere. You'll find a live DJ, huge shareable cocktails for the table (coming in your very own beverage dispenser), with the friendliest, and most attentive service. There is no way you won't have an awesome time. Themed brunch with live music, and so many more surprises COMING SOON!
There's MORE:
Jenn tells us, "I can't believe there is more to share BUT….. the most exciting news is that we have added is an amazing mobile cocktail bar trailer named 'Rebel Spirits' to the team. We can't wait to start booking events with you. Weddings, parties, corporate events, or just because, we can cater to any event. We can supply bartenders, signature cocktails, and so much more.
--------------------------------------
Gift Cards Available (call for yours)!
Check out our website - HERE
Online ordering - HERE
Call us: (909) 748-6000
Location: 5 E Citrus Ave Suite 110 Redlands 92373
--------------------------------------
---
Related Articles