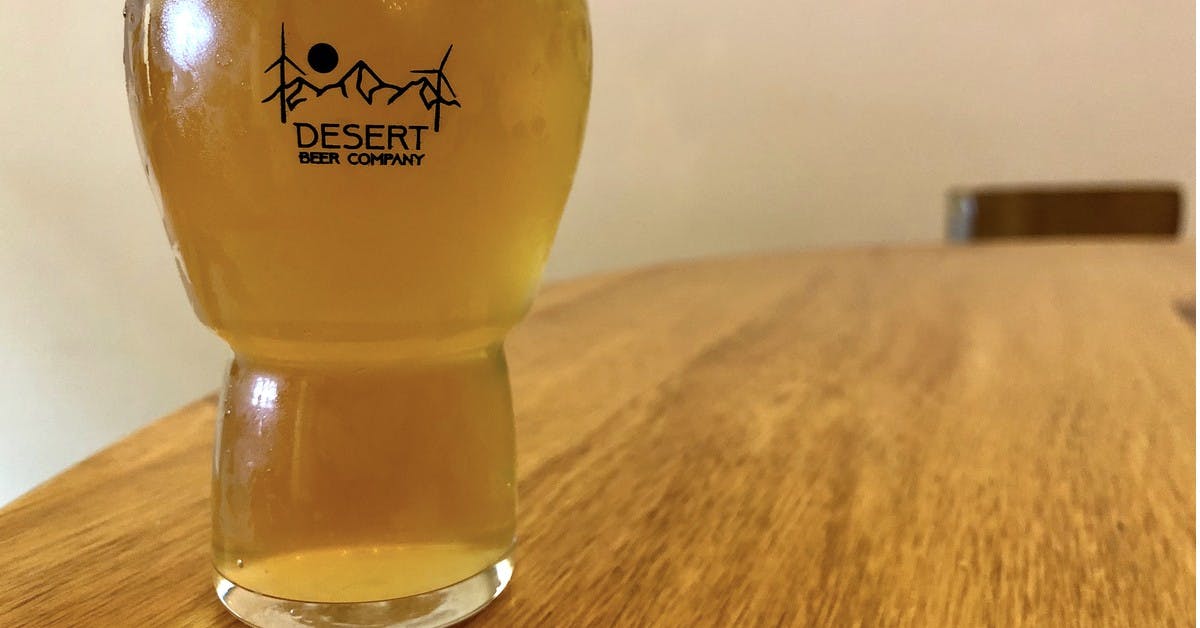 Redlands Visits Desert Beer Co.
Since the Redlands Visitor Center opened its doors 12 June 2019 we have had 3,500 visitors (and counting)! People come from other states, different countries, from San Diego, Los Angeles, San Francisco, and quite a few call the desert home. We had the pleasure of speaking with a couple of those visitors about a new brewery in Palm Desert, Desert Beer Co. So naturally we grabbed our beer guru, Chloe, and rushed to check it out!
First some background...
Owner and brewer, Devon Sanchez, was born and raised in Coachella Valley. After pursuing a career in politics traveling the world with a mission to make wine, and falling in love with brewing in San Diego, he received an incredible opportunity to assist the start up of a new brewery in his home town. Devon worked with Coachella Valley Brewing from construction and build out, to cellarman, delivery and taproom service, up to managing. Devon gained a wealth of knowledge along with drive to open his own brewery! And thus, Desert Beer Co. was born.
Note: All answers to the following questions are in Devon's words.
Devon, have you experienced the Redlands beer scene?
Yes, of course! I have been to Escape, Ritual, Hangar 24, Brew Rebellion (in San Bernardino), and Bootleggers. 
Escape Craft Brewery has always felt like a home away from home. Josh and Melissa are amazing people. I had the pleasure of meeting them about 6 years ago when CVB was starting up. Escape has a great atmosphere! My favorite brews have been the Lazy Day IPA, Shreddin' the Gnar IPA (from my trips down the mountain after boarding), and most recently Moon Pigeon Hazy. I have heard about some really interesting brews coming from them that I would love to try soon! I also love that they are committed to their community with events dedicated to pet adoptions, car clubs and holiday festivals.
Ritual Brewing is an impressive brewery that one can only hope to achieve. Their brewer, Owen, is extremely talented at making flagship ales - with great focus on the science of the craft and being able to recreate his craft over and over with no perceivable difference.
Of course I have been to Hangar 24 many many times. It's a Redlands staple and testimony to the growth of craft beer. I enjoy their Altbier, Betty IPA and Barrel Roll releases. Always a good time.
Brew Rebellion I know from their San Bernardino days. I haven't been to their Banning location, but have always enjoyed great stouts, browns and kettle sours from them.
I know Bootlegger's from their Fullerton location. I have not been to the Redlands spot (yet). They have great IPAs! The Far Out IPA and the Rustic Rye IPA being my favorites.
Why open your own brewery?
I really wanted to offer the community what I was introduced to living in San Diego for college - the enjoyment of the craft. I learned how to make beer and got firsthand exposure the full vision. When you walk in to Desert Beer Co. you'll notice the small layout. This was completely intentional, as it shows everyone just how inviting beer can be. You see where the beer in your pint was made, and get to know the brewers up close and personal. I want to bring great craft beer to the Coachella Valley and its visitors. Our area has a diverse population! It is large and spans all ages, and I strongly believe we can use more craft beer.
Ok, best and worst part of owning a business?
The best part is easy. Seeing all the smiles on people's faces in my brewery taproom. I love being able to meet and talk with them. The worst part, well, the toughest task (so far) is managing to keep up with the beer demand. Our patrons come thirsty! And, making it out of the hottest months with these wild electric bills.
What is your favorite beer at Desert Beer Co. currently?
My favorite brew is the Pepino Con Chile. It offers up a great light base beer in the Desert Cream Ale (light, refreshing ale made with soft/crisp malts and some corn - similar to a Mexican Lager) and combines with fresh cucumber juice, Anaheim, Habanero, and Serrano Chilies. It drinks with a mild, crisp and warming flavor. This beer is super refreshing with the cucumber addition.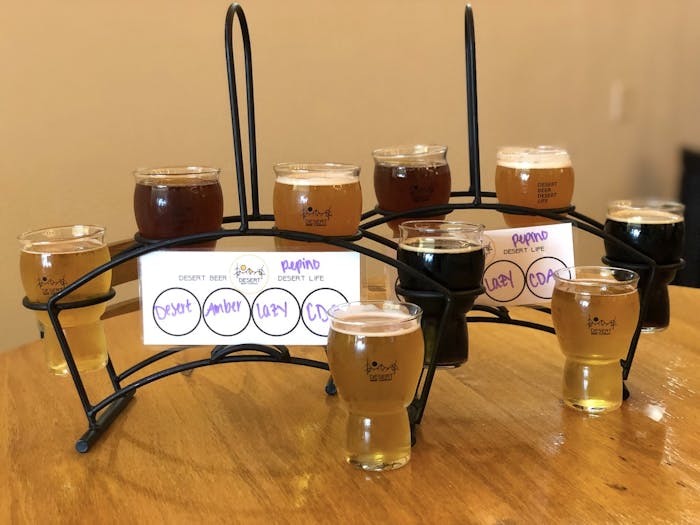 What our beer guru, Chloe, and I thought of Desert Beer Co...
Desert Cream Ale - 4.2%

N: Easy to drink, light with a hint of sweet.

C: Carbonation is on point with a nice gold color. Smooth mouthfeel. Well balanced, lawnmower beer (a beer you can drink while mowing the lawn and keep the lines straight). Floral, little spiced notes.

Amber is the Color of Your Energy - 4.9%

N: Malty and hops forward. A little bitter. 

C: West coast Amber Ale. Citrusy hop profile. Roasted malts on the front, bitter on the back - nicely balanced. Coppery brown color. 

Lazy Sauce Hazy IPA - 7.5%

N: YUM! Bitter but not enough to make a "eek" face. (You can see I am a total beer expert!)

C: (The real expert) Not a New England style Hazy but a West Coast Hazy - not milkshake. Great aroma of grapefruit, and big citrus notes. Dry on the finish but not a juice bomb. Hop profile is assertive and pleasant. Low carb. Medium light bodied mouthfeel.

Note: Milkshake beers increase fruit additions, unfermentable sugars, and adjuncts like vanilla. These create a creamy, full-bodied texture with bold opacity.

Cascadian Inoculum Cascadian Dark Ale - 5.5%

N: Coffee and chocolate. Very tasty.

C: Black IPA. Roasted notes are prominent in both aroma and flavor. Mellow hop profile. Red hues are on point.

Note: A red hue is important when brewing a porter. It makes sense that this BIPA has a beautiful red hue to compliment those roasted coffee notes just like a porter would have.

Pepino Cream Ale - 4.2%

N: Cucumber and sweet. Fresh and light.

C: New beer drinkers or people with a sweet tooth will enjoy this one. Easy to drink, a poolside beer. Light bodied. High carbonation. Would make a great michelada. Clarity is good.
All in all, Chloe and I had a fabulous time at Desert Beer Co. The atmosphere is welcoming, industrial, polished, intimate, and extremely comfortable. If you are looking for a quick getaway, head East. There is wonderful food to be found and delicious beer at Desert Beer Co.! When you get back to Redlands swing by the Redlands Visitor Center to let us know what you thought (and don't forget to sign the guest book).
Desert Beer Co. is celebrating their GRAND OPENING October 25th! Ribbon cutting ceremony at 11AM. There will be live music by multiple artists (details in flyer below), food by Kuma Catering, raffle prizes, giveaways, kid and pet friendly. Open 12PM-12AM.
Desert Beer Co. Events & Interior
(click image to enlarge details)