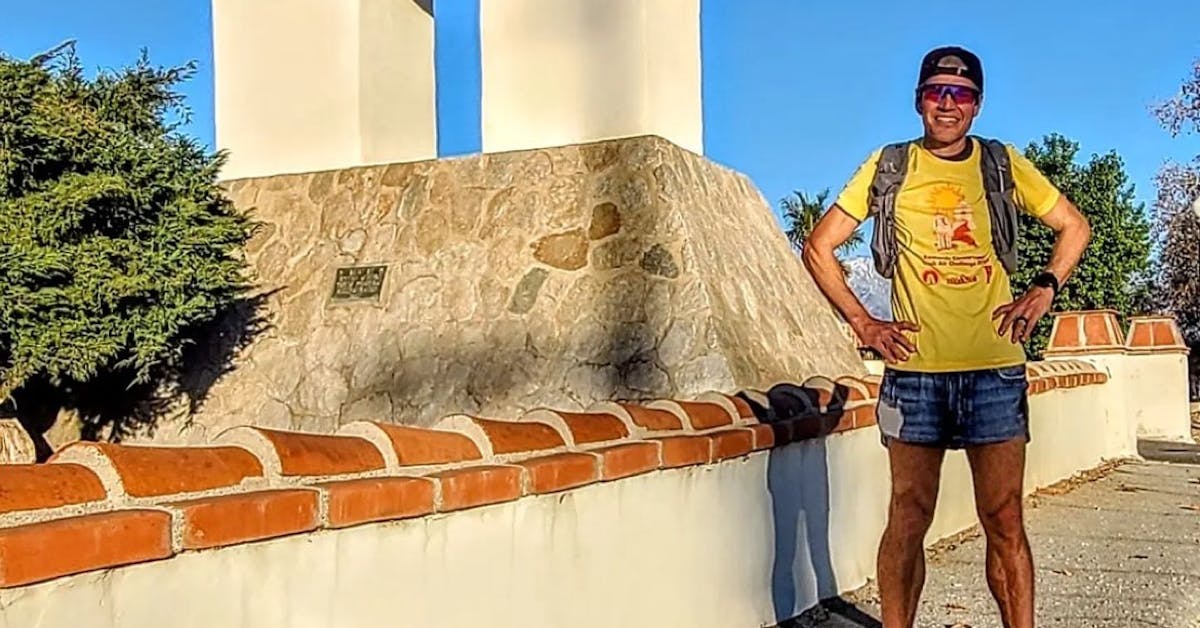 Redlands Fresh Air Challenge, Andy Glaze Edition
On a sunny California winter day, I ran 55 miles throughout Redlands, connecting all the trails and parks that the Redlands Conservancy maintains.
Background
The Redlands Conservancy puts on the Fresh Air challenge to encourage Redlanders to go outside and walk, run, hike, horseback, and bike through our city and its amazing trails. It is a fundraiser that helps the Conservancy maintain the open space trails and provide programs in outdoor education.
The Redlands Conservancy is a non-profit corporation with the mission to preserve all those aspects of Redlands built, agricultural, and natural environments that make Redlands the gem of the Inland Empire – both for today and for Redlands' future residents and visitors. Cut-stone curbs, rock walls, expansive vistas, lovingly cared-for historic homes, thoughtfully stewarded natural habitats, intriguing historic downtown, and dense green rows of citrus trees invite the curious to take time to escape the chaos of civilization. We work to protect these facets that make Redlands a gem.
I was approached by the Conservancy to run all the trails in one day, and I happily accepted. We worked on putting together a route that would encompass all the trails and parks throughout the city that the Conservancy is involved with. It ended up being around 55 miles.
Start
Sunday, January 9th, I started my run at the Asistencia, which is the Conservancy's headquarters. The Asistencia was established in 1819 as a part of the Mission San Gabriel's Rancho San Bernardino and Estancia as an outpost for cattle grazing activities. I ran up Terracina to Fern and dropped down into San Timoteo Canyon, and started the Carriage trail.
Carriage Trail
For more than a century, people have used the Carriage Trail, which was built by Redlands' early philanthropists, Albert and Alfred Smiley, to take guests of their world-famous Cañon Crest Park to the picnic area they named Tremont on the south ridge of San Timoteo Canyon. It has existed since the 1890s and was also used by farmers to access the land at the bottom of the canyon.
This is my second favorite trail system in Redlands. It runs between Fern and Alessandro. There are parking lots on Alessandro and Fern at the trailheads. There are multiple trails of varying distances winding throughout the area. I exited Alessandro, took a left, and then a quick right on Creekside. At the end of Creekside, you reach the Creekside Trail.
Creekside Trail
Creekside Trail is a 1.5 mile out and back trail. It is a steady but gradual climb ¾ mile to an overlook with two benches. On a clear day, you have incredible views of the surrounding mountains and San Timoteo Canyon. When I got to the top, the sun was just starting to rise, and the views were incredible. I ran back up Alessandro, turned right on Sunset, and headed towards Caroline Park.
Caroline Park
Caroline Park is a botanical and nature garden with multiple trails within the park. It has dramatic 180-degree views of the surrounding mountains. This is my favorite park in Redlands, and I have run through it thousands of times. After winding through Caroline Park, I continued up Sunset Drive to Teddy's Trail.
Teddy's Trail 
Teddy's Trail is a ½ mile trail. It heads down a small canyon from Helen Court then back up a small canyon to Sunset Drive. It can be made into a loop by walking back east on Sunset, then South on Helen Court back to the trailhead. The trail is a single track with gradual down and uphill. It's short and sweaty, but I nice little trail nonetheless. I exited onto Helen Court and headed up towards the water tower. At the top, I ran down a dirt fire road and back into San Timoteo Canyon. This is a secret backway into Oakmont Park.
Oakmont Park
Hands down my favorite trail system in Redlands. You can easily find over 20 miles of unique trails throughout this park. Some are named, and some are not; I dedicated around 11 miles of trail time running through the park during my adventure. Also called the Herngt "Aki" Perserve, the trails throughout this preserve have been used for hundreds of years by regional Native Americans and since the mid-1800s by Spanish, Mexican, and Anglo ranchers and travelers. 
During my Oakmont time, I crossed over Live Oak Canyon Drive and did the Saha'tapa loop. 
The Saha'tapa loop
This 1.75-mile "lollipop" dirt trail rises from the Gateway Education Center and can be accessed via the Gateway Connector Trail from Herngt 'Aki Preserve (Oakmont Park). After crossing the prairie land of the ranch area, it rises on a fairly steep dirt road to the bottom of the canyons leading to the plateau. Once you get to the plateau, it is fairly flat and has unobstructed views of the surrounding mountains. I then headed back to Oakmont park. 
I left Oakmont park and ran down Alta Vista Dr towards Yucaipa. I crossed over the I-10 freeway and took my first break at the AM/PM gas station. I ate a bag of potato chips, drank a sparkling water, refilled my hydration pack, and pounded a Red Bull. I took Overcrest Drive up and over the hill and reentered Redlands. Down through the orange groves, I went heading towards the next trail system, the Zanja Trail.
The Zanja Trail
I made my way to Wabash and entered the trail next to Crafton Elementary. The Zanja Trail is a packed, decomposed granite, nicely landscaped, ¾ mile trail. The trail ended at Laramie Park, and I made my way back through the neighborhood and entered the Orange Blossom Trail.
The Orange Blossom Trail
What to do with an abandoned rail bed? Make it a trail. That was the thinking behind the long effort to convert the rail beds of the old Santa Fe route through Redlands. This trail section took me up into Mentone. It has a paved section and a parallel dirt section. When I got to Mentone, I turned left and headed back into Redlands, running down towards the airport. I followed Pioneer parallel to the Santa Ana River wash until I took a right on River Bend Drive. This is where I entered the Bluffs Trail.
The Bluffs Trail
This trail is partly paved and partly dirt and is on the edge of the Santa Ana River wash. It has stunning views of the surrounding mountains. I ran on it and over Orange Street into Isreal Beal Park, which has a paved trail section. Exiting Clementine, I made my way back to Pioneer. Under the I-210, I went and headed into the industrial section of Redlands. I took a right on California street and, at the dead-end, found a new trail that I had not previously run on. This was the East Valley Corridor.
The East Valley Corridor
This trail was built as a condition when they built the large concrete tilt-up next to it. It follows the Santa Ana River wash and is a wide, well-maintained trail. If I worked in that industrial area, I would be running it daily. I exited San Bernardino and made my way back to California, where I turned right. I crossed back under the I-10 freeway and stopped at the Mobile Gas Station for some hydration and calories. Continuing on California, I crossed over Redlands Blvd, and I picked up the other side of the Orange Blossom Trail.
The Orange Blossom Trail
This section of the trail is paved and has drinking fountains at various spots. It follows the Zanja and takes you all the way to ESRI. Although there is a small section that is dirt and undeveloped, you can still use it. I exited Texas and took it North to Colton Ave. I took a right on Colton and ran a bit before entering Terrace Park.
Terrace Park
This is a small park with a single dirt trail down the middle. It parallels Colton Ave. I continued down Colton before turning right on Division Street. At the end of Division, I entered Sylvan Park.
Sylvan Park
This is a short dirt trail through the heart of Sylvan Park. Sylvan Park is next to the University of Redlands and has a lot of fun activities for kids, including an awesome skate park. I exited Sylvan Park on University and made my way South to the Garden/Mariposa trail.
The Garden/Mariposa Trail
This trail runs from Cajon/Highland all the way to the Redlands Country Club on Mariposa. It is a wide dirt trail that parallels the road. I ran on it and entered Prospect Park.
Prospect Park
This park is wild. So many big and beautiful trees. It is hilly, and the trails twist and turn. As a kid, we would play in the bamboo forest. I grew up near this park and now live next to it, so I spend a lot of time running its trails. After that, I had a nice three-mile downhill jaunt back to the Asistencia, and I was done! It went quite smoothly, and hopefully, I can make this a yearly tradition.
Please go explore Redlands; our city is amazing.
Follow Andy --> Instagram, Facebook, Smile or You're Doing it Wrong
---
Related Articles
05/26/23

by

Guest Writer

01/09/23

by

Guest Writer

01/18/23

by

Guest Writer

02/15/23

by

Guest Writer