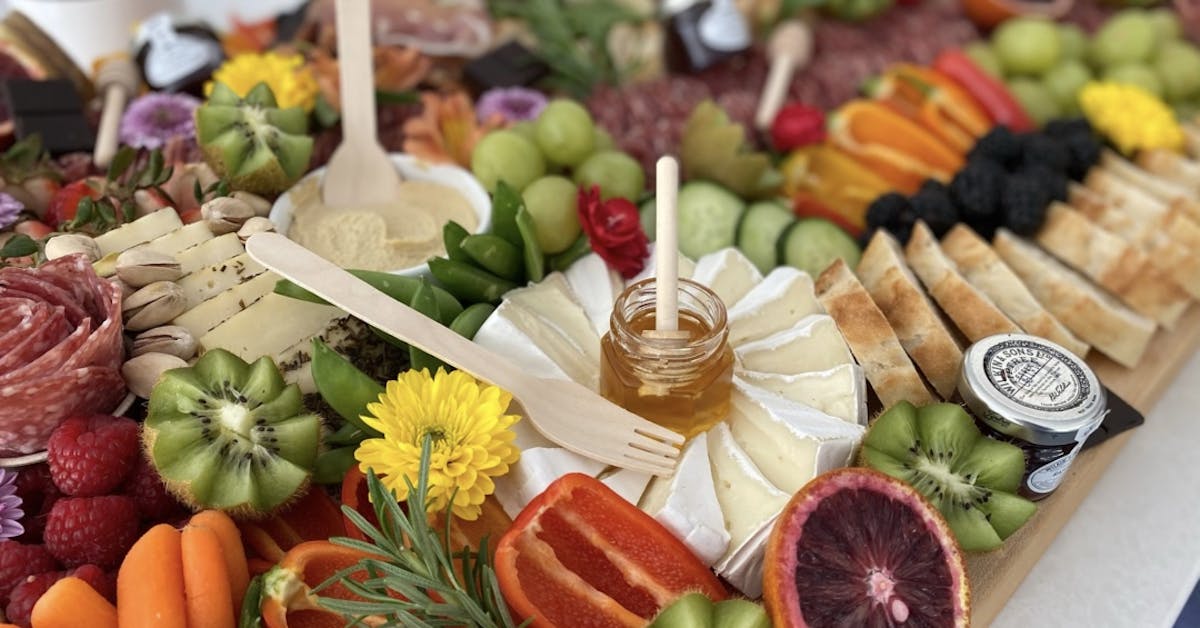 Holiday Entertaining: Charcuterie Style
Charcuterie Boards are a classy addition to holiday parties. Basically, they are large boards – usually wood, but could also be ceramic, or tile -- on which various cheeses, dried fruits, nuts, and other hors d'oeuvres are placed. We present some Redlands businesses that can help you make your own board or purchase food items for your board.
Bare Hands Craft Studio
For those who wish to make their own signature board, Bare Hands Craft Studio is the place to go. They have a woodburning workshop where attendees can burn patterns and/or sayings into the wood to create their unique designer serving board. They also have Halloween/Fall-themed and Meat & Cheese classes to showcase various fancy ways to arrange the foods on the charcuterie boards.
Swoon Home
Don't want to custom-build a board? Swoon Home carries dozens of ready-made boards of all sizes and shapes. They have traditional wooden boards, but also beautiful ceramic and stone boards and containers, as well as cheese knives, small tongs, and serving utensils. Customers can purchase books that describe and illustrate various, classy ways to display the edibles. Swoon Home's knowledgeable staff take time to help shoppers find exactly what they need.
Okay. You have your charcuterie board and utensils. Next step – finding delectables to serve to your guests.
Lot22 Olive Oil Co.
This is a great place to buy flavored olive oils and balsamic vinegar. Lot22 owner, Zach Thorp, owns a Redlands olive grove. In addition to taking care of his olive trees, he manages many other Redlands olive groves, so has access to many local olive varietals – all of which can be purchased at his downtown Redlands store. At Lot 22, one can also find flavored vinegar, hummus, dips, yogurts, fruit and vegetable spreads, tapenades, honey, and single-origin spices (contain no fillers) for a delightful spread.
Martha Green's Dough'Lectibles Bakery
Crackers are usually served on charcuterie boards. Want a new twist? Use artisan bread instead. Martha Green's Bakery has several, baked-fresh-daily breads from which to choose – Walnut Currant, Cheddar Cheese, Jalapeno Cheese, Cinnamon, Cinnamon Raisin, and English Toasted. If you want to include sweets on your board, the Bakery offers assorted croissants, cupcakes, cookies, brownies, and more. Call ahead to order.
Gerrards Market
Gerrards Market, which opened in Redlands in 1930, was the first full-service grocery store in the country. Prior to Gerrards opening, shoppers had to go to individual specialty stores – meat market, fruit vendor, vegetable stand, and bakery – to get a full meal, but Mr. Gerrard offered all these items under one roof. Gerrards was a precursor to the modern supermarket.
You can get all your charcuterie board edibles from Gerrards year-round. However, every year Gerrards imports specialty items from Europe for Autumn/Winter parties. These imports can be found next to the produce section.
Boards by Kenn
If you'd like to offer a charcuterie experience for your next party but are not quite sure how to create a pleasing display, then check out BoardsbyKenn on Instagram or Facebook. She has start-to-finish photos that are easy to follow.
If you don't have the time to shop the local markets and creatively display the food, Kenn will do the work for you.
Happy Entertaining!
---
Related Articles
03/18/21

by

Guest Writer

11/07/19

by

Guest Writer

11/11/19

by

Guest Writer

10/17/19

by

Guest Writer