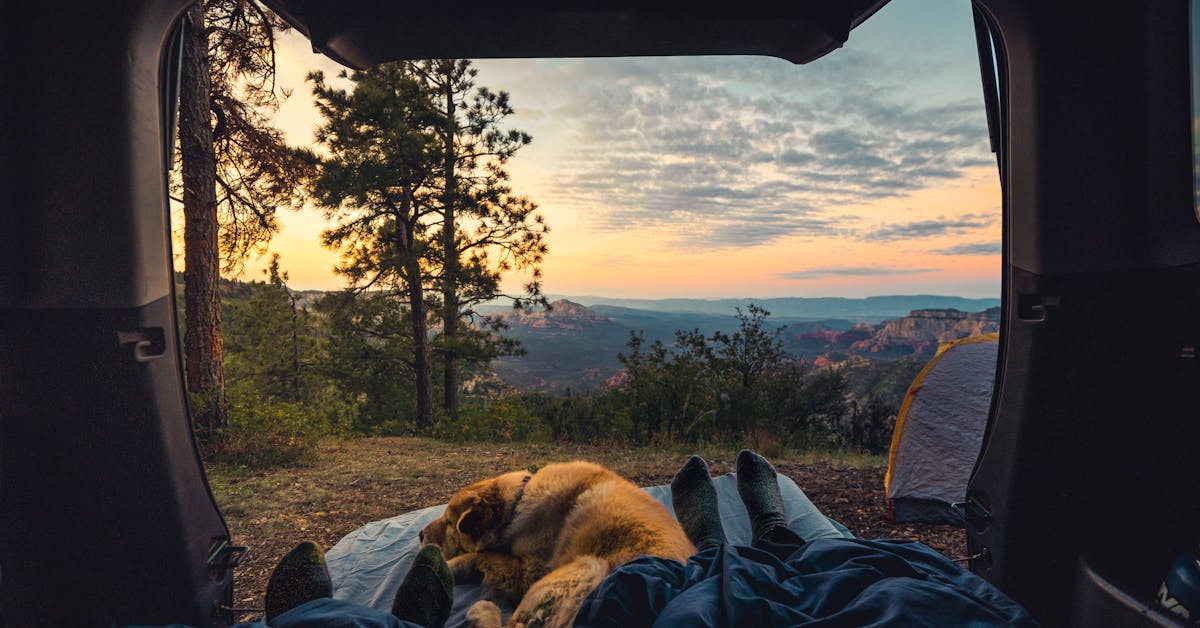 Autumn Camping: A Guide For Beginners
Summer is coming to a close. Whether we like it or not fall will officially be here on September 22. Have you considered going camping? Let us tell you why camping in autumn is a must!
Just like any other camping season, there are a lot of things that go into a successful autumn camping. Veteran campers may already know these things, but beginners may not. So, instead of leaving beginners to learn from their mistakes after an unsuccessful fall camping, we dedicate this article to preparing you for the best autumn camping ever.
Perks of Camping in Autumn
Camping in autumn is better than camping in other seasons for these reasons:
There are fewer mosquitos! Summer camps are infested with mosquitos. You hear them buzzing incessantly into your ears and interrupting your fun. In autumn, however, there are fewer mosquitos. So you don't have to worry about those things feasting on you while you try to have some fun.
The sun sets early and rises late in autumn. If you don't immediately understand what this means for you, let me spell it out. Your campfires come with the early sunset, so you have more time to enjoy yourself around the campfire. And when you wake up, you could still catch the beautiful view of the sun rising.
Sweats and the stinks that come with it are reduced. Thanks to the cool autumn temperatures, you sweat less. And by extension, you stink less.
Less crowded in fall camps. Most people do their camping in the summer, so there aren't as many people who camp in the fall. As a result, you have more private time with your loved ones and with nature (and not nosy neighbors) surrounding you.
My family recently visited Yogi Bear's Jellystone Park in Lodi, Ca and loved it! It's rated one of California's top-rated campgrounds. They have a water park which my son loved, mini-golf, laser tag, playgrounds, a marina where you can fish and so much more! You can also rent golf carts to roam around the property which was my favorite part! If you have kids, this is the place to take them!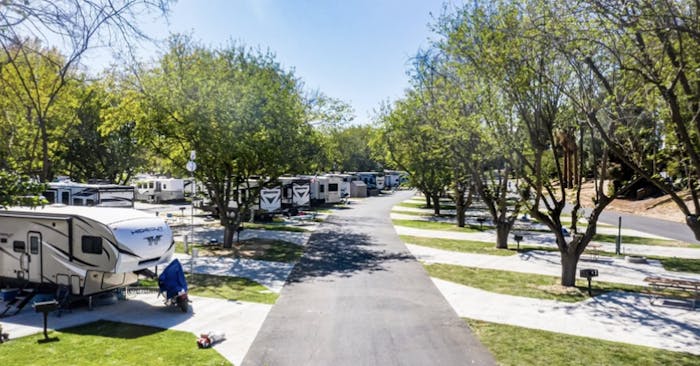 Gear for Successful Fall Camping
Now that you know some benefits of camping in autumn, the next thing you need to know is what gear you would need to make your camping experience hassle-free. Most of the gear you would need is the normal gear you need for camping in any other season. But because of the usually unpredictable weather in fall, there are some other things you might need to pack.
Sleeping bag and pad to keep you warm.
You must invest in a warm sleeping bag when you are looking to camp in the fall. Temperatures of autumn nights can plummet incredibly, and you don't want to sleep with any part of your body exposed to the cold. 
Sleeping bags with high R-values are your best friends on autumn nights. This is because the bags don't let your body heat escape into the cold environment, and at the same time stopping the cold from creeping in on you. As a rule of thumb, stick to sleeping pads of bags with an R-value from 2 to 4. It wouldn't hurt if the R-value of your bag is greater.
First Aid Kit
This is a common gear that should be packed anytime you are going camping. Injuries are no respecter of seasons, so always be with your first aid kits. But to tailor your first aid kit for autumn, you can add emergency blankets, and foot and hand warmers. 
On chilly nights, wear your warmers and spread the emergency blankets up on the inside of the tent roof to keep the heat from escaping.
Cooking Equipment
Except you plan on living on junks throughout your camping (which is very unhealthy), pack your cooking equipment. The cooking equipment is usually the same across all seasons, so you need not invest in anything new if you already have camp cooking equipment.
Kitchen Tarp
Autumn often has a lot of wet days and nights. And that is why it is important to keep your cooking area dry and the metals safe from corrosion. So when it rains or you are about to retire into your tent for the night, cover your kitchen area with a kitchen tarp.
Sunscreen and Bug Spray
Mosquitos wouldn't disturb you during autumn campings, but ticks will. Be prepared for them. 
This year the kids summer bucket list included tent camping with friends. We headed to Seven Oaks Lodge located in the San Bernardino mountains California. I was pleasantly surprised and I highly recommend tent camping along the stream here. The camp host can direct you to some swimming holes, the bathrooms are clean and the store is well stocked if you forget anything! It is a perfect family friendly weekend adventure especially if your local. If your looking for real adventure (RV or tent) one of my all time favorite spots is Gros Ventre campground in Grand Teton National park. It's location to Jackson town and hiking in the Tetons is unbeatable and the views are unrivaled. Happy camping!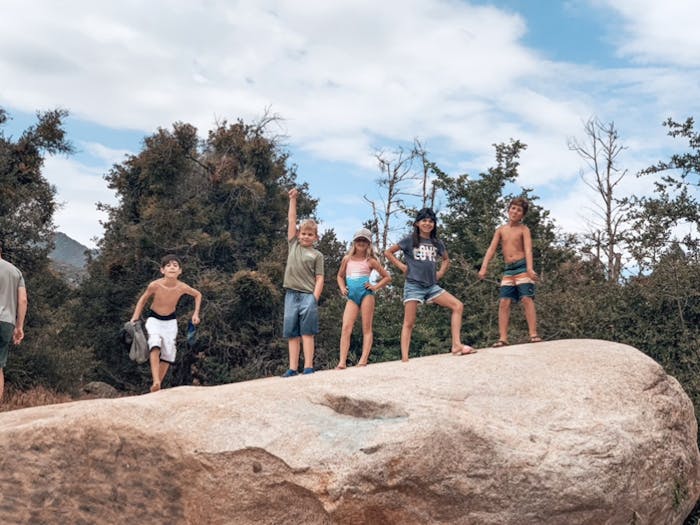 Clothing for Autumn Camping
You probably already know you would need warm clothing for fall camping. But how warm should they be? The simple answer is that your autumn camp clothes need to be very warm. The warmth you would need is more than one piece of cloth can provide, so you have to wear layers of clothing before you get close to the level of warmth I'm talking about.
No, I'm not trying to dress you up like an Eskimo. But autumn nights could get chilly, and you would need all the warmth you can get. Especially when you don't have anyone to cuddle and share body heat with.
Some pieces of clothing you might want to pack are full cushion wool socks, wool hats, wool gloves, wool sweaters, fleece pants, hiking pants, waterproof jackets, puffy jackets, camp shoes, and waterproof boots.
We love to go camping, sleeping in a tent, and being able to hear everything around us. Being able to constantly breathe fresh air makes me feel better and calmer. Even the smells that come along with camping, like camp fires, trees, and roasted marshmallows are awesome. As long as there is for plumbing hook-up, I am there! I totally need a bathroom and a shower. One of our favorite spots is up in Morro Bay. It is woodsy and beachy all at the same time, all while being a small, quiet town.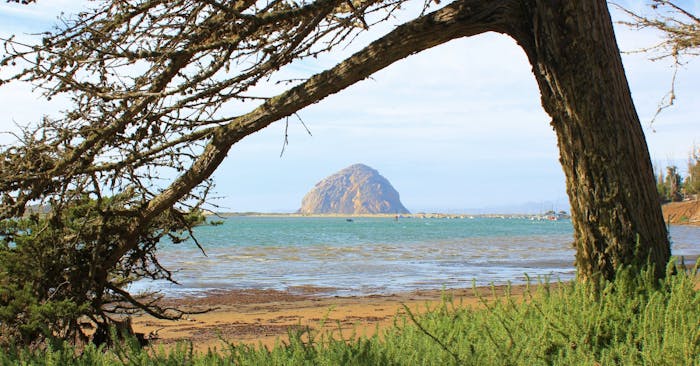 Fall Camping Activity Tips
Once you have your camping gear and clothing settled, you are halfway done. You now have everything you need to sustain yourself at the camp. But things could still get boring for you. So here are some activities you could get busy with to guarantee you the best fall camping ever. 
Take Pictures: If you have a camera, now is the time to bring it out. I assure you that there would be endless picturesque moments. The nights are beautiful and the dawn is enchanting. Delightful pictures of foliage could make awesome wallpapers on your phone or desktop computer. You could even sell the photos if you feel like it. 
You could carry your tripod to get some nice still shots. But make sure your camera is waterproof or has something to protect it if you have to take pictures when it rains.
Bird Watching: Many beautiful birds take to the air during the fall. Often, these birds are preparing for their seasonal migration, and you can get awe-inspiring sights of them on their way. What makes fall awesome for bird watching is that the trees around must have shed enough leaves to give you an unobstructed view of the sky. And there are some apps on the internet that can help you identify the birds you see. 
Play Camp Games: Games are fun to play when you are around friends and family. 
Board games are great especially if it's a bit chilly outside or there are seniors with you. Or if they like puzzles, crosswords are also suitable. You can print out some on your own (make sure they have large print) and have them prepared once the elderly get bored. Another great camp game is Ghost in the Graveyard. It is like hide-and-seek. You would enjoy this game better if there were a lot of kids or willing adult players around. It could get more interesting if there were many hiding spots. You just have to be careful so that nobody ventures out too far and gets lost. Don't also forget to keep your first aid kit close to you in case someone gets hurt.
OH Ridge is my favorite spot to camp in the June Lake area! The sites are large, clean, dog-friendly, walking distance to the beach, and have incredible views of the lake and mountains! The area has more hiking and biking trails than you can imagine for any skill level, and there's pretty much a guarantee that you'll end up with a postcard-worthy mountain lake all to yourself at some point on a weekend trip.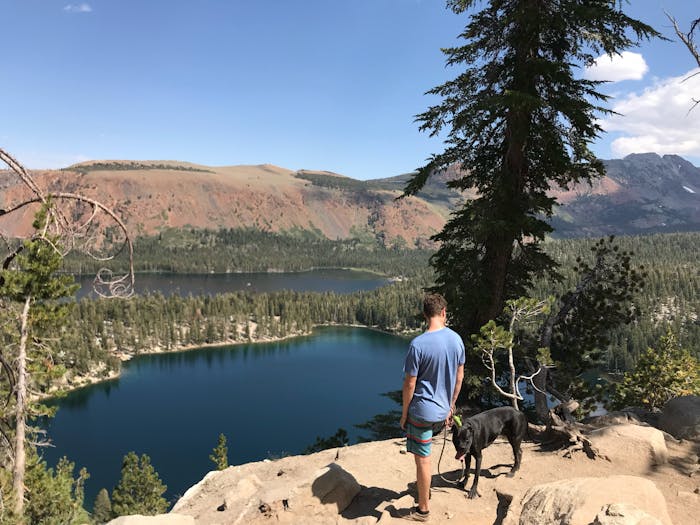 Tips on Keeping Warm in Fall Camping
After you have had a blast of a day filled with fun activities, the last thing you want is to be cold at night. Apart from wearing warm clothes, here are some more tips on how to keep yourself warm at night:
Cuddle and Share Body Heat: If your best friend, partner, or children are camping with you, invite them into your tent to share body heat. It could even be your pet. You would keep a lot of heat circulating between you this way.
Hot Water: Heat water and keep it in a bottle before you go to bed at night. If the night gets chilly, you can keep the bottle at the bottom of your sleeping bag to keep your feet warm.
Jumping Jacks help you generate heat from the inside of you. Exercises help to get your blood pumping more actively and force more body heat into circulation.
The Bottomline
Hopefully, you have learned more than enough to help you enjoy your next autumn camping to the fullest. 
--------------------------
Quoted local businesses:
--------------------------
---
Recent Articles
11/29/23

by

Guest Writer

11/21/23

by

Guest Writer

10/26/23

by

Guest Writer

10/19/23

by

Guest Writer