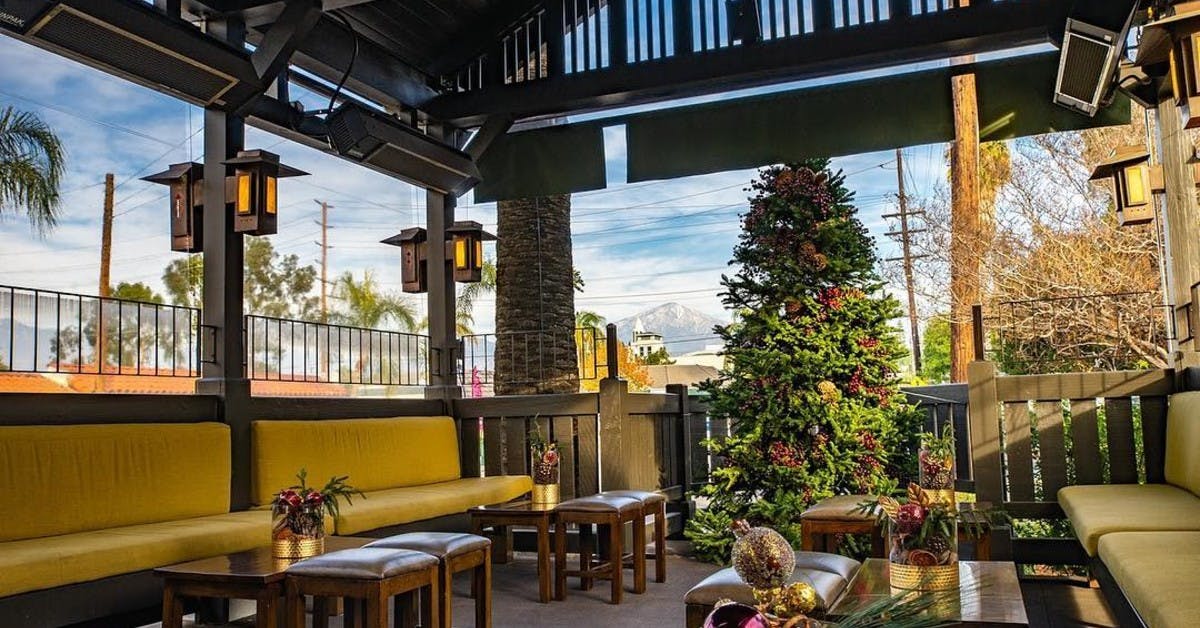 Hot Holiday Event Venues in Redlands: Part 1
Believe it or not, 'tis already the season to plan holiday happenings. Your to-do list might look a bit overwhelming, but never fret! We have a wealth of resources to plan an easy, fun, festive and memorable holiday event. Choosing the right location is key. So, we have compiled a list of nine hot venues around the city for parties of every style, size and budget. Don't delay; December dates are filling up fast!
Rok n Fondue prides itself on being a culinary destination centered around a communal, interactive experience that encourages conversation and connection. They offer a unique choice of "rock cooking" with an entrée: exceptionally hot blocks of volcanic rock cook the food at the table and produce a savory taste, paired with delightful sauces.
The menu is accompanied by refreshing craft cocktails, appetizers, and various fondues. The intimate, low-lit ambiance makes Rok n Fondue a perfect place to host your family or company party this holiday season.
Private rooms are available for parties of 10 to 26 guests.
Reserve the upstairs dining room for parties of 75.
You are also able to reserve the entire restaurant for 150 people.
Call (909)793-1919
25 E. State St. Redlands, CA 92373
Citrone Restaurant & Bar is a fine dining jewel making celebratory events perfect. This American Bistro restaurant combines exquisite cuisine, an award-winning wine cellar, and the ambiance required to allow visitors to escape from the outside world and enjoy good food, tasty drinks, and great conversation. Within the walls of this beautiful, historical downtown Redlands building is an atmosphere like no other. 
Secluded private upstairs dining room seats 20 guests comfortably, and can accommodate up to 24.
The downstairs main dining room can accommodate parties up to 20.
Call (909)793-6635
328 Orange St. Redlands, CA 92374
The entire restaurant is available for parties any evening. Back room seats 56 and the whole restaurant 130.
First two hours no room rent is applied. After two hours it's $150 an hour.
Call (909)792-5400
107 East Citrus Redlands, CA 92373
Olive & Citrus offer market driven, Mediterranean inspired, California cuisine. Located downtown Redlands, the restaurant occupies a newly renovated, historic craftsman building with an open kitchen, elegant dining room, copper bar, outdoor terraces for dining and cocktails, plus a private room for business dinners or special occasions.
Private room 20 maximum.
Two heated patios accommodate 40 each. Perfect for cocktail parties and sit down dinners.
Call (909)674-0094
255 E Olive Ave.
Fine dining French-American fare. Organic meats and fresh wild seafood. Vegan and Vegetarian options. Atmosphere is casual/chic. Outdoor heated patio, which is the only fine dining patio in Redlands.
Inside dining room 40, plus 12 at the bar.
Outdoor patio seats 40.
Call (909)793-8787
104 E State Street Downtown Redlands
Handmade pizza cooked in a wood fired pizza oven, fresh pasta, seafood, grass fed meat and locally sourced ingredients. The flour used for their pizza is 00 heirloom from Italy, essentially gluten free, it isn't cut with the same bi-products and chemicals as most American flour.
Private parties up to 80 during Happy Hour and on Monday's.
Call (909)792-0316
1453 Ford St #101
Cozy bistro nestled in the historic 1903 Cope building located in the new Orange Street alley.
Private room seats 25 max.
Call (909)253-1400

19 E. Citrus Ave Umbrella Alley
Once you have that perfect venue (and even if you still need help finding one), trust Cross + Swan Events to handle every little detail for your celebration! You've finally managed to pull all your people together - whether they be family, friends, or coworkers - to celebrate, so don't spend your time finding vendors, coordinating deliveries, decorating, keeping food and drinks fresh, and cleaning up. Let Cross + Swan take care of all the work so you can enjoy your party! Jacqui + Sydney take the time to understand your unique vision for your company or family party, and they will be there every step of the way to make sure everything goes off without a hitch.
With a combined 15 years of event experience, Jacqui + Sydney have the creativity and attention to detail to ensure your celebration is the event of the season! Winter wonderland at the Mitten Building? Consider it done. Cookie exchange for your company, masquerade on New Year's Eve, ugly sweater party with your family? Done, done, and done! The team at Cross + Swan loves nothing more than taking your ideas and running with them. Start planning your stress-free holiday party today.
Call (909) 844-5008
---
Related Articles
10/07/21

by

Guest Writer

10/17/19

by

Guest Writer

11/07/19

by

Guest Writer

12/03/21

by

Guest Writer