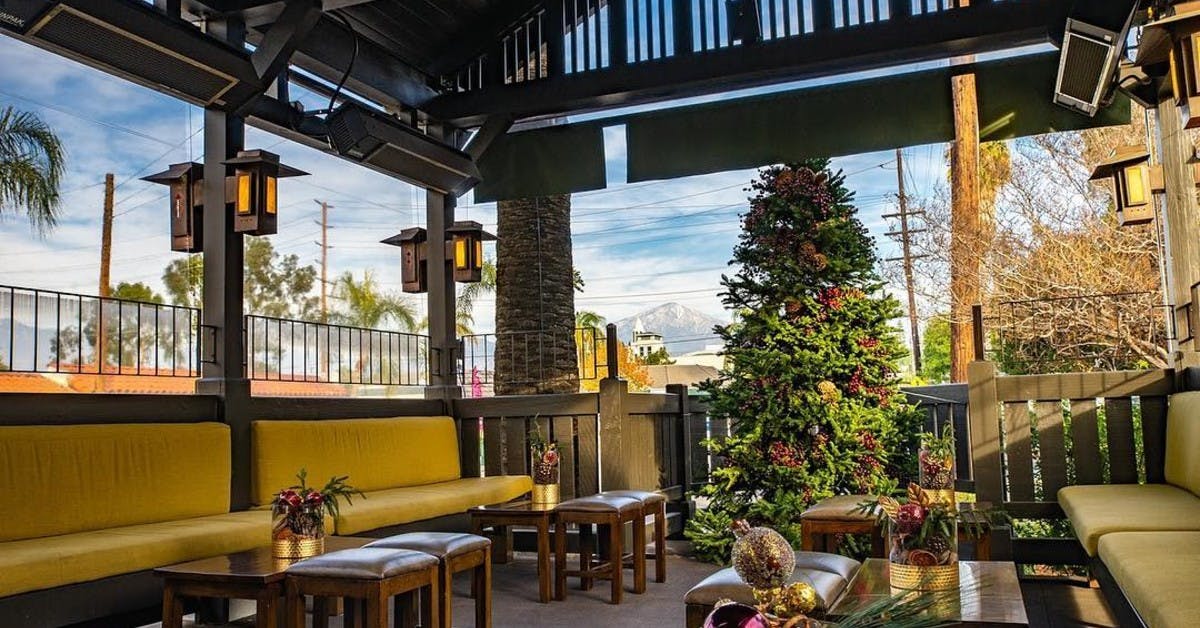 Hot Holiday Event Venues in Redlands: Part 1
Believe it or not, 'tis already the season to plan holiday happenings. Your to-do list might look a bit overwhelming, but never fret! We have a wealth of resources to plan an easy, fun, festive and memorable holiday event. Choosing the right location is key. So, we have compiled a list of nine hot venues around the city for parties of every style, size and budget. Don't delay; December dates are filling up fast!
Rok n Fondue prides itself on being a culinary destination centered around a communal, interactive experience that encourages conversation and connection. They offer a unique choice of "rock cooking" with an entrée: exceptionally hot blocks of volcanic rock cook the food at the table and produce a savory taste, paired with delightful sauces.
The menu is accompanied by refreshing craft cocktails, appetizers, and various fondues. The intimate, low-lit ambiance makes Rok n Fondue a perfect place to host your family or company party this holiday season.
Private rooms are available for parties of 10 to 26 guests.
Reserve the upstairs dining room for parties of 75.
You are also able to reserve the entire restaurant for 150 people.
Call (909)793-1919
25 E. State St. Redlands, CA 92373
Citrone Restaurant & Bar is a fine dining jewel making celebratory events perfect. This American Bistro restaurant combines exquisite cuisine, an award-winning wine cellar, and the ambiance required to allow visitors to escape from the outside world and enjoy good food, tasty drinks, and great conversation. Within the walls of this beautiful, historical downtown Redlands building is an atmosphere like no other. 
Secluded private upstairs dining room seats 20 guests comfortably, and can accommodate up to 24.
The downstairs main dining room can accommodate parties up to 20.
Call (909)793-6635
328 Orange St. Redlands, CA 92374
The entire restaurant is available for parties any evening. Back room seats 56 and the whole restaurant 130.
First two hours no room rent is applied. After two hours it's $150 an hour.
Call (909)792-5400
107 East Citrus Redlands, CA 92373
Fine dining French-American fare. Organic meats and fresh wild seafood. Vegan and Vegetarian options. Atmosphere is casual/chic. Outdoor heated patio, which is the only fine dining patio in Redlands.
Inside dining room 40, plus 12 at the bar.
Outdoor patio seats 40.
Call (909)793-8787
104 E State Street Downtown Redlands
Handmade pizza cooked in a wood fired pizza oven, fresh pasta, seafood, grass fed meat and locally sourced ingredients. The flour used for their pizza is 00 heirloom from Italy, essentially gluten free, it isn't cut with the same bi-products and chemicals as most American flour.
Private parties up to 80 during Happy Hour and on Monday's.
Call (909)792-0316
1453 Ford St #101
---
Related Articles
09/22/23

by

Guest Writer

11/22/22

by

Guest Writer

11/07/19

by

Guest Writer

12/03/21

by

Guest Writer