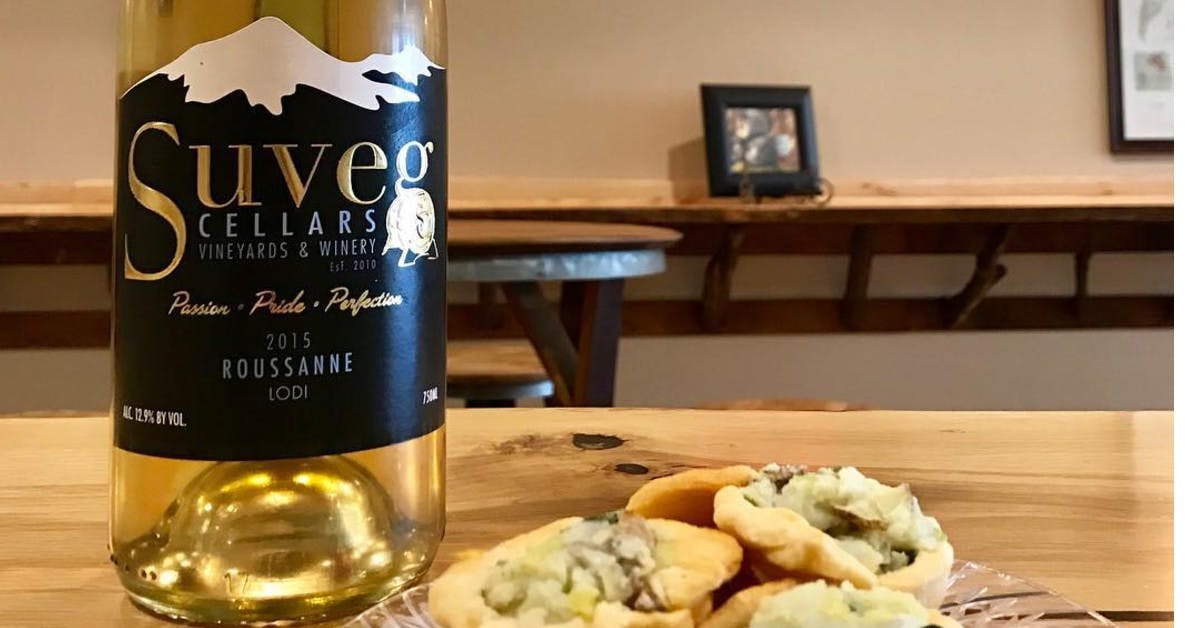 7 Wine Pairings to Try This Summer
Summer is upon us! There is no better time to kick back outdoors, enjoy the longer days, and split a couple bottles of wine with friends and family. But what to pair with these wines?
Pairing food and wine is part art, part science, and takes years of experience to perfect. Today we'll tap into the knowledge of Suveg Cellars, Yucaipa's first fully bonded and licensed winery, to create the perfect food and wine pairing list for the summer.
Pinot Grigio with Bread, Sliced Meats, and Olive Oil

Pinot Grigio is a classic summer wine - light, crisp, and refreshing during the hot summer days. Classic Pinot Grigio has vibrant acidity and slight breadiness and doughiness, which makes bread, sliced meats and olive oil a near perfect complement to the wine. The acidity cuts through the richness and fat of the meats and olive oil, and the doughiness matches the flavor profile of the bread.

Viognier and Grilled Seafood

Viognier is a French varietal that never gets enough recognition. At it's best, the varietal is fruit forward with notes of peach, pear, and honeysuckle tied together by beautiful acidity. These fruit forward characteristics and vibrant acidity pair perfectly with grilled seafood. Whether it's grilled shrimp, sea bass, or salmon, seafood is delicate and begs for acidity, generally not needing tannin. Viognier fills this void with crisp, clean acidity and plenty of fruit notes to integrate with seafood's soft palate.

Roussanne and Olives, Especially Castelvetrano

Roussanne is one of our favorite varietals. A barrel aged white like Chardonnay, the best Roussanne has a slight butteriness, floral characteristics, honey, hints of sandalwood and additional layers of complexity. Rich, buttery olives like Castelvetranos are a match made in heaven with Roussanne, where the rich undertones of each meld together and are washed down by the medium acid palate of the Roussanne.

Montepulciano/Sangiovese and Sliced Cheese

Montepulciano, like Sangiovese, is a high acid Italian grape filled with red fruit, earthiness, and dampness. The best renditions of these grapes have almost an aged cheese secondary note on the finish, and pairing them with aged cheese is a real pleasure. Toscano, Pecorino, Parmesan, and a host of other cheeses have similar mustiness that Montepulciano and Sangiovese possess. And when the vibrant acidity cuts through the richness of the cheese, you'll be happy you paired the two together.

Syrah and Grilled Lamb

Lamb and Syrah are meant to be together. The best renditions of Syrah not only have gamey notes but also pepper and herbal flavors, like rosemary or sage. Each flavor complements many common lamb seasonings, and the gaminess of Syrah complements that lamb itself. Additionally, Syrah is a high tannin wine. Tannin has the ability to cut through fattiness in richer dishes, each cancelling the other's lesser qualities to create a symphony for the palate.

Cabernet Sauvignon and Steak

For carnivores, grilled steak during the summer months is a mainstay, and Cabernet Sauvignon is a well known ally to steak. As mentioned above, the high tannin in Cabernet can melt even the richest of steaks, and the black pepper notes that are commonly found in the wine act as additional seasoning to perfect cut of grilled meat.

Barbera and Pizza

Barbera is a deep, high acid, earthy Italian varietal that can be very fruit forward in California renditions. This trinity of elements combine to create a wonderful pizza pairing. The acid cuts through the richness of cheese and other toppings, and the earthiness matches the flavor profile of the dough.
We hope you'll try some of these pairings this summer, and stop by the Suveg Cellars California Street Tasting Room to try their award winning wine!
Address: 12132 California Street, Yucaipa
Thursday 4pm-9pm
Friday 4pm-10pm
Saturday 12pm-10pm
Sunday 12pm-8pm