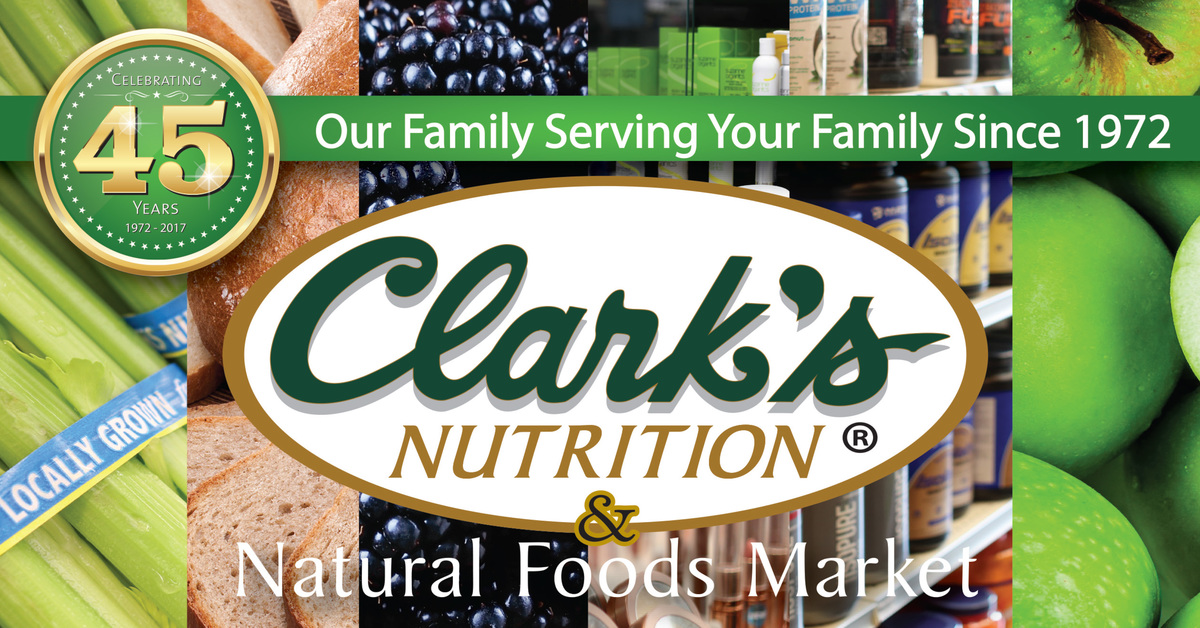 Clark's Nutrition & Natural Foods Market
Supplements, organic produce, grocery items, meat, dairy, Gluten-free, Wheat-free products. Highly trained staff to answer all your health questions. Family owned and operated since 1972. Juice Bar.
Clark's Nutrition and Natural Foods Markets have been family owned and operated since 1972. A leader in the Natural Products Markets Clark's has a wide selection of Whole and Organic foods, Organic Produce, bulk foods, Dairy and deli items, prepared foods and a full frozen foods selection in all our stores. Clark's is a leader in Vitamins, Supplements, Sports Nutrition, Herbs and bulk teas, Heath & Beauty products, and Homeopathic remedies. Four generations of Clark family members and employees have continued bringing healthy living' to as many individuals that desire a healthy life. We at Clark's Nutrition have a passion in making a difference in the way you shop for health. We pride ourselves on providing you with quality products and personalized customer service. We strive to answer your questions to help you make smarter and healthier decisions when buying natural products. We are here to help you!
Mission Statement : Clark's Nutrition and Natural Foods Markets exist to help bring as many individuals as possible to the level of nutritional knowledge and action required for achieving and maintaining optimum health.
Articles
NEW
Suzanne Somers is partnering with Clark's Nutrition & Natural Foods Market bringing you certified organic and toxic free skin care and cosmetics line. So natural you can eat it! No lead in the lipstick, no petroleum based fillers & no emulsifiers. Other than QVC, this is the only place you will be able to buy this line.
How Clark's helps you live better
Nutritional Consultants: Each consultant has to complete 5 levels of training, they not only answer your questions but walk you to the appropriate product and tell you all about them.

"Live Better Lectures': Clark's hosts in-store lectures that are free to the public.

Affordable Health: ALL products are competitively priced.

New kiosks: The kiosks displays new products, featured product videos, free nutritional magazines such as "Going Organic," community flyers, and Clark's money saving monthly ad.

Starkie's Picks: Director of Education, Starkie Sowers is the Director of Education for Clarks Nutrition and Natural Foods Market, and takes a personal approach to teaching our staff about nutrition, supplements, and healthy living. Look for Starkie's Picks while you're shopping at Clark's.

New Local Produce Section: Each week a local farm is highlighted featuring a video of the farm and their produce.
CLICK on images to ENLARGE
Our Locations
Loma Linda. Phone-- (909) 478-7714. Mon-Fri 8am-9:30pm Sat-Sun 8am-9pm. 11235 Mountain View Ave Loma Linda, CA 92354. Store Manager: David Smith (909) 478-7714 x 151

Chino. (909) 993-9200 12835 Mountain Avenue, Chino, CA 91710. NEW LOCATION

Rancho Mirage. Phone-- (760)324-4626. Mon-Fri 8am-9pm, Sat-Sun 8am-8pm. 34175 Monterey Ave. Rancho Mirage, CA 92270. Store Manager: Ernie Blakeslee (760) 324-4626 x 110

Riverside. Phone-- (951)686-4757. Mon-Fri 8-8 Sat 9-7 Sun 10-6. 4225 Market St. Riverside, CA 92501. Store Manager: Mike Todd (951) 686-4757 x 114.